What Under Armour's CEO Had to Say About Athleisure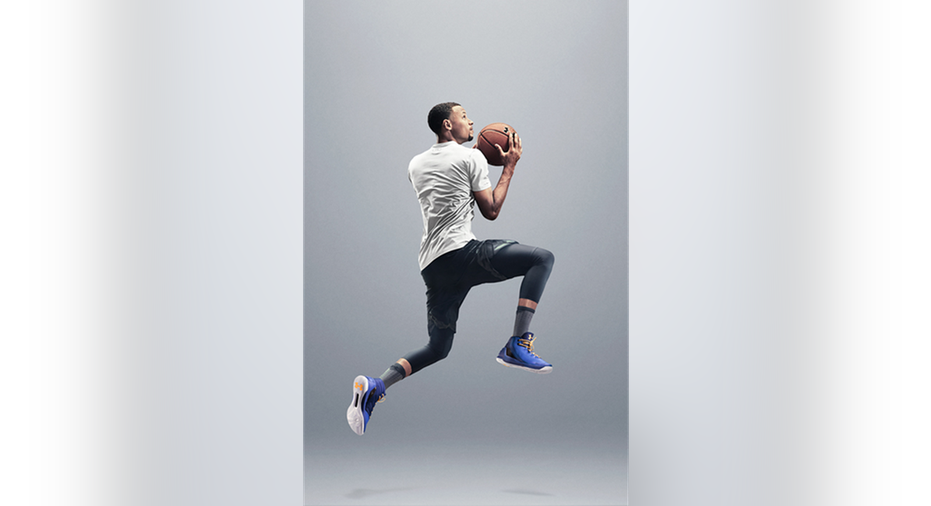 Athleisure. Yes, it's a thing. Wearing your workout gear in places outside the gym is such a growing trend that even Vogue magazine has written athleisure fashion guidelines for their readers. Kevin Plank, CEO of sports apparel company Under Armour (NYSE: UA) (NYSE: UAA), talked at length in the most recent earnings call about the company's efforts in the athleisure market, or what Plank calls "sports lifestyle."
The CEO indicated the importance of this market by saying "sport lifestyle still remains ... our largest opportunity, and frankly, by a mile." [Transcript via Seeking Alpha.] In this article, I'll dive into the details for this large and growing market opportunity, how it fits into the overall strategy for Under Armour, and how the company is executing on its go-to-market strategy.
First, let's look at why Plank thinks this is such a large opportunity.
Image Source: Under Armour
The athleisure opportunity
Plank first announced Under Armour's entrance into the "off-field" clothing segment at the company's September 2015 analyst day. Plank pointed out rather clearly the opportunity for the company in the slide below.
Image Source: Under Armour September 2015 analyst day presentation
The company's two biggest competitors, Nike (NYSE: NKE) and Adidas (NASDAQOTH: ADDYY), were estimated to get 25% of revenue from off-field sportswear, amounting to $12.5 billion, with Under Armour getting zero from the category. In the most recent call, Plank updated his competitors' "sports lifestyle" portion at "more than a third." While Plank didn't indicate Under Armour's current revenue in this market, he did say, "we are hitting the benchmarks we set for ourselves to make lifestyle a core competency of our brand."
My colleague John Ballardpoints out in this article that NPD estimated the athletic apparel market to be $45.9 billion in 2016, up 11% from the previous year, and Morgan Stanley forecasts this market could be $350 billion by 2020. As with any large and growing market, it's attracting more competitors, includinglululemonathletica, Amazon, Gap, and other smaller companies.
How does lifestyle sportswear fit in?
Plank refers to sportswear as the ninth category the company is organized around. The eight announced at the 2015 analyst day were: team sports, men's training, women's training & studio, outdoor, golf, run, basketball, and global football. The golf category has since been replaced with "youth."
In the most recent earnings call, Plank indicated that he wants the entire company focused on lifestyle sportswear by saying, "... our shift to lifestyle isn't about a new line or one collection or one drop. It's about truly evolving the entire company toward the space." This statementmakes it seem like sports lifestyle is more than just one of the nine categories for the company.
Plank further clarified how he thinks about how sports lifestyle fits into the company strategy in response to an analyst question, saying:
When Plank says "way out to the right" when referring to UAS, he means high-end fashion.UAS is billed by the company as "Modern American Sportswear built for those who #ExploreBeyond the expected." Fellow Fool Seth McNew covered the announcement of Under Armour Sportswear (UAS) in this article and explains that the price points are ambitious, ranging up to $1,500 for a tailored jacket. While no details were shared, the initial launch of UAS must have been successful as management indicated there was a second product line launched this past quarter.
The high-priced fashion of UAS isn't for the average consumer, and that's where the sports lifestyle category comes in.
Athleisure: The Under Armour way
Under Armour is approaching this crowded market in a differentiated way that is uniquely Under Armour. Plank talks about the DNA of Under Armour that is grounded in performance and function.
Under Armour's recent Threadborne line is a good example of how the company is executing its go-to-market strategy for sports lifestyle. It starts with a fabric technology called threadborne, which the company touts as the "most comfortable, next-gen performance fabrics."This fabric is used across different clothing items, from sneakers to shorts and shirts, that can be worn at the gym or for everyday wear. Star athletes such as Misty Copeland, Andy Roddick, and Steph Curryare featured prominently on the website to promote the product line.
With Threadborne, Under Armour is utilizing all of its strengths to be successful in this lifestyle segment: a new technology incorporated into its broad product line and promoted by its well-known and respected athletes.
Will Under Armour be successful in capturing market share in this growing but crowded market? I look to the success the company has had in building its women's category into a $1 billion business. The company went from scrapping$600,000 worth of the original women's clothing line in early 2000 to winning Ad Age's 2014 Marketer of the Year award with its "I will what I want" campaign. I wouldn't count out this self-described hungry and humble competitor.
10 stocks we like better than Under Armour (A Shares)When investing geniuses David and Tom Gardner have a stock tip, it can pay to listen. After all, the newsletter they have run for over a decade, Motley Fool Stock Advisor, has tripled the market.*
David and Tom just revealed what they believe are the 10 best stocks for investors to buy right now... and Under Armour (A Shares) wasn't one of them! That's right -- they think these 10 stocks are even better buys.
Click here to learn about these picks!
*Stock Advisor returns as of May 1, 2017
Brian Withers owns shares of Amazon, Nike, Under Armour (A Shares), and Under Armour (C Shares). The Motley Fool owns shares of and recommends Amazon, Lululemon Athletica, Nike, Under Armour (A Shares), and Under Armour (C Shares). The Motley Fool has a disclosure policy.