What to Watch When Westinghouse Air Brake Technologies Corp. Reports Earnings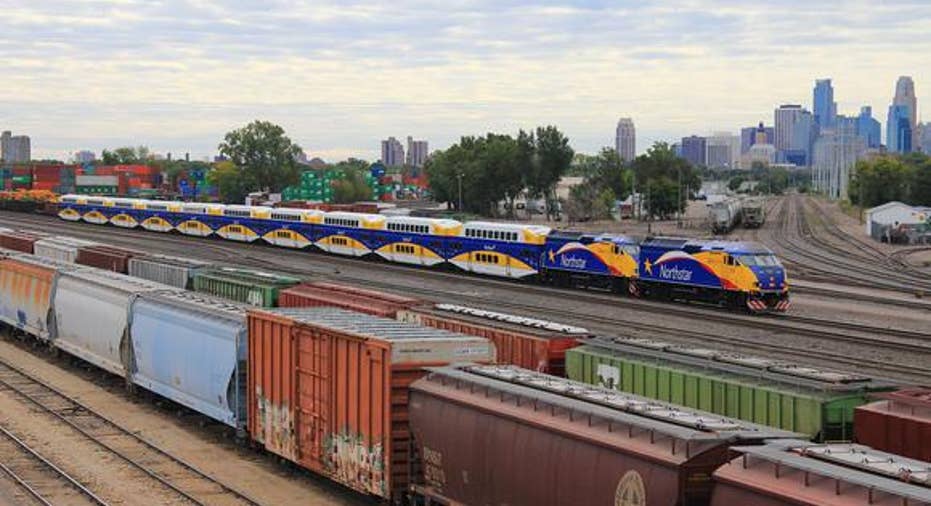 Image source: Flickr user Michael Hicks.
While Westinghouse Air Brake Technologies , or Wabtec, faced challenges in some of its key markets last year, the company expects to deliver record results in 2016. Investors will get their first chance to see if it's still on track to deliver on that goal when it releases its first-quarter results on Tuesday morning. Here's what to look for in that report.
First, let's reviewBefore we get to that, here's a quick look back at a Wabtec's fourth-quarter results:
| | Q4 2015 Actuals | Q4 2014 Actuals | Growth (YOY) |
| --- | --- | --- | --- |
| Revenue | $832.8 million | $820.9 million | 1% |
| Income from operations | $151.2 million | $137.0 million | 10% |
| Adjusted earnings per share | $1.05 | $0.95 | 11% |
Data source: Westinghouse Air Brake Technologies Corp.
While revenue growth was a bit light, that was partially due to foreign exchange rates, which reduced sales by $27 million over the year-ago period. If we adjust for that impact revenue actually would have increased 5% year over year. Meanwhile, earnings grew much stronger than revenue, thanks in part to the company's cost reduction and efficiency programs.
Has the weight has been lifted from the Transit Group?Aside from the negative impact of foreign exchange rates, the other big weight pulling down Wabtec's revenue last quarter was its Transit Group, whose revenue slumped 2% year over year:
| | Q4 2015 Actuals | Q4 2014 Actuals | Growth (YOY) |
| --- | --- | --- | --- |
| Freight Group | $501.0 million | $481.1 million | 4% |
| Transit Group | $331.9 million | $339.7 million | -2% |
| Total | $832.8 million | $820.9 million | 1% |
Data source: Westinghouse Air Brake Technologies Corp.
That makes it a key area to take a look at when Wabtec reports its first-quarter results. An improvement in sales from the Transit Group should help the company to stay on track to meet its full-year targets.
Updates on the Faively acquisition?Another way the company is lookingto improve the performance of its Transit Group is by acquiring Faiveley Transport, which is a European-based provider of value-added and integrated systems and services for the railway industry. The transaction is a bit more complex than the average acquisition, with Wabtec structuring the deal in three steps. The company has been slowly progressing through the steps, having already signed an agreement to acquire a majority ownership in the company late last year.
When Wabtec reported its fourth-quarter results in February, it provided a brief update on this transaction, noting that it "currently expects to close by mid-year, depending on the timing of regulatory approvals." Ideally, the company will maintain that timeline when it reports its first-quarter results.
Guidance changes for 2016?Because there's still uncertainly surrounding the timing of the Faively Transport acquisition, it's not currently in Wabtec's 2016 guidance. Despite that, the company is guiding to deliver record financial results in 2016. While revenue is only expected to be flat to slightly higher, earnings are expected to be in the range of $4.30 to $4.50 per share, which is up from $4.10 per share in 2015.
Having said all that, guidance is a best guess so it's quite possible that there could be some changes. Investors should keep any eye out for anything negative, such as the company experiencing weaker-than-expected market conditions and therefore pulling down its full-year forecast.
There is a little bit of a concern after railcar manufacturerGreenbrier reported weaker-than-expected fiscal second-quarter results earlier this month. While Greenbrier's revenue was up 6% year over year, that was well below the 16% increase that was expected. Worse yet, earnings slumped 11%, missing the consensus forecast pretty badly. Greenbrier did reiterate its full-year guidance and pushed up the top end of its expected railcar delivery range, so it wasn't all bad news and that bodes well for Wabtec's outlook.
Investor takeawayWabtec is expecting its relative strength from 2015 to carry over into 2016. However, for that to happen, it will need to have gotten off to a solid start in the first quarter. If it did and there's no change to its outlook or its Faively Transportation deal, then it should remain on track to deliver a record year.
The article What to Watch When Westinghouse Air Brake Technologies Corp. Reports Earnings originally appeared on Fool.com.
Matt DiLallo has no position in any stocks mentioned. The Motley Fool recommends The Greenbrier Companies and Westinghouse Air Brake Technologies. Try any of our Foolish newsletter services free for 30 days. We Fools may not all hold the same opinions, but we all believe that considering a diverse range of insights makes us better investors. The Motley Fool has a disclosure policy.
Copyright 1995 - 2016 The Motley Fool, LLC. All rights reserved. The Motley Fool has a disclosure policy.