What to Watch When GameStop Corp. Posts Fiscal Q4 Earnings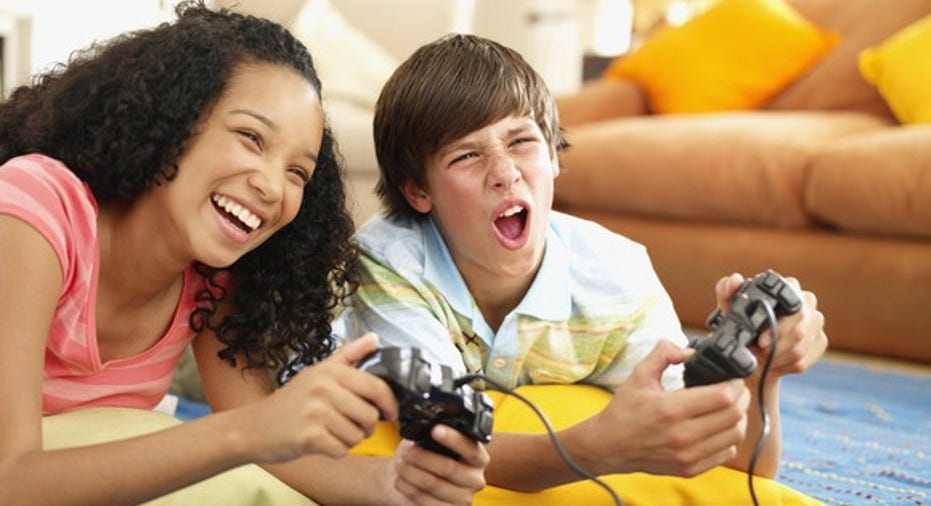 These are not happy times for the disc-based video game retailing industry. Market leader GameStop (NYSE: GME) is enduring a brutal customer traffic slump that's being amplified by the growth of digital downloads.
That trend has been great for publishers like Activision Blizzard, whose profit margin just set a new record. But GameStop loses out on the initial sale and also any possibility of profiting from a trade-in.
Let's take a closer look at whether those industry challenges will sink the retailer's results when it posts fiscal fourth quarter numbers after market close on March 23.
Image source: Getty Images.
Falling revenue
If there's good news about the situation, it's that investors have already ratcheted their expectations way down headed into this week's report. In January, GameStop warned that comparable-store sales declined by nearly 20% over the holidays due to surprisingly weak demand for physical copies of Activision's Call of Duty: Infinite Warfare and Electronic Arts'Titanfall 2.
Retailers also engaged in aggressive price cutting on the hardware side of the business, and the promotions ended up pushing GameStop's console sales lower by 30%. "We are disappointed with our overall results," CEO Paul Raines said as the company sliced its full-year comps outlook to an 11% decline at the midpoint of guidance.
Raines and his team have been surprised by the severity of the downturn, but that doesn't mean they're totally unprepared. The retailer has been shifting away from the physical gaming business line for years through initiatives like its new consumer electronics segment. That division is expected to contribute roughly one quarter of operating earnings this year. Add in other complementary businesses like cellular service and collectibles, and GameStop is hoping to pull just 60% of its 2016 profit from the legacy video game division that's shrinking rapidly.
Stable profitability
GameStop's newest business segments carry much higher margins, which helps explain why the company is still churning out increasing profits. In the third quarter, in fact, the tech brands division jumped to 11% of sales from 7%. And thanks to that segment's 74% profit margin -- compared to 13% for video game hardware and 46% for pre-owned software sales -- overall gross profit jumped to 36.1% of sales from 32.5%.
The portfolio of non-gaming businesses likely saw healthy growth over the holiday quarter, with Pokemon products pushing collectibles sales higher and hit smartphone releases like the iPhone 7 providing a big boost to the tech brands division. We'll find out on Thursday whether those gains were enough to shield profits from the collapse of the core gaming business.
Healthy dividend coverage
If GameStop were still a member of the S&P 500, its 6% dividend yield would rank it as the third-highest on the market. But unlike many companies in that red-flag territory, the retailer's dividend isn't in danger of getting sliced. The payout over the past year has been $1.48 per share, or just about 40% of the $3.75 in profit the company is expected to generate in 2017.
Income investors will likely be happy to collect that market-thumping yield as they wait for the business trends to stabilize. However, if the dividend coverage cushion falls due to a sharp profit drop, or if management's plan for guiding the company away from the video game business moves further out of touch with the industry conditions, these shareholders might just abandon the stock this week, too.
10 stocks we like better than GameStopWhen investing geniuses David and Tom Gardner have a stock tip, it can pay to listen. After all, the newsletter they have run for over a decade, Motley Fool Stock Advisor, has tripled the market.*
David and Tom just revealed what they believe are the 10 best stocks for investors to buy right now... and GameStop wasn't one of them! That's right -- they think these 10 stocks are even better buys.
Click here to learn about these picks!
*Stock Advisor returns as of February 6, 2017
Demitrios Kalogeropoulos owns shares of Activision Blizzard. The Motley Fool owns shares of and recommends Activision Blizzard. The Motley Fool has the following options: short April 2017 $28 puts on GameStop. The Motley Fool recommends Electronic Arts. The Motley Fool has a disclosure policy.