What to Watch When Chuy's Holdings Reports Earnings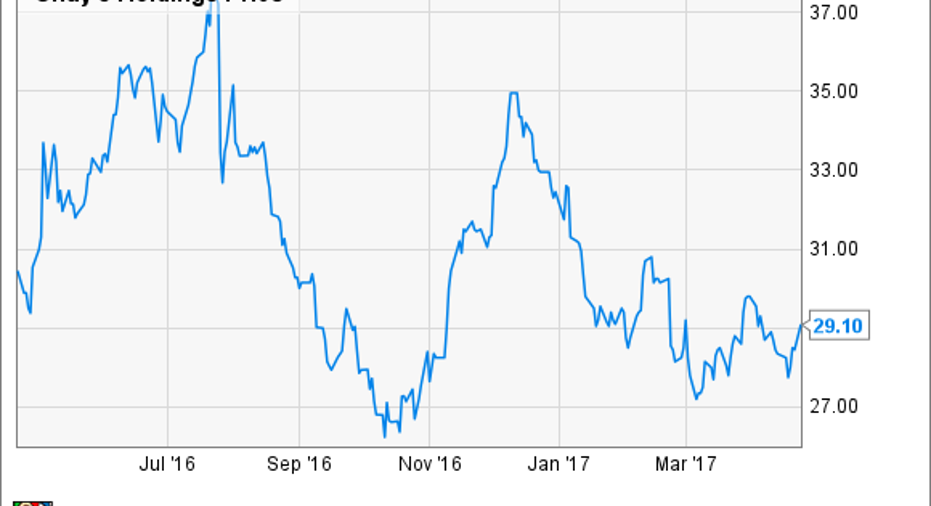 For Tex-Mex restaurant chain Chuy's Holdings (NASDAQ: CHUY), the fourth quarter of 2016 marked one ugly milestone: the first quarter of negative comparable sales growth in more than six years.
Last quarter proved that Chuy's was not immune to the woes plaguing the restaurant industry at large. Investors have remained cool on the company since then, with the stock still down significantly from its 52-week high.
If you're wondering whether Chuy's can get its groove back, here are a few items to watch for when Chuy's reports first quarter earnings on May 4.
Comps -- think positive
Before Chuy's suffered last quarter's 1.1% comparable-restaurant-sales decline, it had achieved 25 straight quarters of comps growth -- looking pretty resilient as many of its competitors succumbed to the "restaurant recession." But the nationwide trend that's seeing fewer people dine out finally put that streak to an end, as Chuy's saw its customer traffic fall by 2.4% during the quarter.
If the rest of the industry is any indication, Chuy's could be in for another tough quarter. According to Black Box Intelligence, restaurants on average saw a 1.6% decline in comparable-store sales in the first quarter, with traffic falling an average of 3.6%.While Chuy's has generally been outperforming these averages, the last thing investors want to see is another quarter of negative comps.
The company's initial 2017 guidance is for full-year comps growth of 1% to 2%,which seems underwhelming given that Chuy's was averaging comps growth of between 2.2% and 3.3% from 2012 through 2015. That said, given the challenging conditions, at least Chuy's is still guiding for a positive number. Management has also stated that comps are expected to be fairly flat for the first quarter and then improve sequentially as the year-ago comparisons will get progressively easier.
What to watch for: Eking out even the smallest positive comps growth number would go a long way toward reassuring investors that Chuy's Tex-Mex concept is still resonating with diners.
Image source: Chuy's Holdings.
Openings in Chicago, Miami, and Denver are crucial
With comps growth missing for the moment, Chuy's revenue growth is being driven entirely by the opening of new restaurants. Thankfully for investors, the company is continuing to expand at an aggressive pace. Chuy's grew its number of locations from 39 in 2012 to 80 at the end of 2016.
In 2017, the company has plans to open 12 to 14 new stores, which would reflect 15% to 17.5% growth in its store base, providing for healthy top-line expansion. While some of those stores will be in existing markets, it's the openings in three new metro areas -- Chicago, Miami, and Denver -- that are most essential to its growth plans. Greater Chicago will be Chuy's largest market yet, with management stating that it believes the opportunity exists there for at least 12 stores. While the Chuy's map of locations won't quite be coast-to-coast, by the end of 2017, Chuy's should be one step closer to becoming a national brand.
What to watch for: Investors will want to see that the store openings in Chuy's new megamarkets are on schedule, and that the company remains on track to meet its full-year guidance of 12 to 14 new stores.
Will margin continue to fall?
Chuy's generally boasts restaurant-level operating margin as big as its portions, averaging 19.3% for 2016. However, toward the end of last year, that number tumbled a bit, with fourth-quarter margin coming in at just 16.7%,mostly because of higher labor costs. While that's still above its blended target for new and mature stores of 15% to 16.5%,it was a sizable drop and something to keep an eye on going forward -- especially given that occupancy costs are expected to increase in 2017 because of higher rents associated with larger, more expensive markets such as Chicago and Miami.
What to watch for: Whether increasing labor costs and the push into pricier markets continues to compress margin. Combined with falling traffic and weak comps, lower margin could have a big impact on the bottom line.
Growth at a reasonable price?
CHUY PE Ratio (TTM) data by YCharts
On a trailing-12-month basis, Chuy's stock trades today at a price-to-earnings ratio of almost 29. On a forward basis, its P/E of around 26 is a little more reasonable.Whether you find that expensive depends greatly on your point of view. Is Chuy's poised to recover in short order and resume its steady growth trajectory? Or will the company continue to struggle to get comps moving in the right direction again?
I think shares look pretty reasonable today, given the significant expansion Chuy's has planned, the company's rock-solid balance sheet, and its ability to fund future store growth with its own cash flows.
10 stocks we like better than Chuy's HoldingsWhen investing geniuses David and Tom Gardner have a stock tip, it can pay to listen. After all, the newsletter they have run for over a decade, Motley Fool Stock Advisor, has tripled the market.*
David and Tom just revealed what they believe are the 10 best stocks for investors to buy right now and Chuy's Holdings wasn't one of them! That's right -- they think these 10 stocks are even better buys.
Click here to learn about these picks!
*Stock Advisor returns as of April 3, 2017
Andy Gould owns shares of Chuy's Holdings. Andy Gould has the following options: short October 2017 $30 puts on Chuy's Holdings. The Motley Fool owns shares of and recommends Chuy's Holdings. The Motley Fool has a disclosure policy.