What to Watch When AMD Reports Earnings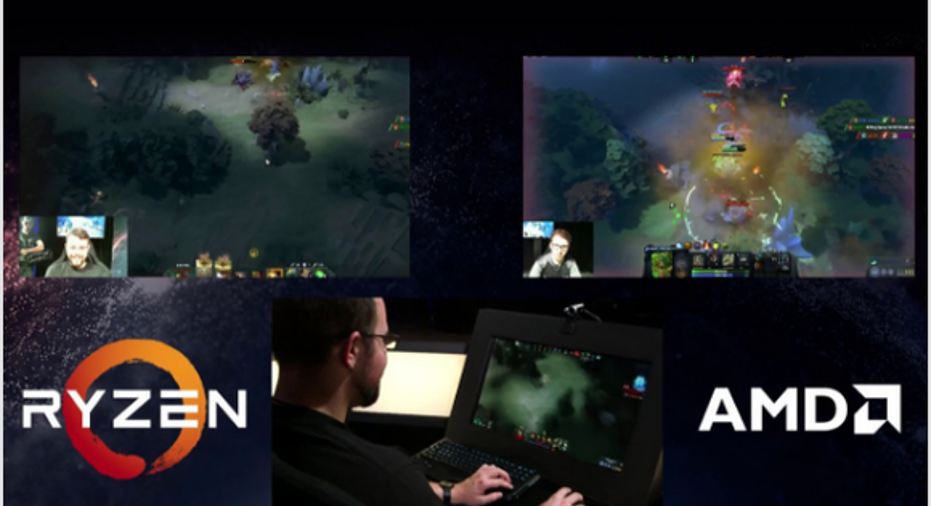 Advanced Micro Devices (NASDAQ: AMD) stock has jumped over 15% this year thanks to a strong fourth-quarter report in February that bested Wall Street's expectations. Higher graphics card sales have boosted the semiconductor specialist's performance, and investors will be looking for a repeat performance when the company reports its first-quarter results after the bell on May 1.
Here's what investors can expect from AMD's upcoming earnings report.
The headline numbers
Wall Street expects 18% year-over-year growth in AMD's revenue, to $984 million, while its losses could go down from $0.12 per share to $0.04 per share. The expectations are in line with the company's guidance as the recently launched Ryzen CPU is expected to boost sales and margins.
AMD is trying to break Intel's monopoly in desktop CPUs by offering a capable chip at cheap prices. For instance, the $400 Ryzen 7 1700X processor has a better clock speed and lower power consumption figures than Intel's Core i7 6900K chip, which costs around $1,000. Therefore, it won't be surprising if AMD managed to take away some market share from Intel and improve its top line during the first quarter.
Image Source: AMD.
However, BMO Capital Markets' supply chain checks indicate weakness in graphics processing units (GPUs), which are AMD's bread-and-butter business, noting a 16% decline in GPU shipments from Q4 to Q1, outpacing the average seasonal drop of 6% seen in the last three years.
AMD has already accounted for the seasonal revenue decline, forecasting an 11% sequential drop. However, the strong year-over-year growth estimate suggests confidence as it takes the GPU fight to NVIDIA.
AMD controlled an estimated 29.5% of the discrete GPU market in the fourth quarter of 2016, compared to 22.8% in the first quarter. The market-share numbers for the latest quarter aren't out yet.
New products are estimated to increase AMD's gross margin to 33%, up 1 percentage point from last year, and help the company cut its losses significantly.
What about the outlook?
AMD's outlook will be driven by the GPU market's growth. Research firm M Science's checks indicate that high-end GPU pricing in North America has recovered over the past quarter, pointing toward strong demand. Moreover, the GPU market should get better as the year progresses, as sales of PC gaming hardware are expected to increase 6% in 2017 thanks to robust demand for high-end systems, according to Jon Peddie Research.
This is good news for AMD investors as the company's upcoming Vega GPU is aiming at the premium GPU segment. The new graphics cards are expected to go on sale sometime in May, taking on NVIDIA's latest GTX 1080 Ti GPU.
AMD's VP of Radeon gaming, Scott Herkelman, said that the Vega GPU could match the GTX 1080 Ti in memory performance, which could give it a leg up over NVIDIA if it is priced at the lower end of its expected $600-$700 range.
What's more, AMD is also finding traction in the server market. Google is using the graphics specialist's FirePro server GPUs to accelerate its Google Cloud Machine Learning and Google Compute Engine services. This business should get better with the launch of AMD's next-gen server CPU -- Naples.
AMD claims that Naples can outperform Intel's flagship server CPU in certain workload scenarios, though investors should take the tests with a grain of salt since they are not independent. But it is evident that AMD is trying to corner more of the booming server market that will need more powerful CPUs and GPUs as data-center workloads increase due to growing data volumes and complexity.
AMD investors should expect a solid outlook as the company gains traction in key end markets on the back of smart product development moves.
10 stocks we like better than Advanced Micro DevicesWhen investing geniuses David and Tom Gardner have a stock tip, it can pay to listen. After all, the newsletter they have run for over a decade, Motley Fool Stock Advisor, has tripled the market.*
David and Tom just revealed what they believe are the 10 best stocks for investors to buy right now... and Advanced Micro Devices wasn't one of them! That's right -- they think these 10 stocks are even better buys.
Click here to learn about these picks!
*Stock Advisor returns as of April 3, 2017
Suzanne Frey, an executive at Alphabet, is a member of The Motley Fool's board of directors. Harsh Chauhan has no position in any stocks mentioned. The Motley Fool owns shares of and recommends GOOG, GOOGL, and NVDA. The Motley Fool recommends Intel. The Motley Fool has a disclosure policy.