What to watch: The fight over Virginia's electric rates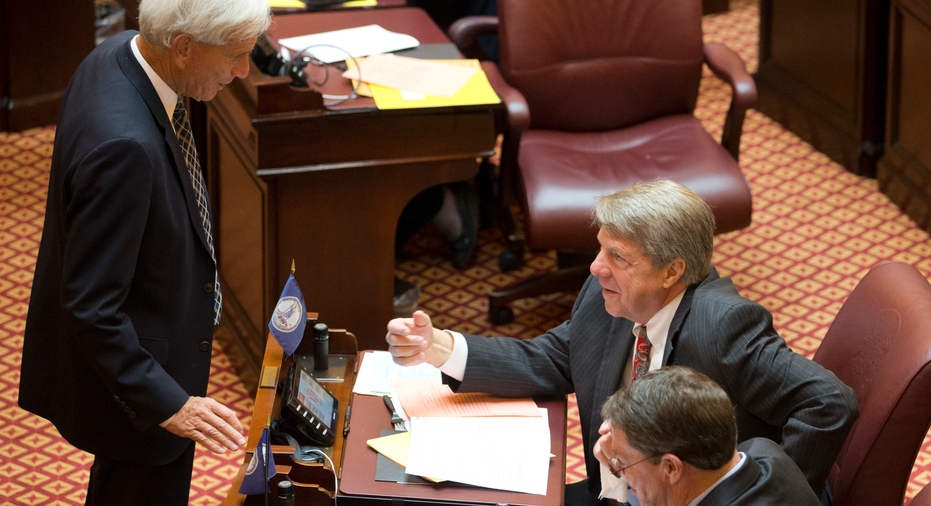 Virginia's General Assembly is in the middle of a contentious fight over electric rates that could impact monthly utility bills for most businesses and residents.
A bipartisan group of lawmakers led by Republican Sen. Frank Wagner and Democratic Sen. Dick Saslaw is set to unveil utility-backed legislation tomorrow overhauling how the state regulates electric monopolies. The legislature is considering other regulation bills, some not as industry friendly, as well.
It could all result in the biggest impact on Virginians' wallets the General Assembly makes this year. If nothing is passed, customers of Dominion Energy — the state's largest utility — could be on the hook for roughly $500 million a year in excessive payments, according to calculations by state regulators that the company disputes.
To put that in perspective: that's more than twice what the state typically gives away in economic development grants and tax incentives each year.
Here's what to look for as lawmakers debate the issue:
___
LOWER BILLS?
Many observers expect some sort of legislation that lowers overall bills for Dominion and Appalachian Power customers, at least in the short term. The question is by how much and for how long.
The companies may pay customers a refund of excessive profits earned in recent years.
A report by regulators last year found that Dominion customers were due about $133 million in 2015 and 2016 in refunds. Appalachian Power had overearnings of more than $20 million in 2016.
Customers can't get any of that money back because of a Dominion-backed 2015 law that froze oversight of utility's base rates, which make up a majority of a state's bill.
That law also prohibits regulators from forcing utilities to pass on savings from the federal tax overhaul, which the State Corporation Commission calculated will be slightly less than $245 million a year combined for both companies. Senior lawmakers have already said that they will fix the law to make sure those tax savings are passed on.
The bigger issue will be whether the SCC will have a meaningful ability to lower base rates going forward. Since voting to reregulate utilities in 2007, lawmakers have passed laws limiting commissioners' discretion in what they can consider when setting rates.
Dominion hasn't had a complete base rate review where the commission significantly reduced rates in 20 years.
Utilities and their legislative allies say past efforts have provided stable, competitive rates. But some large industrial users, consumer rights advocates and others have complained that lawmakers have hurt ratepayers to benefit utility's shareholders.
Wall Street praises Virginia as great for utilities' shareholders. Goldman Sachs said last year that the Old Dominion is "one of the top state regulatory environments for utilities in the U.S."
___
SOMETHING FOR EVERYONE?
Dominion has been aggressive in trying to line up wide support for this year's overhaul from key lawmakers, trade and environmental groups.
The legislation could include sweeteners to various constituencies that include boosting renewable energy, burying transmission lines important to key lawmakers and increasing programs aimed to help low-income customers.
Some provisions, if mandated by the legislature, could help the utilities avoid having their rates reduced or being forced future refunds.
___
NEW POLITICAL DAY
Dominion has typically enjoyed good relations with both parties in the General Assembly. But several of the new Democrats elected in a blue wave last November campaigned on limiting Dominion's influence, and have promised to elevate energy regulation issues.
These new Democrats, as well as a few outspoken returning Dominion critics on both sides of the aisle, could have an outsized effect on this year's debate.
On Wednesday, Democrat Del. Sam Rasoul said on the House floor that voters had sent a clear message of rejection of the "corrupt" 2015 law.
Republican Terry Kilgore defended the law as consumer friendly, but acknowledged that there's a wide appetite to revisit the issue.
New Gov. Ralph Northam, a moderate Democrat, has so far stayed out of the issue. His push to move Virginia into the Regional Greenhouse Gas Initiative, a program that mandates emission reductions in the power sector, could become a key bargaining chip in the debate.