What to Watch for When Ford Motor Company Reports Earnings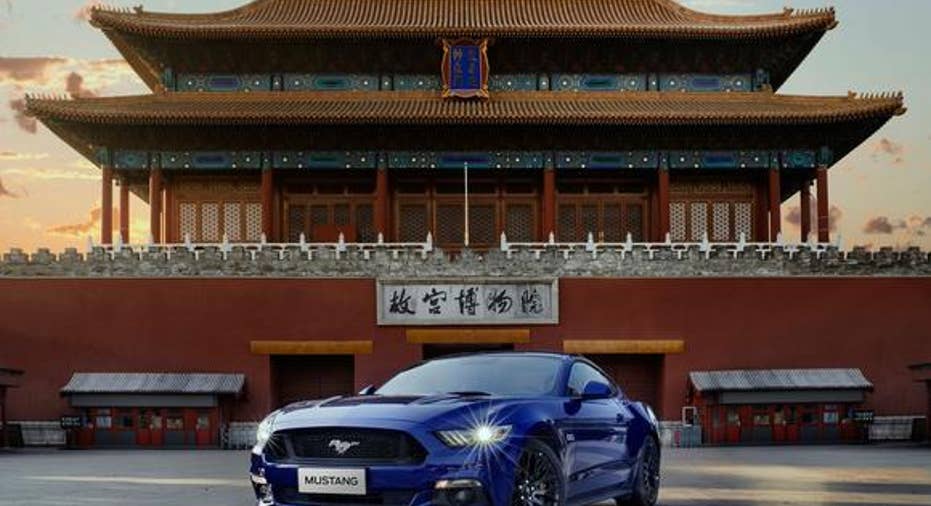 U.S. sales of Ford's F-Series rose a so-so 5% in the first quarter. But growth elsewhere could help power Ford past bullish expectations when it reports on Thursday. Imagesource: Ford Motor Company
Ford Motor Company will report its first-quarter earnings before the bell on Thursday, April 28. Here's a look at what to expect.
What Wall Street expectsAnalysts polled by Thomson Reuters expect Ford to report earnings of $0.46 per share, double its $0.23 per-share result in the year-ago period, when Ford was hit by unfavorable exchange-rate swings and supplies of the then-new F-150 were still very tight.
The analysts expect Ford's revenue to come in at $35.76 billion, up 12.5% from a year ago, on incremental year-over-year sales increases in the U.S., Europe, and China (and a somewhat more stable exchange-rate environment).
What to watch forIn North America, fleet sales have been a concern. Ford's U.S. sales rose a nice 9% in the first quarter, but much of that gain was powered by a huge jump in sales to rental-car fleets. While some rental-fleet sales are considered a good thing, too many cause investors to worry: Not only are rental cars sold at big discounts, but they depress used-car prices (and thus increase leasing costs) when the rental companies dump them two or three years later.
Ford said the bump in rental-fleet sales was simply a matter of the timing of some deliveries, and that for the full year, rental car deliveries as a percentage of overall U.S. sales would be roughly flat versus 2015. We'll be looking for some more guidance and discussion around that point during the earnings call -- and we'll also be looking to see if all of those low-profit rental-car sales hurt Ford's operating margin in North America.
In South America, all eyes will once again be on Brazil, where a severe recession has crushed new-car sales in the region's most important market. Ford, like rival General Motors , has been a player in South America for decades and has major investments in the region, but those operations have been running deep in the red as of late. The Blue Oval lost $832 million in South America last year; can it improve on that result in 2016?
Ford managed a small profit in Europe last year after several years of steep losses. But new Ford Europe chief Jim Farley wasn't satisfied: The company announced another round of restructuring in the region, and is adding more products (read: SUVs) to its regional portfolio in an effort to boost sales and margins. Farley and CEO Mark Fields have set a long-term target of 6% to 8% for operating margins in Europe -- an ambitious target after the last few years. Ford's sales in Europe rose 8.4% in the first quarter, outpacing the overall market -- we'll be looking to see how well that sales gain translated into profit.
Global sales of high-profit Ford performance cars like the Mustang were quite strong in the first quarter. That could lift margins. Image source: Ford Motor Company
Results in Ford's Asia Pacific region are dominated by its fast-growing operations in China. The new-car market in China has been slowing, and global auto brands are coming under increasing pressure from low-priced domestic Chinese alternatives. But some segments are still hot -- namely crossover SUVs, a Ford strength.
Ford's sales in China were up 14% in the first quarter, driven largely by big gains for familiar SUV models such as the Kuga (twin to the Escape), Edge, and Explorer. Sales of Ford's SUVs as a group were up 38% in the first quarter form a year ago, more than offsetting a sagging commercial-vehicle market (where Ford is also a significant player). A year ago, Ford earned $360 million from its two Chinese joint ventures. We'll be looking to see if Ford managed to find year-over-year growth despite pricing pressures.
The upshot: Global growth is slowing, but Ford should post a good quarterI think there's likely to be a fair amount of good news in Thursday's report. I think Ford is likely to beat Wall Street's $0.46 per-share profit estimate by a few pennies, as profit margins in China and losses in South America both come in a bit better than analysts expect.
The article What to Watch for When Ford Motor Company Reports Earnings originally appeared on Fool.com.
John Rosevear owns shares of Ford and General Motors. The Motley Fool owns shares of and recommends Ford. The Motley Fool recommends General Motors. Try any of our Foolish newsletter services free for 30 days. We Fools may not all hold the same opinions, but we all believe that considering a diverse range of insights makes us better investors. The Motley Fool has a disclosure policy.
Copyright 1995 - 2016 The Motley Fool, LLC. All rights reserved. The Motley Fool has a disclosure policy.