What to Watch For When Costco Reports Earnings Next Week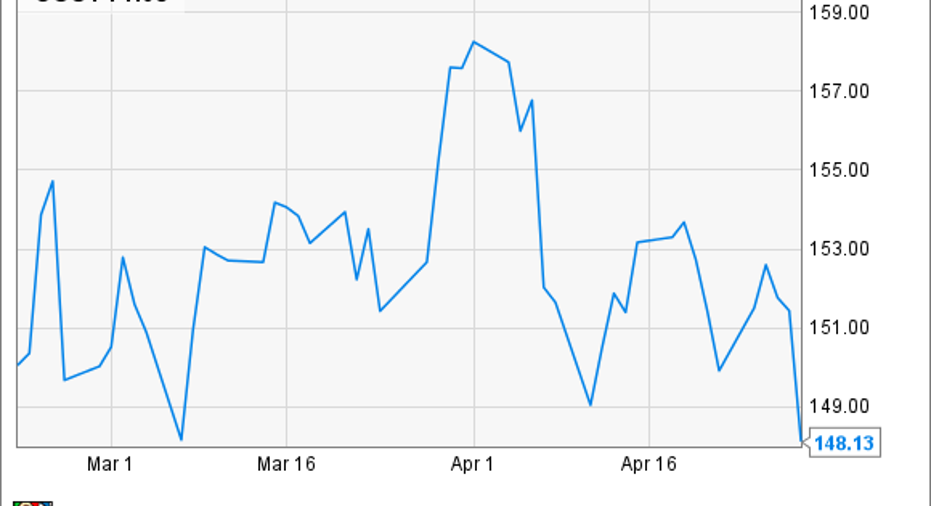 Costco Wholesale doesn't keep many secrets for its quarterly reports.
The company releases its sales data on a monthly basis, which takes some of the mystery out of its upcoming Q3 report, which it files May 25. For the period that ends May 8, Costco has already reported sales slowdowns in both March and April -- the two full calendar months covered in upcoming Q3 report. But when you factor out the impact of gasoline-price deflation and foreign exchange, the numbers are close to, albeit slightly under, the company's year-to-date increases.
In March, the adjusted numbers showed U.S. sales growth of 3%, down from the 31-week year-to-date total of 4%. It was off a similar 1% when adding all its territories around the globe, falling to 4% growth from 5%. The adjusted numbers were a little worse in April, with U.S. sales growth coming in at 2%, down from the 4% 35-week year-to-date average, and total global sales dropping to 3% from 5%.
The market has already punished the wholesale club for the less-than-inspiring figures. That's why come May 25 it won't be sales that drive how investors respond to the Q3 report. Investors will be interested to see if membership was affected by the switch of the company's credit card from American Express to Visa through Citigroup.
Image source: YCharts.com.
Why Costco's credit card switch could hurt
Costco didn't give its members a choice about switching from American Express to Visa. It simply made the decision, announced it, and in April began sending out new cards. Members didn't have to apply for the new Visa cards -- they're just going to show up in the mail -- but they also weren't given an option to keep their American Express.
It's early in the process, but for many Costco customers the April arrival of their new Visa could potentially be the first they learned of the switch. It's possible that the first formal step in making the switch could cause a decline in membership numbers. If that happens, it could signal very bad news for Q4, because as of June 20, the old cards stop working altogether and Costco will stop taking American Express.
Why is Costco membership important?
As a discount club, Costco makes more of its money (roughly 75%) from its membership fees than it does on sales in its stores. It might be that customers dislike having their store card cancelled and receiving an alternative in the mail. If this translates into a reduction in membership numbers this would be problematic for Costco, and could signal further issues to come after the June 20 deadline date hits.
Through the first two quarters of the year, Costco has seen its membership base grow slightly. The company reported $1.19 billion in membership fees for its first 24 weeks of fiscal 2015, up from $1.16 billion the previous year. Those aren't stellar numbers, but at least it's growth. A flip to a decline, even if it's attributable to the one-time impact of the card switch, could have a strong negative impact on the stock.
Will the membership numbers be down?
It's hard to know how Costco members will react to the credit card switch. The new Visa program has improved rewards over the previous American Express. That said, having your card cancelled in exchange for a new one can create chaos. People will have to update auto-pays using their previous card, and some will just have preferred being with American Express.
This is uncharted territory. Other companies have switched their credit card provider, but this is different because a separate membership fee is involved. It's possible that Costco customers, who have the right to cancel their $55 individual memberships at any time, might find this as an enough-is-enough moment.
If the company takes a membership hit from dropping American Express, it almost certainly will be a small number. Still, any loss of members now makes it more likely that the June 20 cutoff date will be a time of further loss. That makes this a very important earnings report for the company, which is likely to tip off investors to the course its shares will follow for at least the next few quarters.
The article What to Watch For When Costco Reports Earnings Next Week originally appeared on Fool.com.
Daniel Kline has no position in any stocks mentioned. He would be super annoyed if he had a Costco credit card and this happened. The Motley Fool owns shares of and recommends Costco Wholesale and Visa. The Motley Fool recommends American Express. Try any of our Foolish newsletter services free for 30 days. We Fools may not all hold the same opinions, but we all believe that considering a diverse range of insights makes us better investors. The Motley Fool has a disclosure policy.
Copyright 1995 - 2016 The Motley Fool, LLC. All rights reserved. The Motley Fool has a disclosure policy.