What to Expect When NXP Semiconductors NV Reports Earnings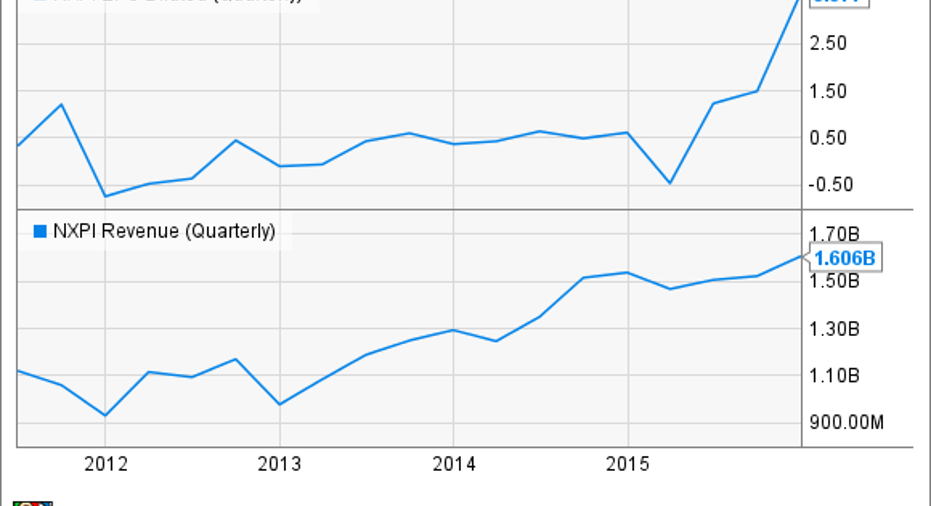 Image source: NXP.
NXP Semiconductors is gearing up for a first-quarter report. At the end of after-hours trading on April 25, which falls at 6:30 p.m. Eastern time, the Netherlands-based maker of processors for security and communications tasks will go over its first full quarter with Texas-based Freescale Semiconductor under its belt.
Since the fourth-quarter report in early February, NXP shares have risen a market-beating 16%. That's in spite of a quick plunge right after the report, when Apple suppliers of every shape and size took a beating on reports of low iPhone production volumes.
NXP investors shrugged off that concern very quickly, bringing positive momentum into today's report. Read on for insight into what to look for in today's report.
NXPI EPS Diluted (Quarterly) data by YCharts
Management's guidance points to first-quarter revenue of roughly $2.2 billion and adjusted earnings near $1.10 per diluted share. Hitting these targets would amount to a 19% year-over-year reduction of bottom-line earnings. Revenues should soar 50% above the year-ago number, but that's not a fair comparison. Keep in mind that the Freescale merger was just in its earliest stages back then, and not a part of NXP's operations at all.
Automotive computing sales should stop near $800 million, making it NXP's largest division by far. The Freescale transaction brought an established automotive market leader to the table, alongside NXP's own substantial presence in that sector.
This guidance accounts for a full quarter's worth of Freescale operations. Product mix should turn toward somewhat higher-margin territory, offset by merger integration costs and annual price adjustments. In all, adjusted operating margins are expected to land at roughly 23%, down from 27% in the fourth quarter.
Beyond the numbers This quarter will give investors a real taste of how the Freescale merger is working out. All the guidance figures assume perfect execution and a smooth process. Higher margins and faster growth would point to excellent execution, while lower results could be a sign of unexpected difficulties.
In particular, keep an eye on the automotive segment's $800 million revenue target. This sector is exploding, driven by increasing amounts of automation and digital infotainment systems in modern cars. In the earnings call, NXP's management is likely to break this segment down into trends seen in China, North America, and the rest of the world. We'll get economic trend signals, but also clear signs of how crisply the company is executing on this market's enormous promise.
As for the rumored iPhone production slowdown, it's certainly true that NXP provides components for this popular product line, but it isn't a large presence. Apple -- and other smartphone makers -- uses NXP's near-field communications chips, but that business didn't even merit a mention in the fourth-quarter earnings call. If iPhone volumes drop by 10%, the impact on NXP's top and bottom lines will be slim to none. Don't expect the first-quarter report to pay much mind to Apple's potential volume changes.
The article What to Expect When NXP Semiconductors NV Reports Earnings originally appeared on Fool.com.
Anders Bylund has no position in any stocks mentioned. The Motley Fool owns shares of and recommends AAPL and NXPI. Try any of our Foolish newsletter services free for 30 days. We Fools may not all hold the same opinions, but we all believe that considering a diverse range of insights makes us better investors. The Motley Fool has a disclosure policy.
Copyright 1995 - 2016 The Motley Fool, LLC. All rights reserved. The Motley Fool has a disclosure policy.