What to Expect When InvenSense Reports Earnings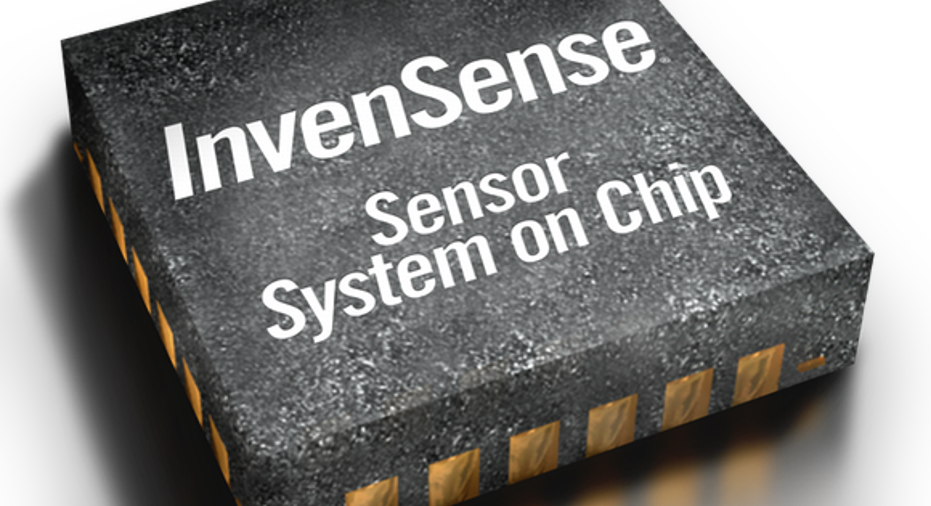 Image source: InvenSense,
InvenSense is set to release fiscal fourth-quarter 2016 results after the market close on Monday, May 9. After a reasonably strong quarter was overshadowed by disappointing guidance three months ago, investors would love for the motion sensor chip company to demonstrate that its efforts to diversify away from its core mobile market are yielding fruit.
But what, exactly, should investors be watching when InvenSense's report hits the wires?
First, note that InvenSense's guidance calls for quarterly revenue in the range of $77 million to $83 million, the midpoint of which represents a decline of roughly 19.4% from the same year-ago period. Meanwhile, InvenSense expects gross margin to remain steady at 44% to 45%, and adjusted operating expenses should rise roughly $2 million, partly given an extra week in the quarter compared with the same year-ago period. On the bottom line, InvenSense told investors to expect adjusted earnings in the range of breakeven to $0.02 per share. Based on generally accepted accounting principles, that should translate to a per-share net loss of $0.09 to $0.11.
To be fair, this guidance included some seasonality. But management also suggested that the majority of the top-line decline will come from expected softness in the smartphone and tablet markets, which together comprised around 65% of total revenue last quarter. For perspective, optical image stabilization represented 14% of total revenue in fiscal Q3, while all other segments, including Internet of Things products, comprised the remaining 21%.
On top of that, InvenSense had two customers individually account for 47% and 13% of total sales in fiscal Q3. InvenSense also revealed 51% of revenue came from customers in the United States last quarter, while South Korean customers represented around 16%. So while InvenSense wasn't naming names, it doesn't take a rocket scientist to realize those figures almost certainly corresponded to shipments sent to to Apple and Samsung , respectively. Considering Apple just detailed its first-ever decline in iPhone unit sales last week, it seems to follow that InvenSense's cautious outlook might prove merited.
That said, there remains at least some hope for the possibility of outperformance. During last quarter's conference call, InvenSense CFO Mark Dentinger stated that the mobile market appeared to be showing signs of stabilization, while InvenSense's "other bucket" category -- which contains much of the company's products focused on the Internet of Things -- were offering a "little bit of a tailwind."
Similarly two quarters ago, Dentinger reminded investors that it's difficult to accurately forecast how that tailwind will play out in these early stages of growth. "If that were to go well," he elaborated at the time, "that would probably give us a little bit of upside."
And that's fair enough. Around 80% of InvenSense's design win pipeline is outside of the mobile industry, which, as CEO Behrooz Abdi summed up last quarter's call, gives the company "confidence that the mobile market will be one of many in which InvenSense can take a leadership position as the proliferation of sensors continue in the [Internet of Things] era."
Finally, if last year's fiscal Q4 results are any indication, InvenSense management will probably offer guidance for its current (fiscal 2017 first) quarter, including expectations for revenue, gross margin, adjusted operating expenses, and adjusted earnings per share. That said, I'm not holding my breath for the company to offer quantitative comments on the full fiscal year ahead, especially given the uncertain state of the smartphone market and its emerging OIS and "other bucket" opportunities. But for now, this near-term view should give us a solid base from which to gauge the state of InvenSense's business.
The article What to Expect When InvenSense Reports Earnings originally appeared on Fool.com.
Steve Symington owns shares of Apple and InvenSense. The Motley Fool owns shares of and recommends Apple and InvenSense. Try any of our Foolish newsletter services free for 30 days. We Fools may not all hold the same opinions, but we all believe that considering a diverse range of insights makes us better investors. The Motley Fool has a disclosure policy.
Copyright 1995 - 2016 The Motley Fool, LLC. All rights reserved. The Motley Fool has a disclosure policy.