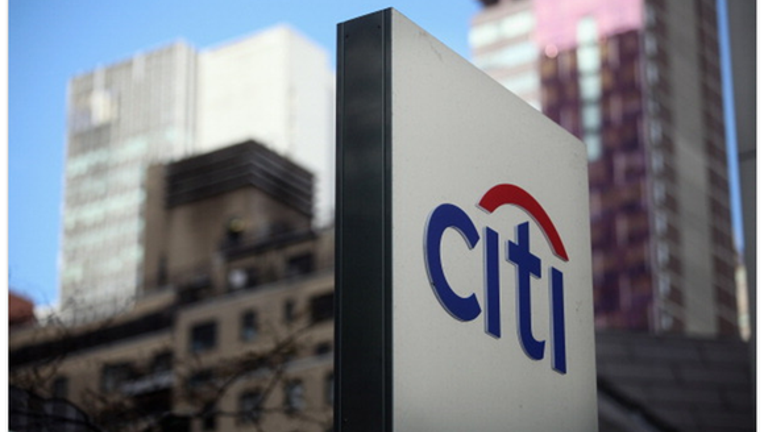 Image source: iStock/Thinkstock.
When Citigroup reports earnings next week, it seems safe to assume that both its revenue and earnings will have dropped in the first three months of the year compared to the same period in 2015. The average analyst estimate is for a 25% decline in earnings per share.
Speaking at the 2016 RBC Capital Markets Financial Institutions Conference at the beginning of March, Citigroup Chief Financial Officer John Gerspachlaid out four areas of its business which appear to have struggled in the first quarter.
1. Trading revenueIt's been widely reported that trading revenue at the nation's biggest banks fell in the first three months of the year. Citigroup was no exception, said Gerspach:
Gerspach's estimate is roughly in line with comments from Daniel Pinto, the head of JPMorgan Chase's investment bank. Speaking at JPMorgan Chase's investor day in February, Pinto said that revenue from sales and trading has tumbled about 20% this year.
For Citigroup, trading revenues added up to just under $2 billion in the first quarter of last year. If Gerspach is right, then, the New York-based bank could see income from trading drop by $300 million.
2. Investment banking feesThe same market fears that are weighing on Citigroup's trading operations are also taking a toll on its investment banking activities. As stock prices fell throughout the first quarter, fewer companies were interested in issuing new shares. And with interest rates and the global economy in flux, debt issuance slowed as well.
According to Gerspach:
Given that Citigroup earned $3.2 billion in investment banking fees (i.e., commissions and fees) in the first quarter of 2015, a 25% drop could equate to a roughly $800 million top-line contraction.
3. Consumer businessThe struggles aren't limited to the commercial and investment banking side of Citigroup's operations. Its global consumer banking unit is also likely to report lackluster results, said Gerspach. The cause of any decline in its consumer business is more seasonal in nature, though. As the CFO explained:
Gerspach is presumably referring here to the fact that the revenue Citigroup generates from its credit card business naturally falls in the wake of the holiday season, during which the nation's fourth biggest bank by assets racks up interchange fees from increased credit card usage.
4. Costs will be higherIn addition to the issues on the top line, Citigroup has also warned investors that its expenses could rise. There are two areas in particular that are likely to be affected.
The first is the cost of credit. With oil prices remaining in and around the $30 per barrel mark, energy companies are starting to struggle to service their debts. This is leading to higher delinquency rates among energy borrowers, which in turn forces banks to set aside more money in anticipation of future losses.
In the fourth quarter of last year, Citigroup boosted its loan loss provisions by $400 million -- that is, above the year-ago period. And the bank appears poised to do so again, explained Gerspach:
Finally, Citigroup will purportedly take a one-time charge in the quarter of $400 million related to a repositioning reserve. "And that's really as we continue to resize both our infrastructure and capacity just in response to the tough revenue environment," said Gerspach.
All in all, then, when you take these four trends into consideration, it seems safe to say that the first quarter of 2016 won't be one for the history books. Opportunistic investors may want to watch for a pullback in bank stocks as an opening to establish a bargain-basement basis in shares of the nation's biggest banks.
The article What to Expect When Citigroup Reports Earnings on April 15 originally appeared on Fool.com.
John Maxfield has no position in any stocks mentioned. The Motley Fool has no position in any of the stocks mentioned. Try any of our Foolish newsletter services free for 30 days. We Fools may not all hold the same opinions, but we all believe that considering a diverse range of insights makes us better investors. The Motley Fool has a disclosure policy.
Copyright 1995 - 2016 The Motley Fool, LLC. All rights reserved. The Motley Fool has a disclosure policy.