What to Expect From CSX Corp. and Union Pacific Earnings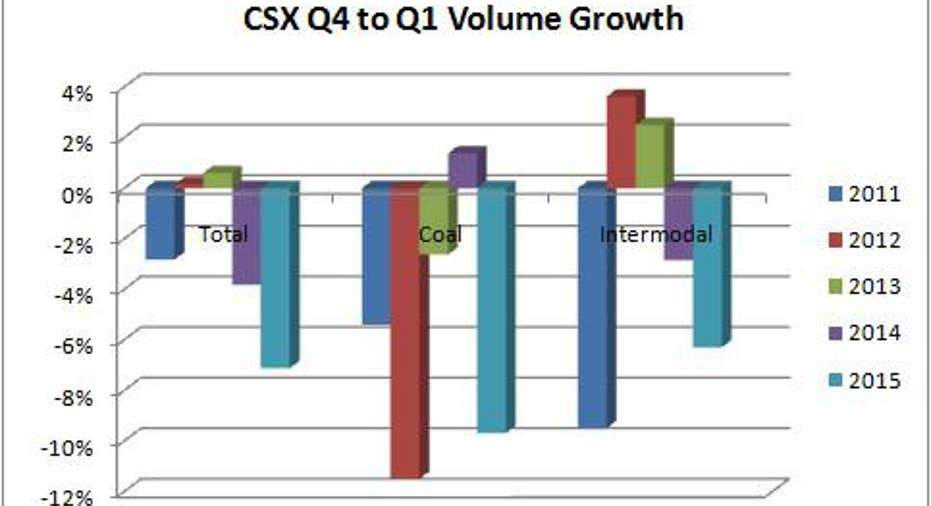 will present its first-quarter results in mid-April, followed by fellow railroad company a week later. Both sets of results are eagerly anticipated, not least because the transportation sector is viewed as a leading economic indicator. While the reports will likely have lots of useful data points, investors should keep an eye on one key metric when both companies give results -- a piece of information that could indicate the start of a recovery in industrial conditions.
Some sectors are more equal than others Let's face facts: It isn't going to be a pretty report from either company. Analysts expect to see CSX's revenue decline by 11.5% to $2.68 billion, with EPS falling 17.8% to $0.37. Meanwhile,the investment community anticipates Union Pacific's revenue dipping by 11.7%, and EPS declining 12.3% to $1.14.
Moreover, a look at U.S. industrial conditions -- measured here by the Institute for Supply Management Purchasing Managers Index, where a figure above 50 indicates expansion -- and U.S. coal production (a key end market for railroads) indicate weakness in 2016.
US Coal Production data by YCharts.
The question is whether the results will reveal a beginning of a bottoming in conditions.
Sequential growth One way to measure this is to look at sequential growth rates. In other words, will the growth rate between the first quarter of 2016 and fourth quarter of 2016 be stronger or weaker comparedto previous years?
If it's stronger, you could argue that a bottom is forming -- even if the year-over-year numbers are weaker -- while weaker sequential numbers would indicate worsening conditions.
Union Pacific Corporation A detailed look at Union Pacific's sequential growth rates can be found in the linked article. To sum up the data, the only one of Union Pacific's end markets exhibiting relative strength in 2015 was automotive. Focusing on Union Pacific for the moment, here is a chart of sequential growth in terms of total revenue ton miles. You can clearly see the weakening trend in 2015.
DATA SOURCE: UNION PACIFIC PRESENTATIONS.
But what should we expect from the first quarter of 2016?
It's useful to strip out coal from the figures in order to get a better cyclical viewpoint -- coal has structural as well as macroeconomic issues facing it. Here's a chart of sequential growth for Union Pacific revenue ton miles ex-coal:
DATA SOURCE: UNION PACIFIC PRESENTATIONS.
Extrapolating from the chart above, any sequential growth in the first quarter would suggest some relative improvement. For reference, total fourth-quarter revenue ton miles were 116,718 million, and excluding coal they were 80,765 million. Therefore, any figure around that amount in the first quarter could be seen as a positive.
CSX Corp. The patterns in CSX's volumes are similar to Union Pacific's. For example, a breakout of total unit volumes, coal unit volumes and intermodal (purely for comparison) shows its weakness in the first quarter of 2015.
DATA SOURCE: CSX CORP PRESENTATIONS.
It's clear that when the economy is firing on all cylinders, CSX's first-quarter volumes excluding coal can grow on a sequential basis. It's probably too early to expect a positive result in the coming quarterly report, but investors will want to see some signs of a bottom forming.
DATA SOURCE: CSX CORP PRESENTATIONS.
Where next for Union Pacific and CSX? Some other cyclical sectors in the market, such as industrial supply, have been flying highin 2016, with the market apparently pricing in a second-half recovery in U.S. industrial conditions. In addition, energy-related industrials have also been stronglately -- and railroads have heavy exposure to the energy industry.
With this in mind, the index-hugging performances of CSX and Union Pacific have been relatively disappointing -- though understandable, given the lack of hard evidence of a turnaround in their carload volume trends.
On the other hand, if CSX and Union Pacific report better sequential growth -- in line with the indicators discussed above -- then don't be surprised if the stocks move higher. Under the circumstances, it's hard to expect too much from this month's results, but any solid or anecdotal evidence in their presentations of a bottoming process will likely send these stocks higher.
The article What to Expect From CSX Corp. and Union Pacific Earnings originally appeared on Fool.com.
Lee Samaha has no position in any stocks mentioned. The Motley Fool recommends CSX. Try any of our Foolish newsletter services free for 30 days. We Fools may not all hold the same opinions, but we all believe that considering a diverse range of insights makes us better investors. The Motley Fool has a disclosure policy.
Copyright 1995 - 2016 The Motley Fool, LLC. All rights reserved. The Motley Fool has a disclosure policy.