What Textron's Arctic Cat Acquisition Means for Their Shareholders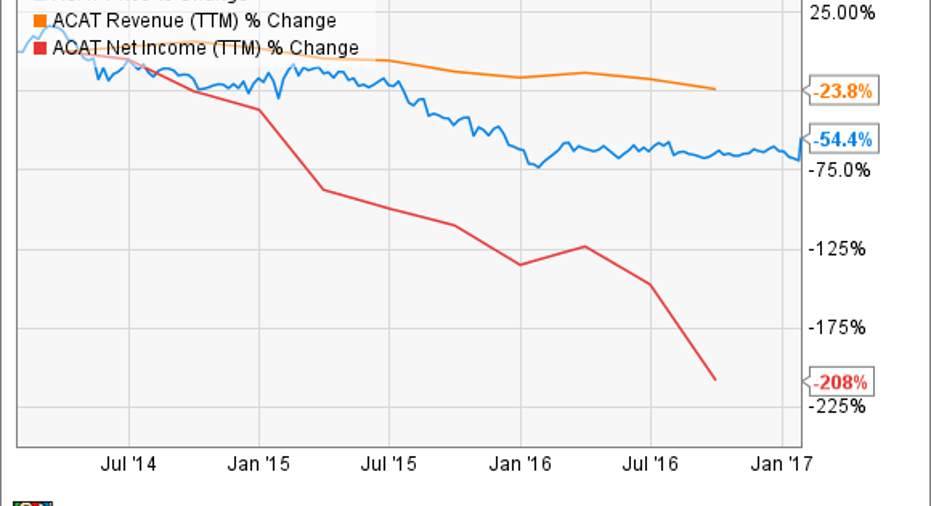 Last month, Textron (NYSE: TXT) agreed to buy snowmobile maker Arctic Cat (NASDAQ: ACAT) in an all-cash deal. Here are the details owners of the two companies need to consider.
The Arctic Cat ZR 4000. Image source: Arctic Cat.
Betting on outdoor recreational vehicles
Textron's offer values Arctic Cat at $247 million plus the assumption of all the company's debt. Those with a stake in the winter-toy maker will receive a tender offer of $18.50 per share.
Textron CEO Scott C. Donnelly had this to say regarding the rationale behind the purchase:
The diversified industrial holdings at Textron include a number of names in the outdoor vehicle industry including E-Z-GO, Bad Boy Off Road, and Cushman. These names, operating under the specialized vehicles division, build everything from golf carts to ATVs.
Adding the Arctic Cat name deepens the company's exposure in its existing off-road vehicle department, but also broadens its scope to include the closely related snowmobile category. Arctic Cat's lineup, technology, and dealership network will no doubt be tapped to strengthen the brands already in the fold as well.
The Bad Boy Off Road Stampede. Image source: Bad Boy Off Road.
The deal will end the pain that owners of the Minnesota-based vehicle maker have been dealing with for the last few years. Revenue and profits have been on a steady decline, as the power-sports market copes with stagnant consumer demand and no shortage of competitors. This agreement between Textron and Arctic Cat helps consolidate the number of players in the industry, and bolsters the newly combined outdoor-vehicle division in coping with the industry's struggles.
What shareholders should do
For Textron owners, this deal isn't much of an issue. Sales in the last year were nearly $13.8 billion and cash on the balance sheet was over $1.1 billion, so the $247 million paid for Arctic Cat is a small purchase. While Arctic Cat's operations ran in the red last year, plugging the business into Textron's much bigger $3.8 billion industrials segment could help the struggling manufacturer return to profitability.
For owners of Arctic Cat stock, there are a few options. A tender offer for their shares will begin no later than Feb. 7 for the aforementioned $18.50. That offer can be accepted and shares will be exchanged for cash.
A second option is to go ahead and cash out now, as share prices of Arctic Cat have jumped above the $18.50 offer since the news broke. The risk here is that if the offer from Textron gets increased for some reason, you'd miss out on that. (As usually happens with acquisitions, several law firms have issued statements that they are investigating whether the deal is fair.)
A third option, and an ill-advised one, is to continue holding Arctic Cat shares. When the tender offer is completed, your stock will be removed from stock exchanges; this means that if you need to sell, you'd need to find a private buyer and negotiate a price. There is no guarantee you would get the $18.50 currently on the table, and chances are the sum would be much less for what would then be a wholly owned subsidiary business.
In short, it's been a tough run for investors in the small snowmobile maker, but it's time to say farewell.
10 stocks we like better than Arctic Cat When investing geniuses David and Tom Gardner have a stock tip, it can pay to listen. After all, the newsletter they have run for over a decade, Motley Fool Stock Advisor, has tripled the market.*
David and Tom just revealed what they believe are the 10 best stocks for investors to buy right now... and Arctic Cat wasn't one of them! That's right -- they think these 10 stocks are even better buys.
Click here to learn about these picks!
*Stock Advisor returns as of January 4, 2017
Nicholas Rossolillo has no position in any stocks mentioned. The Motley Fool has no position in any of the stocks mentioned. The Motley Fool has a disclosure policy.