What Tesla Motors' CFO Said About Boosting Gross Profit Margins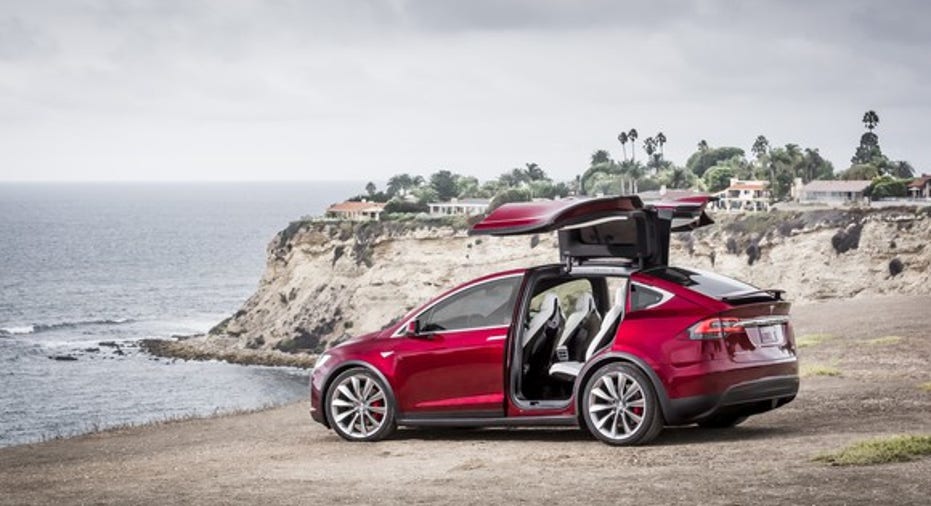 Sorting out production issues related to the Model X helped boost Tesla's gross margin in the second quarter. Tesla's CFO thinks there's more room for improvement. Image source: Tesla Motors.
Tesla Motors (NASDAQ: TSLA) wasn't profitable in the second quarter of 2016. The Silicon Valley carmaker posted a net loss of $293 million, or $2.09 per share, as it continues to spend big on development of its upcoming Model 3 sedan.
Still, Tesla posted a gross profitof almost $275 million. That's not the same thing as a net profit, or even the operating profits most other automakers use to gauge the health of their businesses, but it still tells us some things about the state of Tesla's business that are worth knowing.
Gross profit margin is a limited but useful indicator
Gross profit is far from a complete picture of a business's health: It's the revenue generated by the company's products and services minus the costs directly associated with creating those products and services.
Gross profit doesn't take into account things like marketing costs, office supplies -- or, critically for an automaker, the (huge) costs of developing future products.
But gross profit, or more specifically the gross profit margin(gross profit divided by revenue) can be a useful indicator for investors. With an automaker, looking at gross margin across several quarters can give investors a sense of how efficient the company's manufacturing operations are over time. Alternatively, it can help investors understand if the automaker's pricing is slipping -- for instance, if it has had to cut prices to keep up with lower-cost competitors.
Tesla's automotive gross margin compares well with established luxury-car makers'
The gross margin for Tesla's automotive business (excluding its services and other revenue sources, as well as the sale of ZEV credits) was 21.2% in the second quarter. That's a strong number that compares well with similar numbers provided by other luxury-car makers: BMW (NASDAQOTH: BAMXF) at 18%, Mercedes-Benz parent Daimler (NASDAQOTH: DDAIF) at 20.8%, andAudi (NASDAQOTH: AUDVF) at 18.9% (for the first half of 2016).
That's not quite a direct comparison for several reasons, and we need to take it with several grains of salt before declaring Tesla's to be "better." For starters, Tesla's Model S and Model X compete only at the higher end of the market, where profit margins are fattest. The German luxury-car makers' product portfolios extend much further downmarket than Tesla's do at the moment. (Not to mention Daimler's number includes its heavy-truck businesses in addition to its Mercedes-Benz Cars unit.)
But Tesla does have a genuine, significant pricing advantage over its German rivals. That's due partly to its distribution model (which leaves out franchised dealers) and partly to the fact that it has good pricing power: Its "premium electric vehicles" are well regarded and still have no direct competition. That pricing advantage is probably worth a few points of gross margin.
Despite all of the above, Tesla's strong gross margin number suggests its manufacturing efficiency already compares at least fairly well with its rivals'. But Tesla's chief financial officer thinks it can get a bit better from here.
What Tesla's CFO said recently about boosting gross margins
Tesla CFO Jason Wheeler only joined the upstart automaker last November, but it's increasingly clear that he has already helped improve Tesla's finances. During Tesla's second-quarter earnings call, Wheeler noted that the gross margin for Tesla's automotive business excluding the sale of ZEV credits increased from 20.1% in the first quarter to 21.2% in the second.
Wheeler pointed to a couple of factors that helped:
Wheeler and CEO Elon Musk have repeatedly said that the first few months of production of the Model X SUV, which began last December, were difficult because of quality and manufacturing snags. That increased Tesla's per-vehicle manufacturing costs and hurt its gross margin in the first quarter. Now that Model X production has hit its stride, the margin has improved.
Wheeler thinks there's more room for improvement. "On a go-forward basis, the way we're thinking about margins is that we certainly see opportunities for continued cost-downs, both on the engineering front, also on the commercial front as well," he said, continuing:
Long story short: Tesla will continue to seek incremental gains in its manufacturing efficiency even as it begins ramping up to the Model 3.
A secret billion-dollar stock opportunity The world's biggest tech company forgot to show you something, but a few Wall Street analysts and the Fool didn't miss a beat: There's a small company that's powering their brand-new gadgets and the coming revolution in technology. And we think its stock price has nearly unlimited room to run for early, in-the-know investors! To be one of them, just click here.
John Rosevear has no position in any stocks mentioned. The Motley Fool owns shares of and recommends Tesla Motors. The Motley Fool recommends BMW. Try any of our Foolish newsletter services free for 30 days. We Fools may not all hold the same opinions, but we all believe that considering a diverse range of insights makes us better investors. The Motley Fool has a disclosure policy.