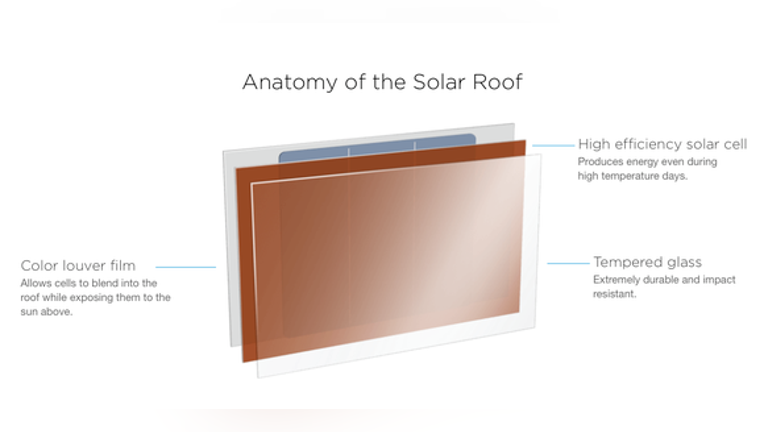 Thursday afternoon, Tesla Motors (NASDAQ: TSLA) announced shareholders voted overwhelmingly in favor of the company's acquisition of SolarCity (NASDAQ: SCTY). With shareholders on board, the company said the transaction will take place in "the coming days."
Elon Musk shows French slate style Tesla solar roof. Image source: Tesla Motors.
As shareholders approved the deal, Musk made some statements and answered some questions in a shareholder meeting in Fremont, California, on Thursday. Here's what the CEO of the soon-to-be combined companies had to say about theacquisition.
How much will Tesla's solar roof cost?
After jointly unveiling solar roof cells in conjunction with SolarCity in October, some questions about the new product have lingered. Chief among the missing information about the new product are specifics regarding pricing. On Thursday, Musk gave investors a vague yet useful idea of what to expect:
As Musk went on to explain, achieving this would create an incredibly compelling value proposition for Tesla's new solar roof.
Musk also said these projected lower costs factor in labor costs.
Who owns Tesla's solar roof technology?
The solar roof unveiled jointly by SolarCity and Tesla was developed entirely by the two companies, Musk said. Further, he noted that "90% plus of the technology is owned by our combined company."
Initial Tesla solar roof designs. Image source: Tesla Motors.
Musk did say Tesla "may or may not use a film from 3M, but the use of the film for the particular application that we were talking about was something that we came up with."
When will Tesla begin selling solar roofs?
Will all of the tiles have a built-in solar cell?
One shareholder asked, after noting that some areas of roofs are heavily shaded, whether or not all the tiles would actually have built-in solar cells.
Image source: Tesla Motors.
Admitting it wouldn't make sense for all of the tiles to have solar cells, Musk said, "Some will not, but it's important they aesthetically look the same."
Does Tesla need solar incentives?
Concerned about a political landscape that may not be supportive of green incentives, one shareholder asked about solar subsidies' importance to Tesla's business now that it will own SolarCity.
Currently, there's a 30% investment tax credit for solar panels. But Musk isn't banking on incentives for the solar roof, he seemed to suggest. Referencing the company's aim to sell the roof for around the same price of traditional roofing options, without taking into account any savings from electricity, Musk said, "assuming that pans out, subsidies don't really matter."
With the acquisition closing in the coming days, and with Tesla preparing to produce its solar roofs in volume next summer, investors may want to continue to keep tabs on the company's plans for its foray into the solar market with SolarCity.
Forget the 2016 election: 10 stocks we like better than Tesla Motors Donald Trump was just elected president, and volatility is up. But here's why you should ignore the election:
Investing geniuses Tom and David Gardner have spent a long time beating the market no matter who's in the White House. In fact, the newsletter they have run for over a decade, Motley Fool Stock Advisor, has tripled the market.*
David and Tom just revealed what they believe are the ten best stocks for investors to buy right now...and Tesla Motors wasn't one of them! That's right -- they think these 10 stocks are even better buys.
Click here to learn about these picks!
*Stock Advisor returns as of November 7, 2016.
Daniel Sparks owns shares of SolarCity and Tesla Motors. The Motley Fool owns shares of and recommends SolarCity and Tesla Motors. Try any of our Foolish newsletter services free for 30 days. We Fools may not all hold the same opinions, but we all believe that considering a diverse range of insights makes us better investors. The Motley Fool has a disclosure policy.