What Ray Dalio's Bridgewater Associates Has Been Selling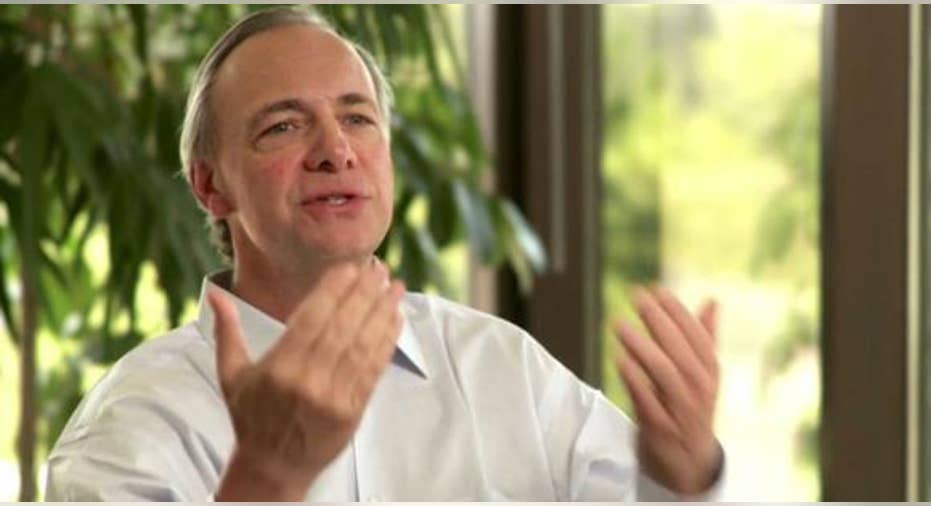 Ray Dalio is one of the world's most successful investors.
Ray Dalio's Bridgewater Associates has a tendency to move in and out of stocks quickly in its $7.8 billion equity portfolio, but the fact that Dalio is one of the planet's richest investors suggests that investors should pay attention when he decides it's time to walk away from a position. Let's look at the three biggest positions he cut loose from his portfolio last quarter.
Source: Chipotle Mexican Grill.
No. 1: Chipotle Mexican Grill There's arguably been no greater restaurant investment than Chipotle Mexican Grill. The company's shares nearly doubled between the end of 2011 and this past September.
However, soaring shares may have Dalio thinking that the company is due for a pullback, and given that an E. coli scare has caused Chipotle Mexican Grill's shares to retreat by almost 150 points since the end of the third quarter, it appears his decision to sell has worked out.
Of course, long-term thinking historically outperforms short-term thinking, and now that Chipotle Mexican Grill's stock has dipped, it may be better to consider buying it, rather than following Dalio in unloading it.
Besides, it's possible that Dalio is already buying the stock again now that it's on sale. After all, the stake he sold in Q3 was the same position he bought in Q2.
Because Dalio appears to approach this stock with a short-term mind-set, it may be best to focus more on Chipotle Mexican Grill's potential for growth than his selling of shares last quarter. In that regard, the company still delivered double-digit year-over-year top- and bottom-line growth last quarter, and assuming it can put recent health concerns behind it, the recent drop in its shares could be a good opportunity for long-term investors to buy.
No. 2: Sysco Corp. In August, activist investor Nelson Peltz set sights on the food distributor when it acquired a 7.1% stake. Following the news of his investment, Pelz was given two seats on Sysco's board, but that may not have been enough to keep Dalio happy, given that Bridgewater Associates punted its $12 million in shares in Q3.
It's unclear what kind of shareholder-friendly change Pelz is aiming for at Sysco. The food distribution business is tooth-and-nail competitive, and the company has posted a string of disappointing profit over the past few years. Yet the company does have one thing going for it: cash. As Fool Bob Ciura pointed out in August, Sysco's sitting on $5.1 billion in cash, which is more than twice its long-term debt, and it's shown a willingness to return some of that money through buybacks in the past.
Regardless, it's hard for me to get on board with buying this stock. The marketplace doesn't offer up a lot of confidence for Sysco's future growth, and that's simply too big of a hurdle for me to overcome to want to own this stock.
Source: Varian Medical Systems.
No. 3: Varian Medical Systems Dalio also decided to cut bait with his $10.5 million position in Varian Medical Systems last quarter. His decision to step away from this stock may not be a bad one, given that shares have struggled since hitting highs in April and the company's top-line growth and operating margin have been sliding since 2012.
VAR Operating Margin (TTM) data by YCharts
In November, Varian Medical Systems tried to reignite investor interest by announcing an 8 million-share buyback program that will kick off in Q1. That could offer some support for the company's share price early next year, but for this company to be worth taking a bet on, its going to need to show that it can spark sales for its high-margin oncology systems and stabilize demand for its imaging components.
Last quarter, oncology systems sales were up 2% and imaging components revenue was down 8% when including currency headwinds. That's not very inspiring, so until there's evidence that this company can do better than that, I'm content to stay out of this stock for now.
The article What Ray Dalio's Bridgewater Associates Has Been Selling originally appeared on Fool.com.
Todd Campbell has no position in any stocks mentioned. Todd owns E.B. Capital Markets, LLC. E.B. Capital'sclientsmay have positions in the companies mentioned. The Motley Fool owns shares of and recommends ChipotleMexican Grill. The Motley Fool owns shares of Varian Medical Systems,. Try any of our Foolish newsletter services free for 30 days. We Fools may not all hold the same opinions, but we all believe that considering a diverse range of insights makes us better investors. The Motley Fool has a disclosure policy.
Copyright 1995 - 2015 The Motley Fool, LLC. All rights reserved. The Motley Fool has a disclosure policy.