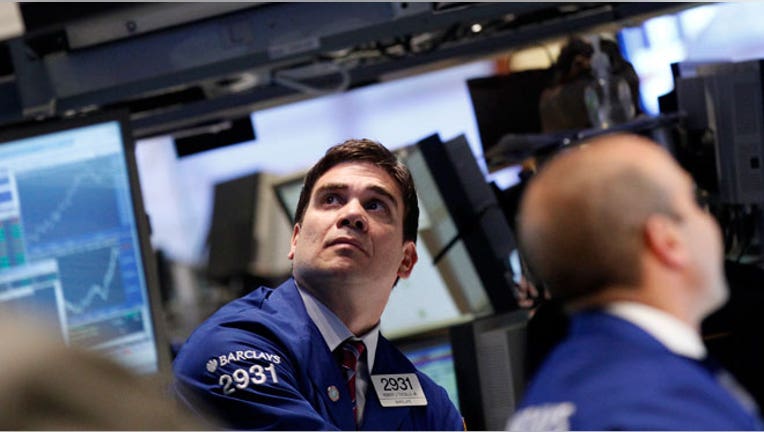 FOX Business: Capitalism Lives Here
After rallying early in the day, the markets slid far into negative territory in afternoon action as malaise set in across Wall Street.
Today's Markets
As of 3:05 p.m. ET, the Dow Jones Industrial Average fell 115 points, or 0.79%, to 15007, the S&P 500 dipped 12.3 points, or 0.75%, to 1614 and the Nasdsaq Composite slumped 32.6 points, or 0.95%, to 3404.
The markets took a steep drop on Tuesday, with the S&P 500 tumbling 1%, as traders once again began to fret about how long central bank easing can last. The markets initially bounced back, with the Dow rallying more than 100 points. However, the rally lost steam by mid-morning, with stocks extending the selloff from the prior day.
The losses were broad, with cyclicals like consumer discretionary and financial shares, and defensive stocks like utilities all taking a beating. Consumer staples and materials generally fared the best.
Traders generally pinned the move lower on a general feeling of malaise: "I think overall, its just more of the weakness that's seeped into global equity markets of late," Dan Greenhaus, chief global strategist with BTIG said.
A round of data on the eurozone manufacturing sector came in slightly weaker than economists expected. Industrial production across the struggling currency bloc was flat in April, compared to forecasts that it would tick up 0.4%.
The only U.S. data release comes in the afternoon, from the Treasury Department. The U.S. federal budget deficit is forecast to have narrowed to $110 billion in May from $124.6 billion the month prior.
On the corporate front, Apollo Tyres said it would buy Cooper Tire & Rubber (NYSE:CTB) for $35 a share in cash in a roughly $2.5 billion deal. Pfizer (NYSE:PFE) settled with Teva Pharmaceuticals and Sun Pharmaceuticals for $2.15 billion over a patent-infringement claim.
Energy futures pushed higher despite a bearish weekly inventory report from the Energy Department. The report showed crude inventories swelling 2.5 million barrels, compared to expectations of a 400,000-barrel draw. The benchmark U.S. crude oil contract rose 13 cents, or 0.14%, to $95.50 a barrel. Wholesale New York Harbor gasoline dipped 0.2% to $2.817 a gallon. In metals, gold was little changed at $1,377 a troy ounce.
Foreign Markets
The Euro Stoxx rose 0.59% to 2699, the English FTSE 100 climbed 0.36% to 6363 and the German DAX edged up 0.07% to 8228.
In Asia, the Japanese Nikkei 225 tilted lower by 0.21% to 13289 and the Chinese Hang Seng sold off 1.2% to 21355.