What Makes Cara Therapeutics So Intriguing?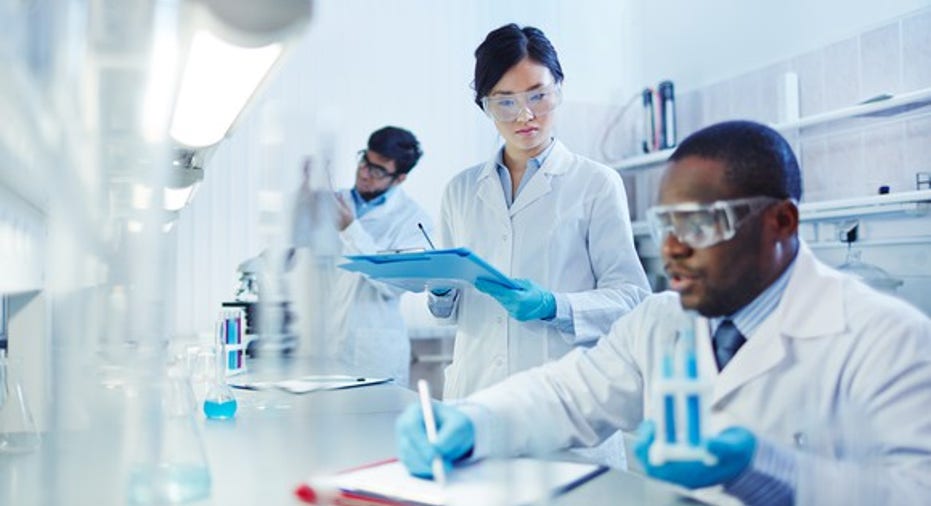 There's a significant need for new pain relievers that don't pose the risk of addiction, and Cara Therapeutics (NASDAQ: CARA) has multiple studies with data on tap that could prove it has developed a better approach to addressing pain than existing medication.
A flurry of activity
The company is working on CR845, a drug that tackles pain differently than opioids like oxycodone and fentanyl.
IMAGE SOURCE: GETTY IMAGES.
Instead of targeting mu-opioid receptors in the central nervous system, CR845 targets kappa-opioid receptors in sensory nerves in the periphery of the body. In this way, CR845 attacks pain better at the source. Because it doesn't pass easily across the blood-brain barrier, it doesn't create the same euphoria that's typically associated with opioids, which makes it less prone to abuse.
Cara Therapeutics expects to report results from its phase 2a trial evaluating CR845 in uremic pruritus in chronic kidney disease (CKD) patients soon. There are about 456,000 patients in the U.S. on dialysis for their CKD, and up to 70% of them suffer from pruritus, or chronic itch. The trial is evaluating CR845 efficacy across multiple doses, and results will shape the design of phase 2b. Currently, there aren't any drugs specifically approved by the U.S. Food and Drug Administration for use in this indication, and antihistamines and steroids aren't overly effective at controlling it.
Data from a trial evaluating CR845 in the post-operative surgical setting is also fast approaching. There are over 60 million surgeries in the U.S. every year, and a positive top-line readout in the second quarter could open CR845 to a big market opportunity, especially if its use leads to reducing the need for opioids. This 450-patient study is being conducted at 25 hospital sites, and the primary endpoint is an improvement in pain intensity on the numeric rating scale. The trial is also evaluating CR845's ability to reduce nausea and vomiting, and patient use of rescue medication.
The second quarter should also bring results on CR845's use in relieving osteoarthritis pain of the knee and hip. Quarterly shots of corticosteroids to control chronic knee and hip pain provide immediate relief, but that relief often fades long before the next scheduled dose. If CR845 effectively controls pain in this indication, it could reduce the need for patients to turn to corticosteroids, as well as drugs like naproxen and oxycodone, which can cause side effects.
An eye toward the future
It's anyone's guess if these trials will pan out, but we won't need to wait too long to find out. If the uremic pruritus data doesn't show any concerning safety risks, then a 20% to 50% improvement would certainly be compelling. In phase 2a studies, the improvement was 54%. Once the data is in hand, the company can meet with the FDA to design an additional study that will allow it to file for approval. The FDA will also want to see 52 weeks of safety data.
Overall, if these trials are a success, they will put the company in a position where conceivably, CR845 could make its way to the FDA in 2018. However, a lot of moving pieces could impact the timing of late-stage results, and thus, a filing. For that reason, investors will want to keep tabs on the company's cash burn. Cara Theraeputics finished 2016 with about $59 million in cash, and management says that's enough to get it through the first quarter of 2018. Given the additional work that needs to get done on CR845, and the cash situation, any run-up in shares tied to the upcoming data might prompt management to do a stock offering to pad its balance sheet. Investors will want to model for that risk.
10 stocks we like better than Cara TherapeuticsWhen investing geniuses David and Tom Gardner have a stock tip, it can pay to listen. After all, the newsletter they have run for over a decade, Motley Fool Stock Advisor, has tripled the market.*
David and Tom just revealed what they believe are the 10 best stocks for investors to buy right now... and Cara Therapeutics wasn't one of them! That's right -- they think these 10 stocks are even better buys.
Click here to learn about these picks!
*Stock Advisor returns as of February 6, 2017
Todd Campbell has no position in any stocks mentioned. His clients may have positions in the companies mentioned. The Motley Fool has no position in any of the stocks mentioned. The Motley Fool has a disclosure policy.