What Made Portola Pharmaceuticals Shares Collapse 33% in March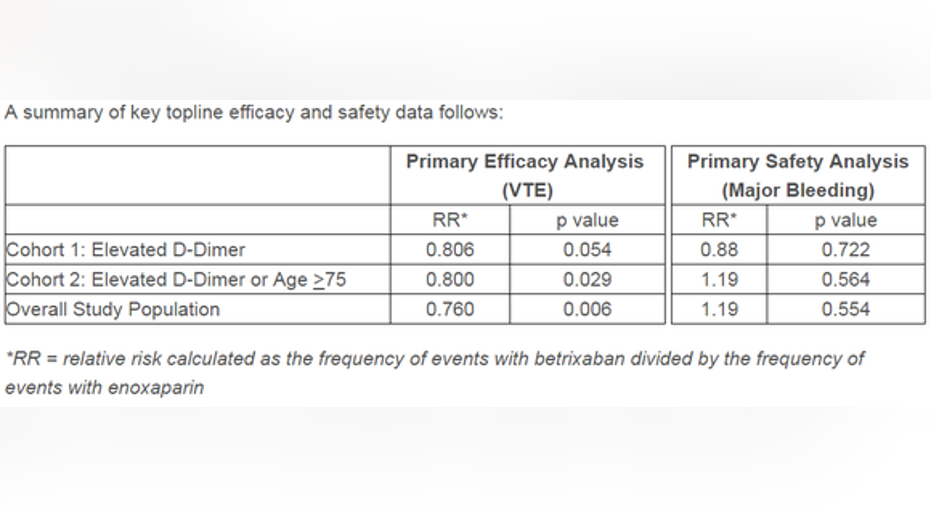 IMAGE SOURCE: PORTOLA PHARMACEUTICALS.
What:After reporting confusing and arguably mixed results from a late-stage study, shares of Portola Pharmaceuticals lost roughly a third of their value last month, according to data from S&P Global Market Intelligence.
So what:Portola Pharmaceuticals is a clinical-stage biotech that has developed a reversal agent for factor Xa anticoagulants and was evaluating its own factor Xa anticoagulant in late-stage trials.
The company's reversal agent, andexanet alfa, is currently at the Food and Drug Administration awaiting potential approval in August and its factor Xa anticoagulant, betrixaban, was being studied as a potential therapy in acute, medically ill patients, a frail patient subset commonly treated with the anticoagulant Lovenox.
In phase 3 trials involving 7,500 patients, betrixaban delivered results that were far from a slam dunk for FDA approval. In a cohort of its intent to treat market that included patients with test results suggesting the formation of blood clots, the drug failed to deliver efficacy at a predetermined level of statistical confidence. Specifically, a p-value of 0.05 was needed to confirm that betrixaban outperformed Lovenox, but the study's p-value was 0.054 instead.
Broadening the study's findings out to include the entire patient population treated with betrixaban shows that it did outperform Lovenox with a p-value below 0.05, but it's unclear how the FDA will view that data given the stumble in the other cohort.
Now what:In discussing the study results with investors, Portola Pharmaceuticals management appeared to remain confident in the possibility of a regulatory green light for betrixaban. Additional clarity into the likelihood of an approval could come next month at a key industry conference.
Given betrixaban's uncertainty, attention shifts instead to its reversal agent, andexanet alfa. The FDA is supposed to issue a decision on andexanet alfa in August, and if given the green light, it could become a go-to standard in stopping bleeds in patients taking factor Xa drugs that suffer an injury or require emergency surgery. Portola estimates that up to 100,000 people per year could be candidates to receive andexanet alfa, if approved.
Overall, betrixabana's mixed results make any regulatory decision on it a guessing game. Therefore, investors should probably consider the company based on andexanet alfa's merits. Given that andexanet alfa could be a billion-dollar blockbuster drug and the company's market cap is $1.3 billion, its shares could be an intriguing option for risk-tolerant investors.
The article What Made Portola Pharmaceuticals Shares Collapse 33% in March originally appeared on Fool.com.
Todd Campbell owns shares of Portola Pharmaceuticals Inc. Todd owns E.B. Capital Markets, LLC. E.B. Capital's clients may have positions in the companies mentioned. The Motley Fool has no position in any of the stocks mentioned. Try any of our Foolish newsletter services free for 30 days. We Fools may not all hold the same opinions, but we all believe that considering a diverse range of insights makes us better investors. The Motley Fool has a disclosure policy.
Copyright 1995 - 2016 The Motley Fool, LLC. All rights reserved. The Motley Fool has a disclosure policy.