What Is Robert Downey Jr.'s Net Worth?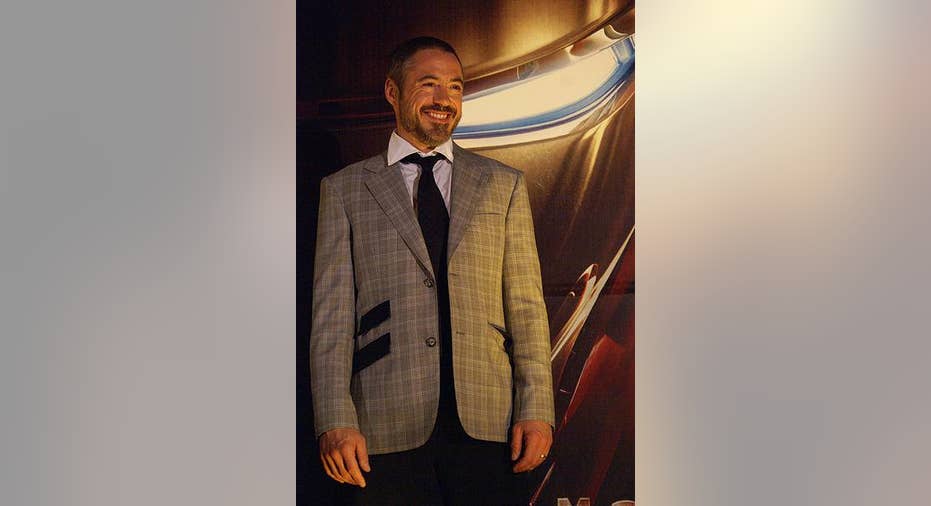 Image source: Edgar Meritano; Wikimedia Commons.
Robert Downey Jr. is the highest paid actor in Hollywood, and his iconic performances as Iron Man have helped make Disney's Marvel Cinematic Universe one of the most successful series in history.
Downey has not given a public breakdown of his holdings, but a range of estimates place the actor's net worth at approximately $200 million, and big earnings for upcoming Marvel films suggest that his wealth will grow substantially in coming years.
How did RDJ build his net worth?The vast majority of Robert Downey Jr.'s Hollywood earnings have come from his involvement in Marvel Cinematic Universe films, and he is now one of the most bankable actors in the film industry. But Downey's ascent to the top of the Hollywood A-list was not an easy road, despite growing up in the entertainment industry.
The son of an actor, Downey had his first movie role in one of his father's films at age five, and went on to star in a number of small roles before breakout features in 1985's Weird Scienceand 1987'sLess Than Zero. He continued to find success on the screen, but a rash of personal and legal troubles sidelined the actor's career.
After years of speculation that legal troubles and struggles with addiction would make it impossible to mount a big screen comeback, and studios reportedly unwilling to front the expensive cost of insuring the actor during production, Downey was helped by friend Mel Gibson who footed the insurance cost for the actor to star inThe Singing Detectivein 2003-- a role that would kick off the actor's comeback initiative.
2008'sIron Mansolidified Downey's comeback effort, and put him on track to earning record industry pay. However, Marvel and director John Favreau were still taking a chance in casting the actor, and he was reportedly paid just $500,000 for his first turn as Tony Stark. Series follow-upIron Man 2reportedly saw the actor command $10 million in pay, and his compensation continued to expand rapidly in subsequent Marvel films.
For headlining Disney's 2012 superhero tentpoleThe Avengers, Downey earned roughly $50 million. 2015 follow up Avengers: Age of Ultron saw Downey paid roughly $40 million, and donning the Iron Man suit for 2016'sCaptain America: Civil Warwill reportedly pay $40 million in addition to a percentage of the film's box office if ticket sales clear a designated amount.
In 2015, Variety estimated that Downey brought in somewhere in the neighborhood of $80 million before taxes. That puts Downey's 2015 salary above all but one American CEO, according to a Forbes top-10 list of highest paid executives. Even more impressive, early reports suggest that Downey could make roughly $200 million for his appearances in the two-partAvengers Infinity Warseries.
Why RDJ is worth big money to DisneyThe 12 released films in Disney's Marvel Cinematic Universe have grossed more than $9 billion in global ticket sales, and the franchise is on track to see an additional 11 series entries scheduled to hit before 2020. Downey won't feature or cameo in all of these upcoming releases, but the appeal of the actor in the Tony Stark role helped make the expansive universe possible, and Disney has plenty of incentive to retain one of the key elements of its winning formula. In addition to big box office totals, the Marvel license also generates massive merchandise revenues, and Disney is increasingly incorporating Marvel characters into its parks and resorts.
Disney has built a successful formula for its Marvel franchise, and Downey stands as the single most important acting talent associated with the broader property, headlining the three top grossing films in the series:Iron Man 3at roughly $1.2 billion, Avengers:Age of Ultron at $1.4 billion, andThe Avengersat $1.5 billion. The 51-year old actor is a proven draw in the Tony Stark role, and his importance to the Marvel franchise sets up big pay days as long as he is interested in the role.
If reports of a $200 million paycheck for starring in Disney's Infinity War films are correct, Robert Downey Jr. looks to be on track to roughly double his $200 million net worth in the coming years.
The article What Is Robert Downey Jr.'s Net Worth? originally appeared on Fool.com.
Keith Noonan has no position in any stocks mentioned. The Motley Fool owns shares of and recommends Walt Disney. Try any of our Foolish newsletter services free for 30 days. We Fools may not all hold the same opinions, but we all believe that considering a diverse range of insights makes us better investors. The Motley Fool has a disclosure policy.
Copyright 1995 - 2016 The Motley Fool, LLC. All rights reserved. The Motley Fool has a disclosure policy.