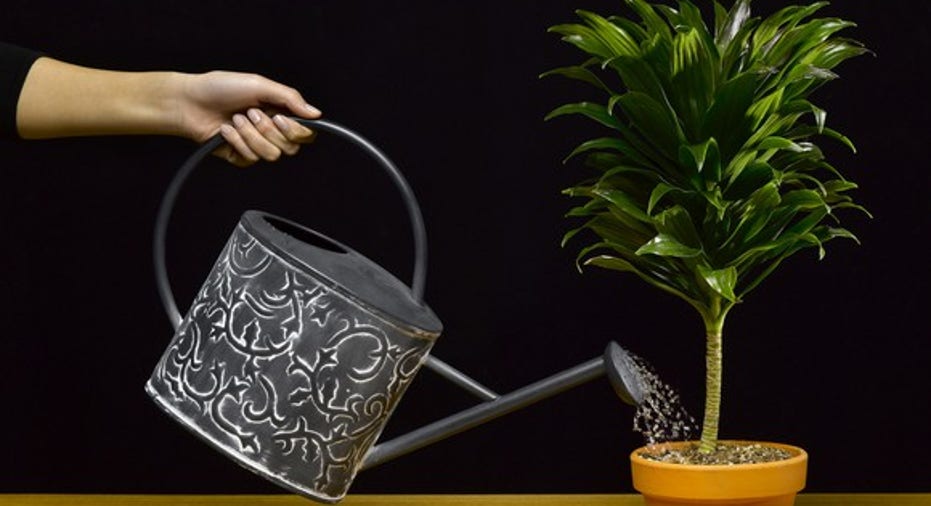 Image source: Getty Images.
A growth fund is a mutual fund or ETF that invests in the stocks of companies expected to grow revenue and earnings faster than the overall market, or faster than its peers. Growth funds generally don't pay high dividends, and in contrast to value funds, they're more focused on capital appreciation than income.
Growth Investing 101
Simply put, growth investing refers to selecting stocks whose earnings and revenue are growing at a faster-than-average rate and are expected to continue to do so in the future. For example, if the average large-cap stock is expected to grow earnings per share at a 6% average rate over the next five years, a company expected to grow at a 10% rate may be considered a growth stock.
Growth stocks generally don't pay dividends. Instead, most growing companies prefer to reinvest their earnings into the business, which has the potential effect of accelerating growth even more.
Finally, it's worth mentioning that growth stocks are generally riskier and more volatile than value stocks. They tend to trade at relatively high valuation multiples, which are based on their ability to continue to grow. Therefore, if a recession hits, or if a company's growth slows for another reason, these stocks can get hit pretty hard.
This is one reason growth funds can be good investment choices -- they give your portfolio exposure to high-potential stocks, without relying too much on the sustained growth of any one company.
An example of a growth fund and its holdings
To illustrate what a growth fund might look like, consider the T. Rowe Price Blue Chip Growth Fund . The fund invests in 139 stocks that not only have above-average growth and profitability but are also blue chips with strong and established market positions, experienced managers, and solid financial conditions.
To illustrate the types of stocks that fit this description, here are the fund's 10 largest holdings:
Alexion Pharmaceuticals
Alphabet (Google's parent company)
Amazon.com
Danaher
Facebook
MasterCard
Microsoft
Priceline Group
Visa
salesforce.com
Notice that most of the stocks on this list either don't pay dividends at all or pay below-average yields. As I mentioned before, growth companies generally like to reinvest the bulk of their earnings into the business to fuel further growth.
Should you invest in growth funds?
If you want the high-return potential of growth companies but don't necessarily want the risk and homework involved with researching and selecting individual growth stocks, a fund like the one mentioned earlier could be a wise addition to your portfolio.
This article is part of The Motley Fool's Knowledge Center, which was created based on the collected wisdom of a fantastic community of investors. We'd love to hear your questions, thoughts, and opinions on the Knowledge Center in general or this page in particular. Your input will help us help the world invest, better! Email us atknowledgecenter@fool.com. Thanks -- and Fool on!
The article What Is a Growth Fund? originally appeared on Fool.com.
Suzanne Frey, an executive at Alphabet, is a member of The Motley Fool's board of directors. The Motley Fool owns shares of and recommends Alphabet (A shares), Alphabet (C shares), Amazon.com, Facebook, MasterCard, Priceline Group, Salesforce.com, and Visa. The Motley Fool owns shares of Microsoft. Try any of our Foolish newsletter services free for 30 days. We Fools may not all hold the same opinions, but we all believe that considering a diverse range of insights makes us better investors. The Motley Fool has a disclosure policy.
Copyright 1995 - 2016 The Motley Fool, LLC. All rights reserved. The Motley Fool has a disclosure policy.