What Investors Should Expect When Corning Reports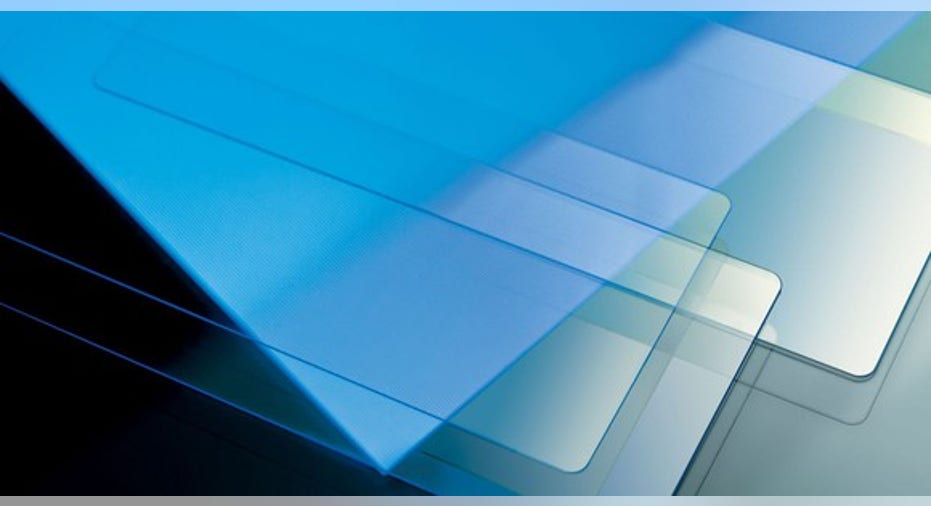 Corning Incorporated (NYSE: GLW) is set to report first-quarter 2017 earnings on Tuesday. With Corning stock up more than 30% over the past year, including a 13% climb so far in 2017 on the heels of its strong fourth-quarter report in late January, it's time to consider what to expect from the glass technology specialist.
To be fair, Corning doesn't provide specific guidance for revenue or net income. But the company does offer some perspective surrounding its overall business, key segments, and industry trends. So what should we be watching this time around?
Image source: Corning.
The headline numbers
During Corning's conference call three months ago, management generally stated that it expected to achieve year-over-year growth in sales, net income, and earnings per share in the first quarter, while core gross margin was expected to be in the range of 42% to 43%. For further perspective -- and though we don't usually pay close attention to Wall Street's near-term demands -- consensus estimates predict that Corning's quarterly revenue will climb 9.2% year over year, to $2.37 billion, and translate to 25% growth in earnings per share, to $0.35.
Assuming that's the case, Corning will partly credit the disparity between revenue and earnings growth to its strategic capital-allocation frameworkput into place in late 2015. Through that framework, Corningwas on track last quarter to return $12.5 billion to shareholders through dividends and repurchases through 2019, while investing $10 billion in the business through research, development, and engineering. Equally important to its outsize earnings growth is Corning's focus on cost management, moderating LCD glass price declines, sales growth and profitability in its optical communications segment, and, more recently, the rapid adoption of Corning's high-margin Gorilla Glass 5 specialty glass.
Digging deeper
More specifically, in its core display technologies segment, which generated over 35% of total sales and nearly 78% of core earnings last quarter, Corning's guidance calls for the glass market to climb in the mid-teens percentage range from last year's first quarter. LCD glass price declines should also continue to moderate on a sequential basis from Q4, though we should keep in mind that the first quarter typically sees the largest declines of the year following the finalization of annual supply agreements.
Next, Corning's optical communications segment should maintain the momentum it demonstrated in the second half of last year, with sales growth of at least 25%. Those results will be driven by strong demand in the fiber market and the ongoing implementation of next-generation telecom networks.
In specialty materials, Corning's guidance calls for revenue to grow in the high-teens percentage range thanks to the proliferation of devices using Gorilla Glass 5. Notably among those devices are Samsung's recently launched Galaxy S8 and S8+ smartphones, which the South Korean electronics giant confirmed on Monday have set a new pre-order record for the company.
Things are a little less exciting in Corning's environmental segment, where sales this quarter are expected to be flat to down slightly from the same year-ago period. Assuming last quarter's trends follow through, the blame is likely to lie with lower volumes of heavy-duty diesel products offsetting growth from light-duty automotive substrates. Corning is also looking for low-single-digit growth in the smaller life-sciences business (think lab equipment and pharmaceutical packaging solutions), though that growth should slightly outpace the broader life-sciences market.
Peering ahead
Corning should also offer similar forward-looking commentary on market trends and segment expectations for both the second quarter and the remainder of 2017. But given its solid results of late, and considering Corning has made a habit of living up to its promises and steadily cementing its industry leadership, I'd be surprised if this quarter held any significant deviations from Corning's long-term plans.
10 stocks we like better than CorningWhen investing geniuses David and Tom Gardner have a stock tip, it can pay to listen. After all, the newsletter they have run for over a decade, Motley Fool Stock Advisor, has tripled the market.*
David and Tom just revealed what they believe are the 10 best stocks for investors to buy right now... and Corning wasn't one of them! That's right -- they think these 10 stocks are even better buys.
Click here to learn about these picks!
*Stock Advisor returns as of April 3, 2017
Steve Symington has no position in any stocks mentioned. The Motley Fool recommends Corning. The Motley Fool has a disclosure policy.