What Investors Need to Know From TrueCar's Third Consecutive Strong Quarter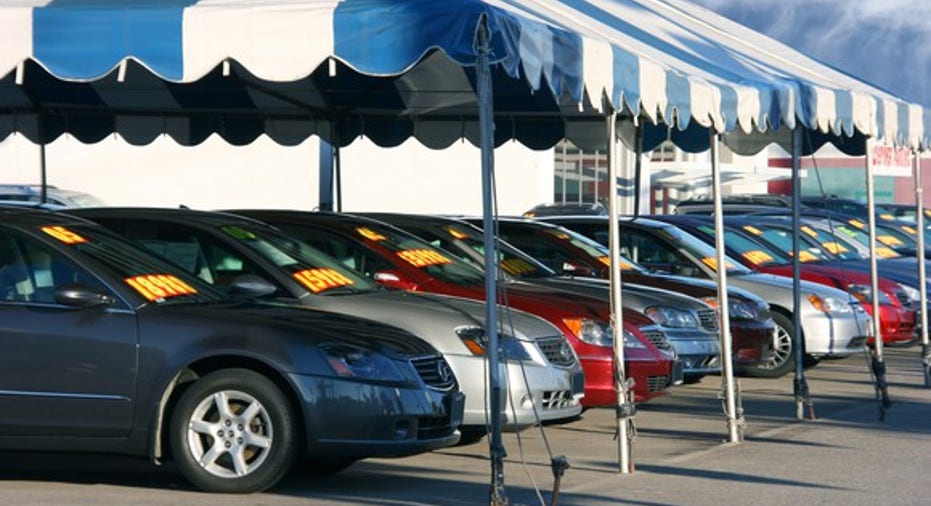 That sound you heard Tuesday afternoon was a collective sigh of relief from TrueCar (NASDAQ: TRUE) investors, who were anxiously hoping to see another quarter of strong results under CEO Chip Perry. After a 2015 that brought shareholders a plunging stock price, a slew of executive departures, and a truckload of uncertainty, 2016 featured slow but consistent improvement culminating in a strong finish to the year. And if the first quarter of 2017 is any indication, this year could offer more strong improvement on many of TrueCar's important financial metrics. Here are the details and highlights.
By the numbers
Starting from the top: Q1 revenue jumped 22% year over year to $75.8 million. That topped analysts' consensus estimate of $73.5 million, according to Thomson Reuters. TrueCar made progress on the bottom line, too, with its net loss shrinking from $11.7 million to $6.8 million during the quarter. The company's non-GAAP net loss of $0.01 per share was better than analysts' estimates, which on average had called for a loss of $0.02 per share, and much better than last year's quarterly loss of $0.07 per share. While TrueCar is still unprofitable, it's narrowing its losses and consistently inching toward turning a quarterly profit.
"After just completing our successful public offering, we are pleased with the financial results in the first quarter of fiscal 2017 and the momentum we are building as we head into the seasonally strongest part of our year," said Chief Financial Officer Mike Guthrie in a press release.
Image source: Getty Images.
Highlights and metrics
When looking at TrueCar's adjusted EBITDA over the past few years -- and especially considering the debacle that was 2015 -- the past three quarters speak volumes about the significant turnaround under Perry and his team.
Data source: TrueCar SEC filing. Chart by author.
Looking at TrueCar's 217,656 units sold, there are a couple of things to note: Year-over-year growth has returned, and dependence on its partnership with military-centric financial services firm USAA is lessening slightly. TrueCar breaks down its units into three distinct segments: TrueCar-branded, USAA, and other partners.
USAA is a hugely valuable affinity partnership for TrueCar, accounting for about 30% of total unit sales, but it's good to see sales in the other two channels growing at faster rates. USAA unit sales were still up a healthy 18% year over year to 65,665. Meanwhile, vehicles sold through TrueCar's own brand and through its collection of other partners jumped 27% and 29%, respectively, to 91,729 units and 60,262 units.
Not only did TrueCar's volume of unit transactions increase, each transaction was, on average, more profitable. TrueCar's acquisition cost per sale dropped 13%, both year over year and sequentially, to $153. That was partially offset by a slight decline in monetization per transaction, which fell from $328 in Q1 2016 to $324 in Q1 2017. However, that is still a very strong number for TrueCar.
Down the road
With the company's rebound in full swing, management is looking to keep the momentum going. On top of TrueCar's cornerstone business of connecting consumers to dealerships and offering valuable vehicle information online, it is going to focus on creating more solutions for the research and discovery part of the purchase cycle. It's also nearing the launch of a pilot trade-in solution with a large vehicle wholesaler, which brings TrueCar closer to being an end-to-end solution for the entire car purchase cycle.
If Q1 is any indication of TrueCar's direction, investors should be in for a pleasant ride this year -- and if you've held shares over the past couple of years, that is definitely a welcome notion.
10 stocks we like better than TrueCarWhen investing geniuses David and Tom Gardner have a stock tip, it can pay to listen. After all, the newsletter they have run for over a decade, Motley Fool Stock Advisor, has tripled the market.*
David and Tom just revealed what they believe are the 10 best stocks for investors to buy right now... and TrueCar wasn't one of them! That's right -- they think these 10 stocks are even better buys.
Click here to learn about these picks!
*Stock Advisor returns as of May 1, 2017
Daniel Miller has no position in any stocks mentioned. The Motley Fool recommends TrueCar. The Motley Fool has a disclosure policy.