What Investors Might Have Missed in the Market This Week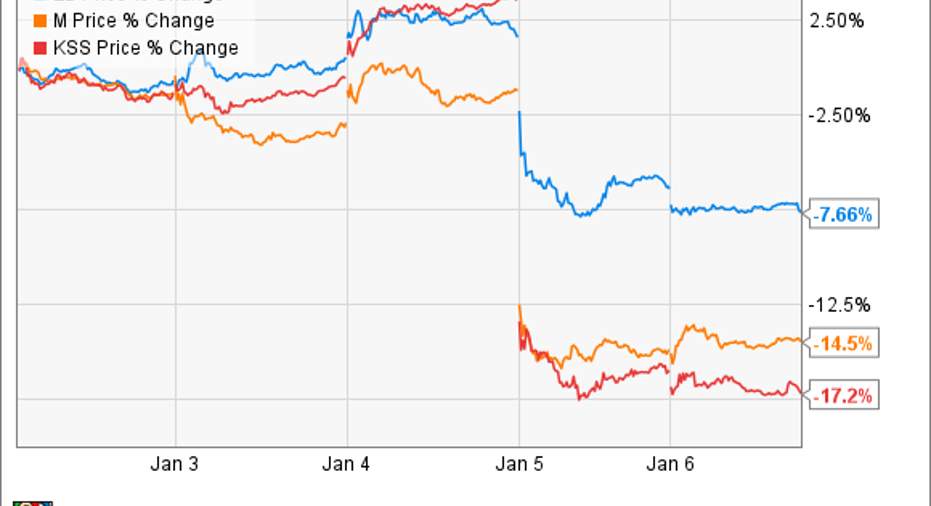 Image source: Getty Images.
The S&P 500 and Dow Jones Industrial Average had a decent week, up 1.23% and 0.73 respectively, and the latter pushed ever closer to the highly anticipated, albeit mostly irrelevant, 20,000 level -- it hit 19,963. The jobs report was a mixed bag, but certainly didn't hinder the markets, with the economy adding 156,000 new jobs in December. The U.S. has created more than 2 million jobs since 2011, but that's slowed over the past year or so as the U.S. approaches full employment.
Ultimately, more people working and increased worker pay should be a net positive for the economy -- but you wouldn't know it looking at the performance of the following three retail stocks this week.
Brick-and-mortar woes are real
We all know it's been tough sledding, holidays or not, for many brick-and-mortar retailers that haven't figured out a way to sell more efficiently online, or lure customers into its stores rather than shop throughAmazon. Macy's (NYSE: M) falls into that category, and its press release midweek sent some investors fleeing Thursday morning when the markets opened.
Macy's announced that its comparable sales, on an owned-plus-licensed basis, declined by 2.1% in November and December 2016 combined, compared to the prior year. "While our sales trend is consistent with the lower end of our guidance, we had anticipated sales would be stronger. We believe that our performance during the holiday season reflects the broader challenges facing much of the retail industry," said Terry J. Lundgren, Macy's, Inc. chairman and chief executive officer, in a press release.
But the real gut punch came with a guidance reduction to its full-year earnings per share. While it maintained its full-year sales guidance of a 2.5% to 3% decline in comparable-store sales, it now expects EPS to check in between $2.95 per share to $3.10 per share. To me, that suggests one of two things, and maybe both: Margins took an unexpected hit, or January traffic is worse than expected. (January is included in Macy's fiscal Q4.)
Same story, different store
Kohl's Corporation (NYSE: KSS) reported a similar decline in same-store sales during the holiday season, and its stock traded even lower than Macy's this week -- both were among the worst performers in the S&P 500 for the week.
More specifically, Kohl's reported its comparable sales declined 2.1% in its fiscal November and December months combined. Total sales declined an even worse 2.7% during the same time period. It was difficult for Kevin Mansell, Kohl's chairman, CEO, and president, to spin it in a positive light. "Sales were volatile throughout the holiday season. Strong sales on Black Friday and during the week before Christmas were offset by softness in early November and December," said Mansell in a press release.
As the above subhead states (same story, different store), Kohl's also moved its guidance lower. It now expects fiscal 2016 diluted earnings per share to check in between $2.92 per share to $2.97 per share compared to its previous guidance of $3.12 per share to $3.32 per share.
Macy's and Kohl's share the exact same problem: Both lack a competitive moat or differentiation in the department-store space, which is highly susceptible to e-commerce threats. It's really difficult as an investor to see how these two can turn things around.
L Brands' secret
Many might not know the brands under L Brands' (NYSE: LB) umbrella, but they include Victoria's Secret, PINK, Bath & Body Works, among a handful of others. It doesn't exactly have a secret sauce, although its results were a little bit better than the aforementioned retailers.
L Brands' net sales in December checked in at $2.4 billion for the five weeks ended Dec. 31, 2016, which was an increase of 1% compared to the prior year. However, comparable-store sales declined 1% over the same time frame. While the company managed to avoid a guidance reduction, management expressed that it now expects fourth-quarter earnings per share to be closer to the lower end of its previous $1.85 per share to $2.00 per share.
Sure, L Brands shares the same online battle as Macy's and Kohl's, but it's better equipped to defend its turf in less-crowded intimates and beauty retail categories with leading brands that are able to yield some pricing power. That's reflected in valuations between these three retailers, as well. L Brands is valued at a forward price-to-earnings ratio, per Morningstar estimates, of 15.8, while Kohl's and Macy's earn a 10.1 and 8.7 valuation, respectively. This suggests that investors are more willing to buy into L Brands' future.
10 stocks we like better than L Brands When investing geniuses David and Tom Gardner have a stock tip, it can pay to listen. After all, the newsletter they have run for over a decade, Motley Fool Stock Advisor, has tripled the market.*
David and Tom just revealed what they believe are the 10 best stocks for investors to buy right now... and L Brands wasn't one of them! That's right -- they think these 10 stocks are even better buys.
Click here to learn about these picks!
*Stock Advisor returns as of January 4, 2017
Daniel Miller has no position in any stocks mentioned. The Motley Fool owns shares of and recommends Amazon.com. The Motley Fool has a disclosure policy.