What If You Considered Gilead Sciences a Start-Up?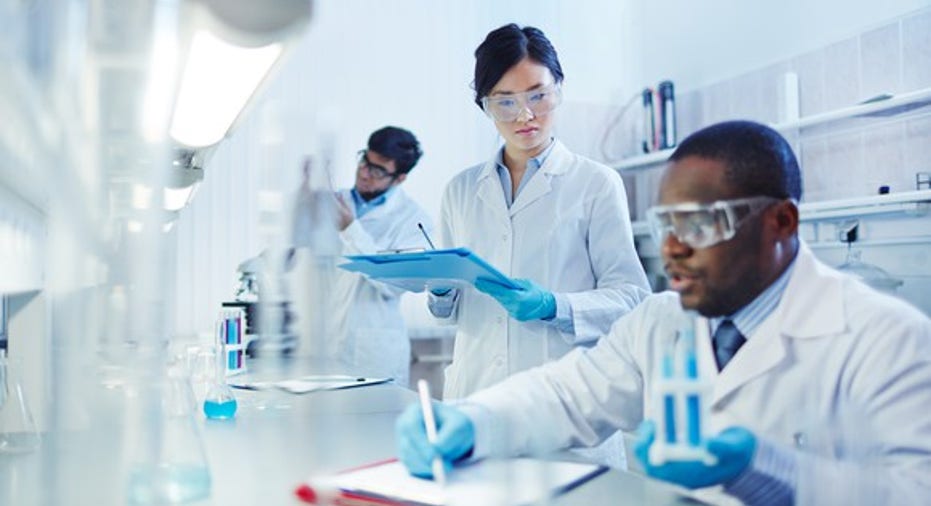 Valeant Pharmaceuticals CEOJoe Papalikes to refer to his company as a start-up, even though Valeant has been around for years and has plenty of products on the market. I understand where Papa is coming from, though, since he's trying to rebuild the embattled drugmaker.
His reference got me to thinking: What if investors thought ofGilead Sciences (NASDAQ: GILD) as a start-up? I suspect this different perspective would make the big biotech appear much more attractive to investors than it seems to have been lately. Here's why.
Image source: Getty Images.
Use your imagination
Thinking of Gilead Sciences as a start-up requires a huge leap of the imagination. After all, the biotech made over $7.5 billion in revenue and more than $3.3 billion in earnings in the third quarter of 2016. Gilead also reported a cash stockpile (including cash, cash equivalents, and marketable securities)of $31.6 billion at the end of that quarter.
Let's imagine that Gilead is a very luck biotech with no products of its own, but successfully licensed its technology to other companies -- just like many small biotechs routinely do. Let's also imagine that those licenses generate $3.3 billion per quarter for Gilead, with no growth beyond that level at all.
In this imaginary universe, all Gilead has is its pipeline and this earnings stream from licensing. And let's let the company keep that very nice nest egg of $31.6 billion. (Gilead did earn that money, after all.) However, since it's a start-up, Gilead won't use that cash to pay out dividends as it does now.
This hypothetical exercise turns Gilead Sciences into a well-positioned clinical-stage biotech with 11 late-stage studies. One of those candidates is waiting on European regulatory approval already. Gilead's pipeline also includes 15 mid-stage clinical studies and five early-stage programs.
Assessing the pipeline value
How much is our start-up worth? Calculating the value of the biotech's pipeline is tricky, but let's give it a shot by looking at Gilead's five different therapeutic areas of focus. We'll throw out early-stage candidates to make the process a little easier.
In the HIV arena, Gilead has two promising late-stage candidates. Descovy, which already won regulatory approval for treating HIV, is in a study evaluating the drug as a pre-exposure prophylaxis(preventative treatment) for HIV. Gilead also has another phase 3 study with a combination of integrase strand transfer inhibitorbictegravir andDescovy in treating HIV.
I suspect both of these programs have a good chance of success. If approved, however, the candidates will likely cannibalize sales of Gilead's existing HIV drugs Complera and Truvada to a large extent. Let's assume that Gilead's net value doesn't change very much because of this cannibalization.
Next up is Gilead's liver disease pipeline. To keep things simple, let's again suppose that the company's hepatitis B and hepatitis C candidates will pretty much retain the status quo by taking away sales from current products. (This is a gross oversimplification, but bear with me.)
That leaves three experimental drugs targeting treatment of nonalcoholic steatohepatitis (NASH) and related liver indications. Each of these three candidates takes a different approach for treating NASH. One of them is an FXR agonist similar to Intercept's Ocaliva.
Let's pluck a number out of the air and say that Gilead's NASH franchise adds around $4 billion to the company's market cap. That's more than Intercept's current market cap and Gilead is behind Intercept in the race to market a NASH drug (and also French biotechGenfit), but it doesn't seem too far-fetched to think that Gilead's candidates could be worth that amount.
Image source: Getty Images.
The knives can really come out for Gilead's cancer pipeline candidates. Zydelig is in a late-stage study for treating relapsed refractorychronic lymphocytic leukemia(CLL). Two others are in late-stage studies: momelotinib and GS-5745. Here's the thing: None of these drugs have been all that impressive so far. Let's be pessimistic and suppose that the net impact of the cancer pipeline to Gilead's net value is a big goose egg.
In fact, let's take the same view with the company's sole cardiovascular candidate, eleclazine. Gilead halted a study of the experimental drugin treating ventricular tachycardia and ventricular fibrillation. Assume the current late-stage study ofeleclazine as a treatment for long QT-3 syndrome flops, too.
We're left with Gilead's inflammation and respiratory candidates, the most prominent of which is filgotinib. Analysts think the drug could reach peak annual sales of $2 billion to $3 billion if it's approved for all three targeted autoimmune disease indications. Let's suppose they're right and add the low end of that range to Gilead's pipeline valuation.
Adding it all up
The bottom line is that we have given Gilead's pipeline a total valuation of only $6 billion. Add this amount to the biotech's cash stockpile gives "Gilead the start-up" a market cap of around $38 billion.
But we haven't added in that earnings stream yet. On an annualized basis, Gilead stands to receive $13.2 billion per year. How should that translate to market cap? Let's go with a multiple of seven -- Gilead's current price-to-earnings ratio (which is well below that of most of its peers, by the way). That would give Gilead a valuation of roughly $92 billion from its current earnings stream plus the $38 billion from its pipeline and cash. The grand total comes to $130 billion.
Our hypothetical exercise assumed no growth at all from existing products. It pooh-poohed the prospects for most of the candidates in Gilead's pipeline. And the calculated valuation of the "start-up" is still 30% higher than Gilead's current market cap of around $100 billion.
This ain't a start-up
It's time to get back to reality now. The biotech's pipeline prospects aren't nearly as weak as the pessimistic assumptions above imply.That big cash stockpile reported at the end of the third quarter is certainly larger by now. Gilead's existing products are generating huge cash flows that continue to add to the biotech's coffers.
Gilead isn't letting that cash sit idly, either. The company is actively buying back shares (a lot). CEO John Milligan has publicly stated that Gilead is looking for acquisitions to beef up its cancer portfolio, in particular.
Any way you look at it, Gilead appears to be highly undervalued. This biotech ain't a start-up. But I suspect its shares will start moving up when investors realize what a bargain Gilead truly is.
10 stocks we like better than Gilead Sciences When investing geniuses David and Tom Gardner have a stock tip, it can pay to listen. After all, the newsletter they have run for over a decade, Motley Fool Stock Advisor, has tripled the market.*
David and Tom just revealed what they believe are the 10 best stocks for investors to buy right now... and Gilead Sciences wasn't one of them! That's right -- they think these 10 stocks are even better buys.
Click here to learn about these picks!
*Stock Advisor returns as of January 4, 2017
Keith Speights owns shares of Gilead Sciences. The Motley Fool owns shares of and recommends Gilead Sciences and Valeant Pharmaceuticals. The Motley Fool has a disclosure policy.