What Happens to Intel Corp.s Atom Processor Family Now?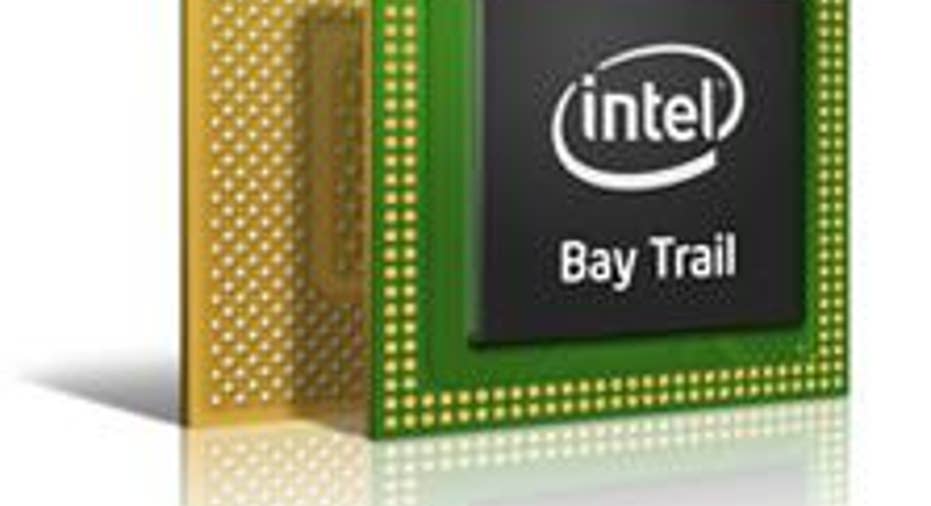 Bay Trail was the code-name for Intel's 2013 Atom-based tablet processor family. Image credit: Intel.
According to respected industry analyst Pat Moorhead,Intel plans to discontinue the development of its current pipeline of Atom-based system-on-chip products targeted at smartphones and tablets.
Atom, for those of you unfamiliar with this Intel brand, represents Intel's low-cost/low-power CPU cores intended to hit cost and/or power levels otherwise unattainable by the company's mainstream Core CPUs.
Indeed, although Intel's low-power Atom CPU cores garner the most attention in the context of mobile system-on-chip products, they are used in many other segments of Intel's business including low-cost PCs, dense server chips, and in the Internet of Things.
So, with Intel effectively out of the market for mobile applications processors, what happens to Atom?
It will probably liveThe Atom CPU cores target fundamentally different power/performance/cost targets than Intel's higher-performance Core CPU architectures do. And, as noted above, Atom goes into a lot of different non-mobile product segments that generate material revenue/gross margin dollars for the company.
For example, by building Atom-based PC processors, Intel was able to enable PCs to be sold at price points that were previously unreachable with its Core processor line. These Atom cores also help with Intel's strategy to offer clear performance segmentation within PCs, something that works in Intel's favor as well as in the favor of its PC partners.
Additionally, although Atom-based server processors don't seem to be doing all that well, Intel has indicated Atom-based networking processors (derived from the Atom-based server chips) are fairly popular, relatively low-cost/power options.
With all of these (lucrative) segments that Intel still serves with Atom, it is very likely that development of the Atom CPU core and chips based on it will continue to exist.
But it won't be a high priority product lineAlthough Atom will likely continue to exist, don't expect it to be high priority within the company. For example, well before Intel announced its restructuring efforts, it was clear that Intel put far more resources into the development of its high performance CPU cores than the Atom product line.
With Intel's effective exit from mobile applications processors, expect Intel to devote even fewer resources to it. This means less substantial jumps from generation to generation, as well as more time in between each generation.
It was already pretty bad even when Intel had ambitions to go after the very large smartphone/tablet processor markets, and I suspect it will only get worse now. Expect mediocrity from Atom from here on out.
A shame, reallyIt's pretty unfortunate that Intel was never able to make Atom a truly exciting product family. Intel's CPU expertise is quite vast and, had the company given it the proper resources, Atom could have emerged as one of the truly great low-power CPU cores in the industry.
Intel CEO Brian Krzanich told investors back in 2013 that the company's goal was to make its Atom processor family an "equal partner" to the company's Core processors. However, it's clear from the execution that's been visible over the last three years that the company never really did what was necessary to make this headline-worthy soundbite into a technical and, ultimately, financial reality.
The article What Happens to Intel Corp.s Atom Processor Family Now? originally appeared on Fool.com.
Ashraf Eassa owns shares of Intel. The Motley Fool recommends Intel. Try any of our Foolish newsletter services free for 30 days. We Fools may not all hold the same opinions, but we all believe that considering a diverse range of insights makes us better investors. The Motley Fool has a disclosure policy.
Copyright 1995 - 2016 The Motley Fool, LLC. All rights reserved. The Motley Fool has a disclosure policy.