What Does 2017 Hold for the Internet of Things?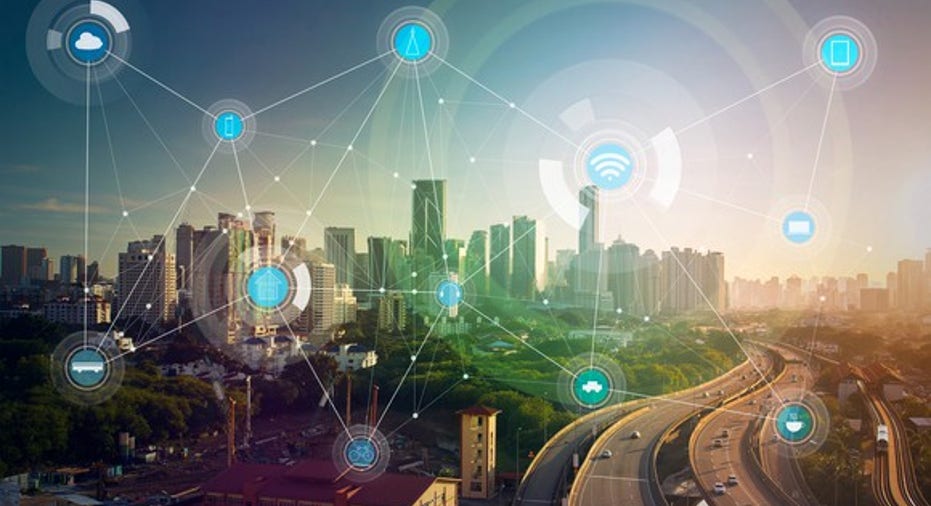 The Internet of Things (IoT), which links mobile devices, wearables, home automation devices, cars, and other gadgets to each other and the cloud, is frequently considered the next big growth market for hardware and software makers. Cisco (NASDAQ: CSCO) estimates that the number of connected devices worldwide will double from 25 billion in 2015 to 50 billion by 2020.
Image source: Getty Images.
That's why chipmakers like Intel and Qualcomm launched new low-power chips for IoT devices, and networking leaders like Cisco and Juniper Networks added IoT features to their networking hardware and software. Looking ahead into 2017, the battle over the IoT market will likely heat up as these companies expand their hardware and software ecosystems. Let's take a look at the four main trends investors should pay close attention to.
Security concerns
The Mirai botnet and its variants recently hijacked unsecured IoT devices -- like IP cameras and routers -- to take down major websites with DDoS (distributed denial of service) attacks. Those attacks revealed thatmany IoT devices were poorly protected from a type of threatthat was previously rendered obsolete on PC and mobile platforms.
If additional attacks occur in 2017, many organizations and consumers could reconsider connecting everything to the Internet of Things. However, Cisco, Symantec (NASDAQ: SYMC), and other security giants are already developing new tools for securing IoT devices.
Cisco's acquisition of IoT platform provider Jasper will help its cybersecurity tools reach more connected devices, and Symantec helpsIoT device makers build more secure products. These efforts could eventually make IoT devices as secure as PCs or mobile devices.
Privacy concerns
Another key concern about the IoT market is privacy. Back in 2015, several German automakers expressed concerns about letting Alphabet's (NASDAQ: GOOG) (NASDAQ: GOOGL) Google track their drivers' activities in connected cars. That's why Audi, BMW, and Daimler teamed upto buy Nokia's HERE Maps as a Google Maps alternative later that year.
A recent murder case for which an Amazon (NASDAQ: AMZN) Echo might provide evidence also highlights the consequences of installing "always on" IoT devices in homes. Police andprosecutors believe that audio files from the device could help them crack the case, but Amazon has refused to turn over the files due to privacy concerns.
Amazon Echo. Image source: Amazon.
Privacy advocates believe that the case would set a precedent for letting law enforcement agencies access smart home devices. That would pose a problem for companies like Amazon, Google, and Facebook (NASDAQ: FB), which thrive on "learning" more about their users to produce targeted shopping and advertising experiences.
The brewing IoT bubble
Bullish forecasts about the IoT market have fueled a land grab across the market. That stampede yielded some innovative products like Amazon's Echo and Google Home, but the market is also filled with oddball devices like smart water bottles, fitness trackers for dogs, connected umbrellas, and smart tampons.
The proliferation of frivolous devices suggests that a big bubble in the IoT market is brewing, similar to the dot-com bubble of the late 1990s in which websites were launched for all sorts of impractical purposes. And just like the dot-com bust of 2000, an IoT bust could purge the market of the weaker players and create a more refined field for leaders like Amazon and Google to expand their IoT ecosystems.
The upcoming ecosystem war
But as Amazon, Google, and other companies gradually advance into our homes, their ecosystems will start overlapping. Amazon will leverage its market-leading position in e-commerce and prisoner-taking Prime ecosystem to push devices like the Echo, Dash buttons, Kindle Fire, and Fire TV into homes to widen its moat against potential challengers.
Google will leverage its knowledge of your search, web browsing, location, and ad-clicking histories to personalize its smart home devices like Home. Its connections to Android, the most popular mobile OS in the world, make its smart home platform a practical extension of mobile devices for many users.
But that's not all: Appleis trying to tether IoT devices to its HomeKit platform, and Facebook plans to launch its Jarvis home AI in the near future. This means that the same battle that was previously waged across websites, mobile apps, and hardware will rage on in your living rooms next year.
The key takeaways
The Internet of Things is a fascinating new market, but investors should take companies' lofty IoT promises with a grain of salt. Security and privacy concerns will still loom large next year, while hardware and software companies will clash over competing ecosystems.
10 stocks we like better than Alphabet When investing geniuses David and Tom Gardner have a stock tip, it can pay to listen. After all, the newsletter they have run for over a decade, Motley Fool Stock Advisor, has tripled the market.*
David and Tom just revealed what they believe are the 10 best stocks for investors to buy right now... and Alphabet (A shares) wasn't one of them! That's right -- they think these 10 stocks are even better buys.
Click here to learn about these picks!
*Stock Advisor returns as of Nov. 7, 2016
Suzanne Frey, an executive at Alphabet, is a member of The Motley Fool's board of directors. Leo Sun owns shares of Amazon.com, Cisco Systems, and Qualcomm. The Motley Fool owns shares of and recommends Alphabet (A shares), Alphabet (C shares), Amazon.com, Apple, Facebook, and Qualcomm. The Motley Fool has the following options: long January 2018 $90 calls on Apple and short January 2018 $95 calls on Apple. The Motley Fool recommends Cisco Systems and Intel. The Motley Fool has a disclosure policy.