What Do Analysts Think About JPMorgan Chase's Stock?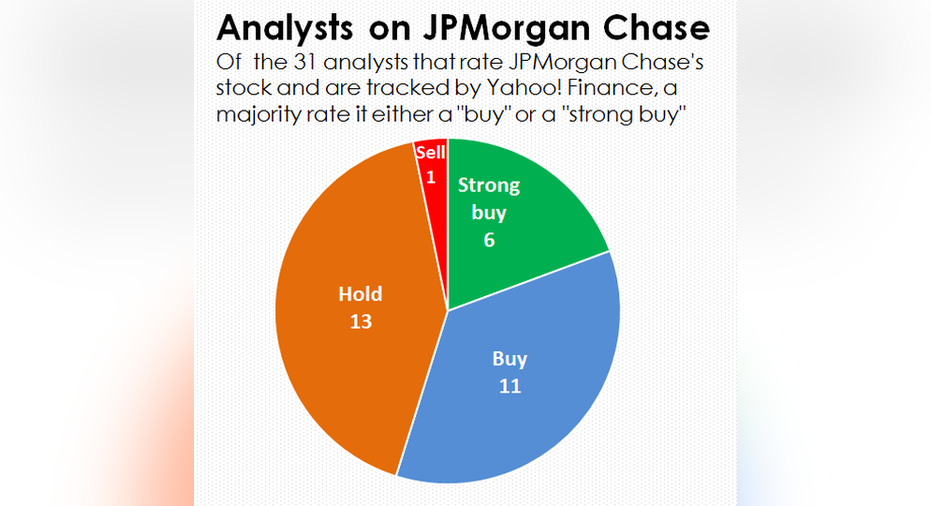 Shareholders of JPMorgan Chase (NYSE: JPM) have seen the value of their stakes in the nation's biggest bank by assets increase by more than 50% over the past four months, thanks to a post-presidential election surge in stock prices. But this expectations-induced rally hasn't convinced analysts to warn investors about over-priced bank stocks in general or JPMorgan Chase in particular.
You can get a sense for analysts' feelings toward a stock by looking at the company's profile on Yahoo! Finance. In the case of JPMorgan Chase, this shows us that analysts continue to be bullish about the bank's prospects.
Of the 31 analysts that rate JPMorgan's stock and are tracked by Yahoo! Finance, a majority (17) say it's either a "buy" or a "strong buy." Of the remainder, 13 rate it a "hold" with one saying it's a "sell."
Data source: Yahoo! Finance. Chart by author.
If you average these out, as Yahoo! Finance does with its recommendation rating, it becomes even clearer that analysts are optimistic when it comes to JPMorgan Chase. On a sliding scale that goes from 1 (strong buy) to 5 (sell), with a recommendation rating of 3 equating to a "hold" rating, JPMorgan Chase scores a 2.4. That's comfortably on the bullish side of the spectrum.
One thing to keep in mind is that the consensus price target on JPMorgan Chase's stock is actually below the stock's current price. The average analyst has a $90.79 price target on the bank's shares, which trade for more than $91 today. This suggests that analysts may not have updated their ratings on JPMorgan Chase's stock since the post-election surge sent them soaring.
Either way, it's fair to say that JPMorgan Chase is a worthy stock for prudent long-term investors to consider for their portfolios. It proved its metal through the financial crisis and is one of the best-run banks in the country today, led by the indomitable Jamie Dimon.
JPMorgan Chase chairman and CEO Jamie Dimon. Image source: JPMorgan Chase.
Peering into the future, moreover, it seems as if JPMorgan Chase's prospects will only brighten. If the current presidential administration eases the regulatory burden on banks, this should reduce compliance costs. And so long as the Federal Reserve follows through on a much anticipated interest rate increase this month, then JPMorgan Chase will see its top line expand. The net result is that revenue should be up for the bank while expenses fall, the textbook recipe for higher earnings.
It's my personal opinion that now is a time to wait and see what happens in the market as opposed to pouring money into it. But if one were inclined to buy a bank stock in this environment, few are better equipped to outperform in the future than JPMorgan Chase.
10 stocks we like better than JPMorgan ChaseWhen investing geniuses David and Tom Gardner have a stock tip, it can pay to listen. After all, the newsletter they have run for over a decade, Motley Fool Stock Advisor, has tripled the market.*
David and Tom just revealed what they believe are the 10 best stocks for investors to buy right now... and JPMorgan Chase wasn't one of them! That's right -- they think these 10 stocks are even better buys.
Click here to learn about these picks!
*Stock Advisor returns as of February 6, 2017
John Maxfield has no position in any stocks mentioned. The Motley Fool has no position in any of the stocks mentioned. The Motley Fool has a disclosure policy.