What Alcoa Management's Outlook Means to Investors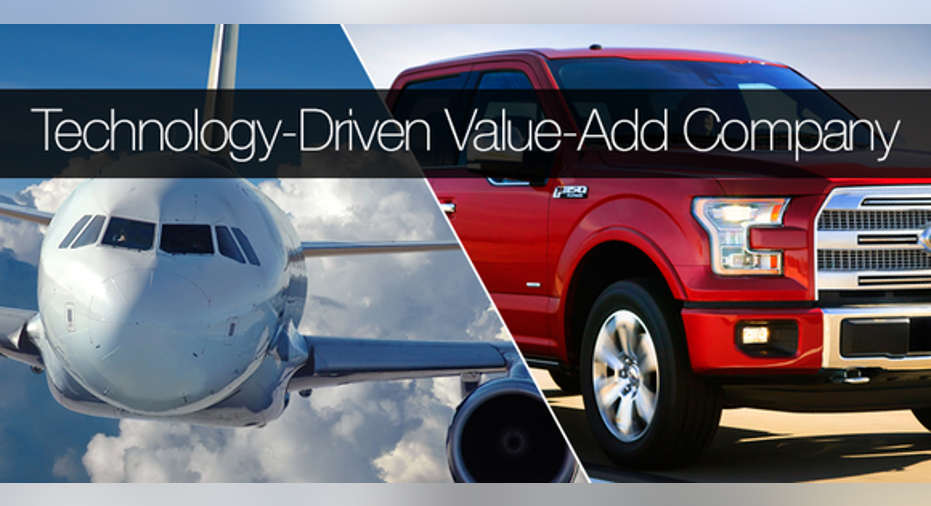 Earnings season has kicked off, and Alcoa's results are already in. The aluminum and alumina producer'searnings are useful for their predictive qualities, so let's take a closer look at the company's end market guidance. Which sectors of the industrial economy are trending better, or worse, and why?
Aerospace and automotive are two key markets for Alcoa. Image source: Alcoa.
Alcoa's management gives guidanceThe best way to analyze trends is by comparing the company's current full-year growth guidance to that given three months ago, in Alcoa's fourth-quarter earnings presentation. As you can see in the table below, there were only two changes (both negative) in full-year outlooks, namely aerospace and heavy-duty truck and trailer.
| Sector | At Q4 2015 | At Q1 2016 |
| --- | --- | --- |
| Aerospace | 8% to 9% | 6% to 8% |
| Automotive | 1% to 4% | 1% 4% |
| Heavy-Duty Truck and Trailer | (3%) to 1% | (4%) to 0% |
| Packaging | 1% to 3% | 1% to 3% |
| Building and Construction | 4% to 6% | 4% to 6% |
| Industrial Gas Turbines | 2% to 4% | 2% to 4% |
Data source: Alcoa Inc. presentations.
Aerospace softening, but probably short termThe reduction in full-year guidance is a disappointment, but it's hard to conclude it's some kind ofstructural problem in the aerospace industry.
As Alcoa CEO Klaus Kleinfeld pointed out on the conference call, airplane order cancellations "are below the five-year average and below 2% of the gross order book." He didn't name or, but it's safe to assume they're included in his analysis. In addition, commercial jet order books remain equivalent to nine years of production at current rates.
So, withairplane backlogs and orders still good, why did Alcoa lower aerospace guidance? Kleinfeld made two related points:
An "unprecedented level" of new aircraft models are causing lower orders for older models.
Aircraft manufacturers are "carefully ramping" up production on new platforms.
His arguments stand up on closer inspection. For example, Triumph Groupgot hitearlier in the year when Boeing announced production rate cuts on two older aircraft, the Boeing 747-8 and Boeing 777. The latter is being replaced by the 777X, due to begin production in 2018. Moreover, MSC Industrial Direct Co. recently discussed some weakness in aerospace orders in March.
Although it looks like more of a temporary issue, investors in United Technologies and Honeywell International should take note. Both companies face near-term headwinds in their commercial aerospace activities because of the preponderance of new aircraft platforms. Honeywell is giving incentives in order to get on new aircraft platforms, and United Technologies expects its sales mix (new products tend to be lower-margin as unit production costs are higher initially) to reduce operating profit by $300 million to $325 million in 2016.
Given Alcoa's reduced aerospace outlook, this could mean some near-term disappointment ahead for Honeywell, United Technologies, and even General Electric Company -- alongside its aircraft engines, the company also sells large amounts of aerospace equipment.
The restBelow is a look at geographic breakdowns. Alcoa doesn't give them for aerospace and industrial gas turbines; reductions are in bold.
| Q1 2016 | North America | European Union | China |
| --- | --- | --- | --- |
| Automotive | 1% to 5% | 1% to 4% | 2% to 5% |
| Heavy Duty Truck and Trailer | (23%) to (27%) | 1% to 5% | 1% to 4% |
| Packaging | (1%) to 0% | 1% to 2% | 5% to 8% |
| Building and Construction | 4% to 6% | 0% to (2%) | 3% to 5% |
Data source: Alcoa Inc. presentations.
Heavy truck and trailer is the market with the most concern, with Kleinfeld pointing out that trucking inventory levels were at 66,800 compared to the 10-year average of 47,400, putting pressure on producers to cut production rates.
The packaging outlook remained the same, and industrial gas turbines continue their low-single-digit growth rate. The latter iskey for General Electric -- industrial gas turbines are a key product. Also, Kleinfeld stressed that the market was "strongly driven by the new high efficient turbines with advanced technology. Heavy-duty gas turbine orders up 12%." This is good news for General Electric, as its new heavy-duty H-Class turbine continues to win orders.
Newer platforms are causing a slowdown in orders on legacy airplanes. Image source: The Boeing Company website.
In addition, the maintenance of guidance for the automotive and building and construction sectors(a key market for Honeywell and United Technologies) augers well. There have been fears that auto sales are about to plateau in North America and disappoint in China, but so far, so good in 2016. Also, despite some weakness in industry data in North America, construction markets are holding up well so far in 2016.
Where next for earnings season?Look out for some potential near-term weakness in aerospace results from Honeywell, United Technologies, and General Electric, but expect a decent commentary on gas turbines from the latter. Boeing's investor focus will be more on futureorders and controlling production costs.
Overall, the report is relatively positive for the industrial sector. Given the softening in the economy in the first quarter, it could have been a lot worse. The aerospace issues appear to be short-term, and it's good that automotive and construction are holding up. The economy isn't dead yet.
The article What Alcoa Management's Outlook Means to Investors originally appeared on Fool.com.
Lee Samaha has no position in any stocks mentioned. The Motley Fool owns shares of and recommends MSC Industrial Direct. The Motley Fool owns shares of General Electric Company. Try any of our Foolish newsletter services free for 30 days. We Fools may not all hold the same opinions, but we all believe that considering a diverse range of insights makes us better investors. The Motley Fool has a disclosure policy.
Copyright 1995 - 2016 The Motley Fool, LLC. All rights reserved. The Motley Fool has a disclosure policy.