Western Digital Stock Upgraded: What You Need to Know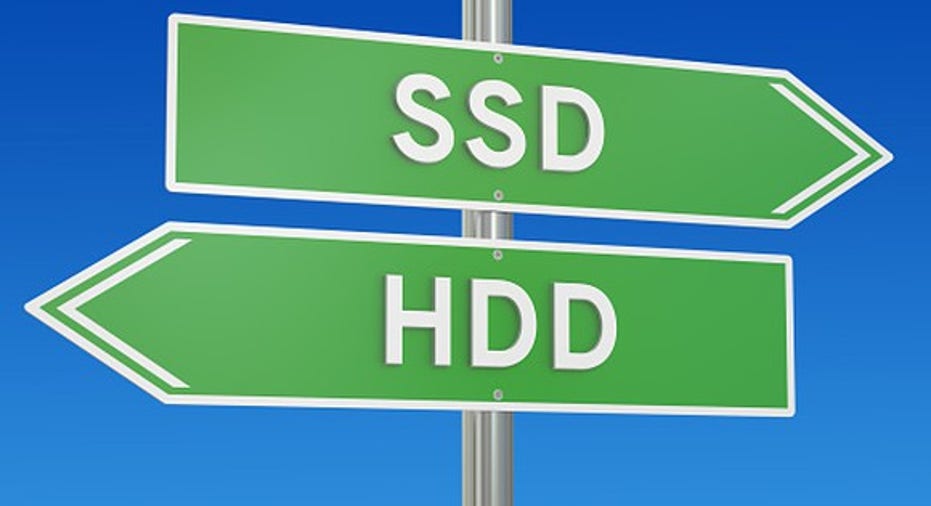 For the second time in two days, Western Digital (NASDAQ: WDC) is winning buy ratings on Wall Street.
As confirmed by TheFly.com, analysts at Chicago-basedinvestment banker Guggenheim initiated coverage of Western Digital with a buy rating and a $100 price target, calling the stock their "best idea in IT Hardware & Mobility." This morning, we're hearing Canadian banker BMO Capital chime in with a buy rating of its own -- an upgrade from market perform to outperform, and a less ambitious $90 price target.
According to BMO, with Western Digital's acquisition of SanDisk now complete, 2017 could be the year that the memory maker resumes growing. Here are three things you need to know.
Hard disk drives or solid state memory -- whichever way you turn, Western Digital has got you covered. Image source: Getty Images.
1. Growth at a cost
Western Digital experienced an 11% declinein sales in fiscal 2016, which ended in July. Those numbers included only a few weeks' worth of contributions from SanDisk's sales stream, however, because the SanDisk deal didn't close until mid-May.
In Q1 of fiscal 2017 (last quarter), sales soared 40% with the infusion of new revenue from the new subsidiary. Granted, this growth came at a cost -- nearly $16 billion. But thanks to the SanDisk deal, we can now probably expect to see similarly strong results over the next three quarters.
But after that, Western Digital must prove it can grow sales organically.
2. "the return of organic revenue growth"
As explained in a write-up on StreetInsider.com, BMO believes we will "see the return of organic revenue growth in FY17" for Western Digital's core business. Demand for flash memory, which SanDisk specialized in, is "supply constrained," says BMO. That's likely to support prices and boost profit margins. Additionally, the analyst sees "catching up on 3D NAND, high capacity HDDs," and benefiting from "favorable customer relationships."
Profit "margin expansion" should follow.
3. How much expansion?
That's the key question: Sales are almost certain to rise with the infusion of sales from SanDisk. But how profitable will these sales be?
Data from S&P Global Market Intelligence show that Western Digital's gross profit margin hovered in the 29% range for about four straight years before slipping toward the 27% range in 2016 (where it now sits). Granted, 27% is a better gross margin than the 20%that archrival Micron (NASDAQ: MU) gets, but it's still a sizable slump. Operating profit margin has been hit even harder, falling from a recent high of 16.5% in 2012 for example, to just 6.7% today -- and net profit margin is running negative (as it is, too, at Micron).
Bonus thing: Valuing Western Digital
With trailing losses of $407 million for the past 12 months, Western Digital stock currently has no positive P/E ratio to help us value it. The stock does have positive free cash flow, though -- $1.26 billion in real cash profits generated over the past 12 months. And on a $20.1 billion market capitalization, this gives the stock a price-to-free-cash-flow ratio of 16.
That seems a bit high for a stock that most analysts believe will grow earnings at no more than 10% annually over the next five years. The stock looks even more expensive if you ding it for the heavy debt load (now $8.8 billion ex-cash) that Western Digital took on to acquire SanDisk.
But if BMO is right about margins expanding, then combined with stronger sales, Western Digital's profits could grow a lot faster than 10% in relatively short order. (Especially when you notice that analysts forecast much faster growthfor Micron.) How fast is hard to say, but consider that just returning to the 16.5% margin of 2012, without additional sales, would permit profits to grow by nearly 150%.
Long story short? Between the debt load and the high stock price (up 17% last year), Western Digital stock is no obvious bargain today. But given the clear trend of rising sales, and the potential catalysts for growing profits on those sales, I see analysts' consensus expectation of only 10% profits growth as overly conservative. I can't say for sure that BMO is right about Western Digital stock being worth $90 (or about Guggenheim's $100 price target, for that matter). But is it reasonable to think the stock might gain 26% or more as profits explode skyward?
Yes, it is.
10 stocks we like better than Western Digital When investing geniuses David and Tom Gardner have a stock tip, it can pay to listen. After all, the newsletter they have run for over a decade, Motley Fool Stock Advisor, has tripled the market.*
David and Tom just revealed what they believe are the 10 best stocks for investors to buy right now... and Western Digital wasn't one of them! That's right -- they think these 10 stocks are even better buys.
Click here to learn about these picks!
*Stock Advisor returns as of January 4, 2017
Rich Smith has no position in any stocks mentioned. The Motley Fool owns shares of Western Digital. The Motley Fool has a disclosure policy.