Wells Fargos Horrendous Year in Three Charts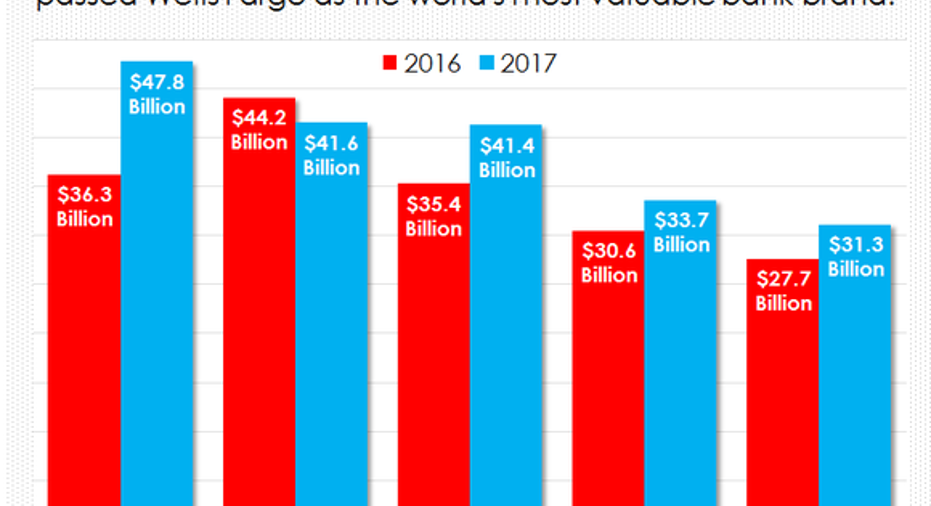 It's fair to say that Wells Fargo (NYSE: WFC) was happy to close the chapter on 2016. The nation's third-biggest bank by assets was beset by scandal last year after it was revealed that thousands of employees in its branches had opened as many as two million fake accounts for customers in order to meet overly aggressive sales quotas.
Throughout the last few months, I've tracked the fallout from the scandal on Wells Fargo's business. Below are three charts that help to illustrate the impact on the California-based bank.
The Wells Fargo Center in Charlotte, North Carolina. Image source: iStock/Thinkstock.
1. Account openings plummet
One way Wells Fargo responded to the fake-account scandal was to eliminate product sales goals in its branches. Because these were the cause of the malfeasance in the first place, this should take care of that issue.
But the decision doesn't come without a cost. Namely, without its employees pitching its products, the number of new account openings have plummeted. New checking account openings fell by 40% in December compared to the year-ago period. And credit card applications were down by 43%.
Data source: Wells Fargo. Chart by author.
Neither of these trends will have a meaningful short-term impact on Wells Fargo, as new accounts aren't massive revenue generators. Over time, however, the decrease in accounts is likely to throttle Wells Fargo's growth rate.
2. Brand value
There's no question that Wells Fargo's reputation took a hit when people learned that its employees had been systematically defrauding customers for years by opening accounts in their names without the approval to do so. But intangible assets like reputation are hard to measure, so it's difficult to say just how much actual damage was caused.
This is where Brand Finance comes in. It's a consulting company that helps to measure the value of brands around the world using the so-called royalty relief methodology, "which ranks firms based on the licensing rate that a third-party would need to pay to use that company's brand."
Based on Brand Finance's latest estimate of bank brands, Wells Fargo fell from the top spot in the world last year down to second place, eclipsed by China's biggest bank, the Industrial and Commercial Bank of China. It's hard to say how much its fake-account scandal contributed to this, but it isn't a stretch to imagine that it was the primary reason for the decline.
Data source: Brand Finance. Chart by author.
3. Profitability
Finally, one of Wells Fargo's most impressive accomplishments since the financial crisis is that it's consistently been the most profitable multitrillion dollar bank in the country. But this, too, took a hit as a result of the scandal.
In the fourth quarter of last year, Wells Fargo generated a 13.2% return on average tangible common equity. That was down from 14.1% in the first quarter -- i.e., before the scandal -- and it paved the way for JPMorgan Chase to claim the top spot among multitrillion dollar banks.
Data source: YCharts.com. Chart by author.
Suffice it to say, 2016 was a challenging year for Wells Fargo. The good news for the bank is that the new focus on decreasing regulations and defanging the regulatory agencies will almost certainly contain further fallout from its missteps last year.
10 stocks we like better than Wells FargoWhen investing geniuses David and Tom Gardner have a stock tip, it can pay to listen. After all, the newsletter they have run for over a decade, Motley Fool Stock Advisor, has tripled the market.*
David and Tom just revealed what they believe are the 10 best stocks for investors to buy right now... and Wells Fargo wasn't one of them! That's right -- they think these 10 stocks are even better buys.
Click here to learn about these picks!
*Stock Advisor returns as of February 6, 2017
John Maxfield owns shares of Wells Fargo. The Motley Fool has no position in any of the stocks mentioned. The Motley Fool has a disclosure policy.