Wells Fargo Shares Are Getting Cheap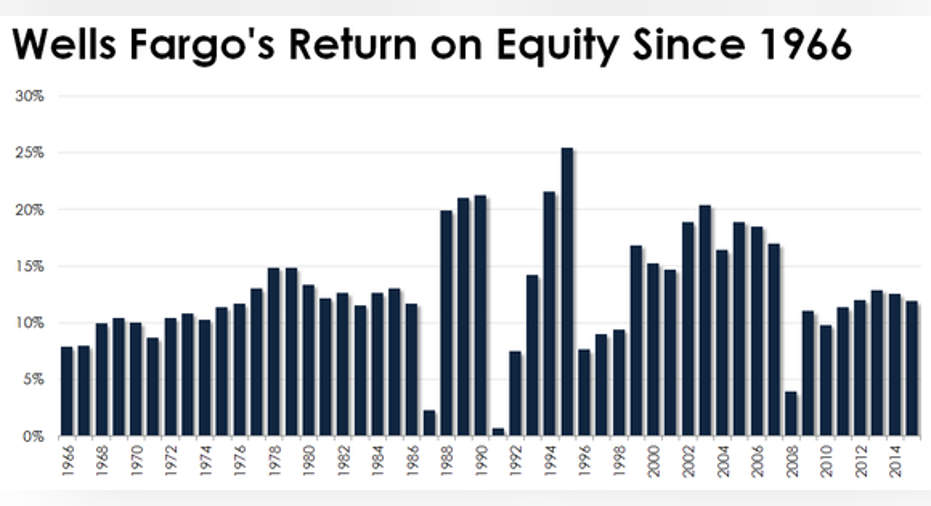 The Wells Fargo building in Charlotte, North Carolina. Image source: Wikimedia Commons.
Shares of Wells Fargo are approaching their 52-week low, creating an opportunity for savvy investors to buy into one of the nation's best-run banks at an attractive valuation.
It's hard to overstate how well run Wells Fargo is -- at least from the perspective of an investor. A bank's objective is to generate healthy returns on an annual basis over a long stretch of time. This allows the law of compounding returns to work its magic, translating respectable profits into spectacular long-term shareholder value.
A bank must do two things to accomplish this. First, its annual returns, measured by return on equity, must exceed its cost of capital. In Wells Fargo's case, this means that its return on equity must be at least 10.4%, which is its cost of capital based on an analysis by Rafferty Capital Market's Dick Bove.
Wells Fargo comfortably exceeds this. Its return on equity last year was 12.7%. And that was low for the California-based bank. In 2014, its return on equity was 13.4%, which, in turn, was slightly below its 13.9% return on equity in 2013. By this measure, in fact, Wells Fargo is far and away the most profitable megabank in the country.
The second thing a bank must do to harness the power of compounding returns is to avoid losing money in the intermittent, but not infrequent, crises that besiege the industry. The most recent crisis was in 2008. But that was only the latest in a long string of disruptions that have impacted the industry, including ones in the early 1990s, the mid 1980s, and throughout the tumultuous 1970s.
Throughout all of these, Wells Fargo has been one of the few banks that have produced a profit every year. Based on its historical annual reports, the $1.85 trillion bank hasn't lost money on an annual basis since at least 1966, which is the oldest data I could get. This is why I've referred to it in the past as the "Safest Big Bank Stock in America."
Data source: Wells Fargo annual reports. Chart by author.
The net result is this: If you're interested in bank stocks, it's hard to find one that's better than Wells Fargo. And this is particularly true now, when its shares are approaching their 52-week low and yield more than 3%.
This isn't to say that Wells Fargo's stock won't go lower. That very well may be the case. Low interest rates are weighing on all bank returns -- and there's little hope this will end anytime soon, with the Federal Reserve intimating this week that it will take a more restrained approach to raising rates.
There's also the Brexit vote in the United Kingdom next week. If the voters there choose to separate from the European Union, it's reasonable to assume that markets will be thrown into turmoil.And there's the litany of new rules and regulations passed since the 2008 crisis that weigh heavily on bank profits. Most importantly, banks must now hold more capital and liquidity than they did before the crisis, both of which reduce a bank's returns.
Investors should nevertheless keep their eye on the long-term. Banks aren't going anywhere anytime soon. And the harder the environment is for other banks, the easier it will be for the best-run banks like Wells Fargo to outperform their competitors.
In short, if you have any inclination to invest in a bank, it's only during times like these that you'll be able to do so at a patently reasonable price.
The article Wells Fargo Shares Are Getting Cheap originally appeared on Fool.com.
John Maxfield owns shares of Wells Fargo. The Motley Fool owns shares of and recommends Wells Fargo. Try any of our Foolish newsletter services free for 30 days. We Fools may not all hold the same opinions, but we all believe that considering a diverse range of insights makes us better investors. The Motley Fool has a disclosure policy.
Copyright 1995 - 2016 The Motley Fool, LLC. All rights reserved. The Motley Fool has a disclosure policy.