Wells Fargo CEO to Face Lawmakers with Better Defense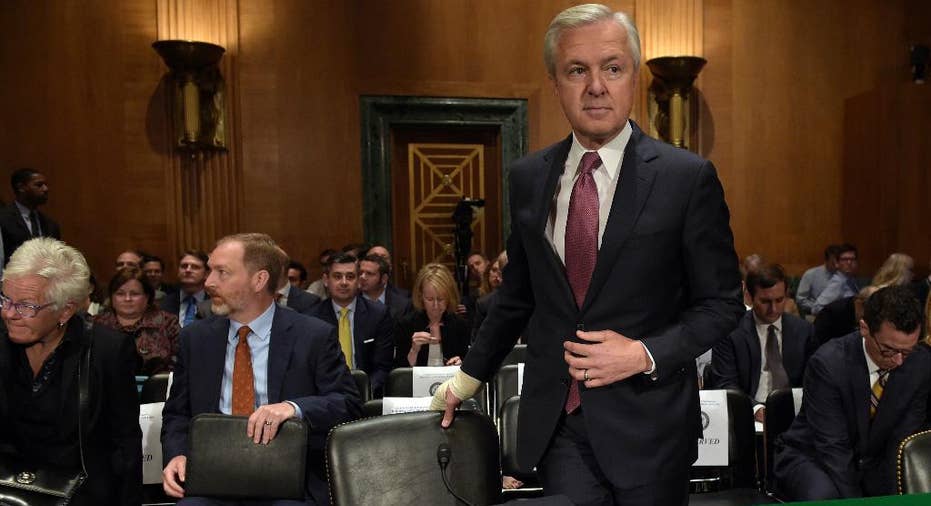 Wells Fargo's CEO, newly stripped of tens of millions in compensation in a scandal over sales practices, will face lawmakers with more defenses than he had in the last round, when some senators called for his resignation.
Chief Executive John Stumpf comes into Thursday's hearing before the House Financial Services Committee able to cite the millions he and another top executive will forfeit, her departure from the bank, and an earlier date for the aggressive sales quotas to end.
Whether the unusual takeback from his salary and stock will be enough to save Stumpf's job is hard to say, and his testimony at Thursday's session could play a role.
It was "a step in the right direction, but there are still dozens of unanswered questions," said Sen. Sherrod Brown of Ohio, the Senate Banking Committee's senior Democrat. He and the other Democrats on the panel asked Stumpf on Wednesday to answer a series of 58 questions, including nearly two dozen that they said he failed to answer at the hearing last week or for which he promised to provide fuller information.
"We still don't know how many customers were harmed and how long this fraud continued," Brown said in a statement. "We also don't know how many low-paid employees got fired for failing to meet quotas that Wells Fargo now recognizes were too high."
Bank employees, in a feverish drive to meet sales targets, opened up to 2 million fake deposit and credit card accounts without customers' knowledge, issued and activated debit cards, and signed people up for online banking without permission, according to regulators. The abuses are said to have gone on for years, unchecked by senior management.
U.S. and California regulators fined San Francisco-based Wells Fargo $185 million. California Treasurer John Chiang also said Wednesday he's suspending some of the state's business with the bank. He plans to stop using Wells Fargo as the managing underwriter on certain categories of bond sales, will avoid buying Wells Fargo securities and won't use the bank as a broker for investment purchases for the next 12 months.
Chiang also said Stumpf should resign, and that the Wells Fargo board should separate the chairman and CEO positions that he now holds.
The consumer banking giant, which is also the biggest U.S. mortgage lender, fired about 5,300 employees starting in 2011 in connection with the sales practices. The revelations sparked investigations by federal agencies and bipartisan outrage in Congress.
At the highly charged hearing last week, Stumpf was barraged with criticism from senators who accused the bank of outright fraud. He was chided for scapegoating lower-level employees — bank tellers, customer service reps and branch managers — rather than focusing on senior management's failures.
Stumpf apologized and promised action to make things right for customers who were affected, a sentiment he is expected to reiterate Thursday. Customers already have been refunded $2.6 million in fees slapped on unauthorized products, the bank says.
The Wells Fargo board acted Tuesday to strip Stumpf and the executive who ran the retail banking division of millions of dollars in pay, a move known as a "clawback" that falls within company directors' authority. Stumpf, who earned $19.3 million last year, will forfeit $41 million in stock awards.
He also is giving up any bonuses for this year, as is Carrie Tolstedt, the former head of the retail operation. Tolstedt announced in July that she would retire from the bank this year and had been expected to leave with as much as $125 million in salary, stock options and other compensation. She is forfeiting $19 million of her stock awards, and her departure was made immediate.
The outside directors on the bank's board didn't rule out the possibility of pursuing additional repayment from Stumpf or Tolstedt, depending on the results of an investigation they're conducting.
Few top bank executives have had their compensation clawed back in the years since the financial crisis starting in 2008. While unusual, the move by the board "was the right thing to do," said Charles Elson, a professor and director of the Weinberg Center for Corporate Governance at the University of Delaware.
Short of forcing Stumpf to resign, the board may move to split the CEO and company chairman roles that Stumpf holds, Elson suggested. Stumpf, CEO since 2007, added the chairman title in January 2010.
"It may be that he's asked to retire in a year or so," said Gene Grabowski, a crisis management consultant who's a partner at the firm kglobal.
Tamar Frankel, a law professor at Boston University whose area of study includes corporate governance, believes the best scenario would be for Stumpf to keep his job but institute real changes.
"At the highest level, what went wrong was culture," Frankel said. The guiding ethic was "if you bring in money, you're OK. If you don't, you're no good."