Water Stock Investors: Why Sabesp Stock Gained Nearly 15% in January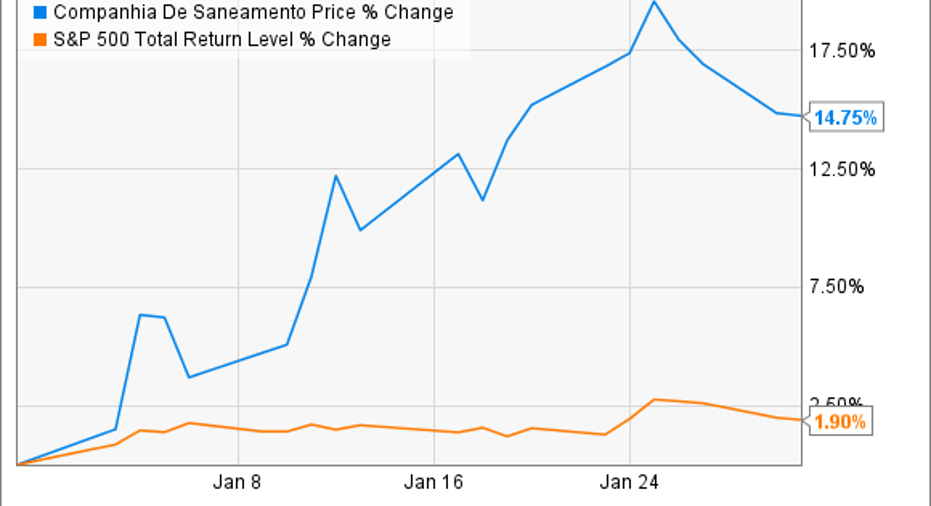 What happened
Shares ofBrazilian water utilityCompanhia de Saneamento Basico do Estado de Sao Paulo(NYSE: SBS)-- Sabesp, for short -- rose 14.8% in January. The stock has soared 92.4% in the one-year period through Feb. 2.
Data byYCharts.
So what
Sabesp stock's January gain wasn't related to the company's business performance. The stock rose because the Brazilian currency, the real, bounced back in value relative to the U.S. dollar to approximately the same level it was at before it plunged after Donald Trump won the U.S. presidential election.
Source: Getty Images.
Sabesp's stock got hit hard after Trump's win -- losing 24.6% of its value from Nov. 8 through Dec. 20 -- thanks to the slide in the relative value of the real. This slide was due to fears of what the U.S. trade policy with foreign countries might look like under a Trump administration. Trump's "America First" agenda could include trying to enact more stringent trade barriers with foreign countries.
As of Feb. 2, Sabesp stock is just 2.7% off the price it was at before Trump's victory. As is often the case with the stock and currency markets, initial reactions to events are often overreactions, and then things at least partially bounce back once market participants have time to digest the news.
Now what
Investors bullish on Sabesp as a long-term investment should maintain their course, at least for now.
That said, it's wise to keep an eye on what Trump does on the trade policy front. A significant decline in the value of the Brazilian real relative to the U.S. dollar would negatively impact Sabesp's earnings. That's because it would increase the company's interest expenses since close to half of its total debt outstanding at the end of the most recent quarter was denominated in either U.S. dollars or Japanese yen.
10 stocks we like better than Companhia de Saneamento Basico When investing geniuses David and Tom Gardner have a stock tip, it can pay to listen. After all, the newsletter they have run for over a decade, Motley Fool Stock Advisor, has tripled the market.*
David and Tom just revealed what they believe are the 10 best stocks for investors to buy right now...and Companhia de Saneamento Basico wasn't one of them! That's right -- they think these 10 stocks are even better buys.
Click here to learn about these picks!
*Stock Advisor returns as of January 4, 2017.
Beth McKenna has no position in any stocks mentioned. The Motley Fool recommends Companhia de Saneamento Basico. The Motley Fool has a disclosure policy.