Washington Post Unearths Potential $125 Billion Payday for Defense Contractors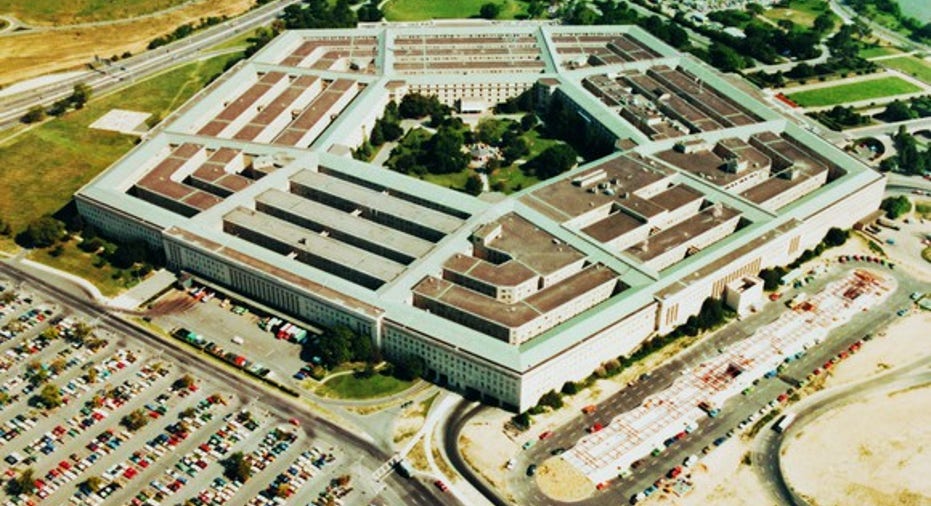 For as long as I can remember -- back as far as President Jimmy Carter, at least, and all the way up through President-elect Donald Trump -- American presidents have been promising to pay for spending increases by cutting wasteful spending. Turns out, they weren't just whistling Dixie.
There is government waste to cut, and perhaps nowhere more so than at the Pentagon.
Image source: Getty Images.
Earlier this week, legendary investigative journalist Bob Woodward of The Washington Post broke what's perhaps the biggest story of his career, bar Watergate. In a massive, 3,600-word articleco-authored with investigative journalist Craig Whitlock, Woodward revealed how the Defense Department commissioned a secret study in 2014, aiming to identify areas where it could shave costs to free up funds for investment in new military hardware.
The effort was wildly successful. Within three months, the Defense Department concluded there was a "clear path" to easily save $125 billion over five years without conducting layoffs, or really reducing U.S. military capabilities at all. Instead, simply streamlining the Pentagon's bureaucracy, improving use of information technology, and scaling back the use of expensive contractors would save $25 billion a year.
The Pentagon promptly buried the report.
Be careful what you ask for...
The study in question, which was commissioned by the Pentagon and conducted by a federal advisory panel known as the "Defense Business Board," with assistance from McKinsey & Co., came up with some pretty shocking revelations -- things that had apparently escaped notice by the Pentagon brass, as the Post claims they were "revealed for the first time" in this report:
23% of the Defense Department's $580 billion annual budget is spent on "overhead" -- back-office operations such as logistics, procurement, HR, and property management.
To get these tasks done, the Pentagon employs a (figurative) army of more than 1.01 million clerks -- 298,000 military support staff, 448,000 civilian employees, and 268,000 private contractors. These back-office personnel actually outnumber the military's 1 million non-desk-job active-duty troops.
And each one of these non-combat clerical jobs costs taxpayers about $200,000 annually in salary and benefits.
Were the Pentagon to streamline its back-office processes, saving just 20% of what it has been spending -- again, that's $25 billion a year-- this could cover 70% of the cost of upgrading America's nuclear arsenal, or pay the operating budgets of 50 Army combat brigades, 3,000 high-tech F-35 fighter jets, or 10 aircraft carrier strike groups.
Expanding the shopping list, $25 billion could also buy 250 brand-new F-35s from Lockheed Martin. Or it could purchase a pair of Ford-class aircraft carriers from Huntington Ingalls. Over five years' time, the savings from streamlining Pentagon bureaucracy could even cover the entire cost of building Northrop Grumman'sproposed fleet of B-21 nuclear stealth bombers.
Simply put, it's a bonanza of loot, ripe for the taking, and available to spend on weapons systems made by some of America's largest defense contractors. But now that the Pentagon knows the money is there, why isn't it putting the money to better use?
... because you just might get it
Turns out, while the generals expected there was some money to be salvaged by cutting waste, they found the scale of the waste somewhat staggering. And the worry soon grew: What would Congress do if it were to learn how much money is being wasted? Might Congress insist that the Pentagon tighten its belt? Might Congress reduce defense spending by several tens of billions of dollars annually, to force the Pentagon to manage its money better?
Ultimately, says the Post, that's exactly what the Pentagon concluded: that cluing Congress in to the size of this scandal might put the Pentagon's own budget at risk.
"This is what scares me," the Post quotes Deputy Defense Secretary Robert O. Work worrying. Outraged at Pentagon inefficiency, Congress might slash the defense budget by $125 billion, demand the Defense Department cut its costs, and then deprive the Pentagon of any benefit from such cost-cutting -- in the form of getting to spend the money on the weapons the Pentagon actually needs.
Can they really get away with that?
Up until the Post published its report, it looked likely that the Pentagon would get away with burying its own wasteful spending report. In an attempt to squelch the findings, the Defense Department scrubbed a 77-page summary of the report from its own public website, banned participants in the research from revealing their findings to news media or to the public, and replaced the chairman of the Defense Business Board, which had led the investigation.
As things stand today, the newspaper declares that "the $125 billion savings plan [is] dead."
Of course, that was before The Washington Post shined a light on the report. Now that the news has been made public, Twitter is on fire with complaints about the Pentagon's efforts to hide its findings. Former presidential hopeful Sen. Bernie Sanders is blasting the Pentagon for "bloated and wasteful" spending, while other legislators, including Claire McCaskill and John McCain in the Senate, and Representative Mac Thornberry in the House, are promising to investigate further, even as calls mount for President-elect Trump to address the situation.
What remains to be seen is just how the new president will address it -- whether by slashing the defense budget, period, as the generals who buried the report feared, or by instituting real reforms to cut the administrative waste and free up additional dollars to spend on needed military equipment. Whether the scandal surrounding the Pentagon's report, and its burial, ultimately fizzles out, or the uproar grows and results in real change, trust that we'll be watching -- and we'll keep you informed.
10 stocks we like better than Lockheed Martin When investing geniuses David and Tom Gardner have a stock tip, it can pay to listen. After all, the newsletter they have run for over a decade, Motley Fool Stock Advisor, has tripled the market.*
David and Tom just revealed what they believe are the 10 best stocks for investors to buy right now... and Lockheed Martin wasn't one of them! That's right -- they think these 10 stocks are even better buys.
Click here to learn about these picks!
*Stock Advisor returns as of Nov. 7, 2016
Rich Smithdoes not own shares of, nor is he short, any company named above. You can find him onMotley Fool CAPS, publicly pontificating under the handleTMFDitty, where he's currently ranked No. 340 out of more than 75,000 rated members.
The Motley Fool has no position in any of the stocks mentioned. Try any of our Foolish newsletter services free for 30 days. We Fools may not all hold the same opinions, but we all believe that considering a diverse range of insights makes us better investors. The Motley Fool has a disclosure policy.