Was Lumber Liquidiators' Reputation Ruined for Nothing?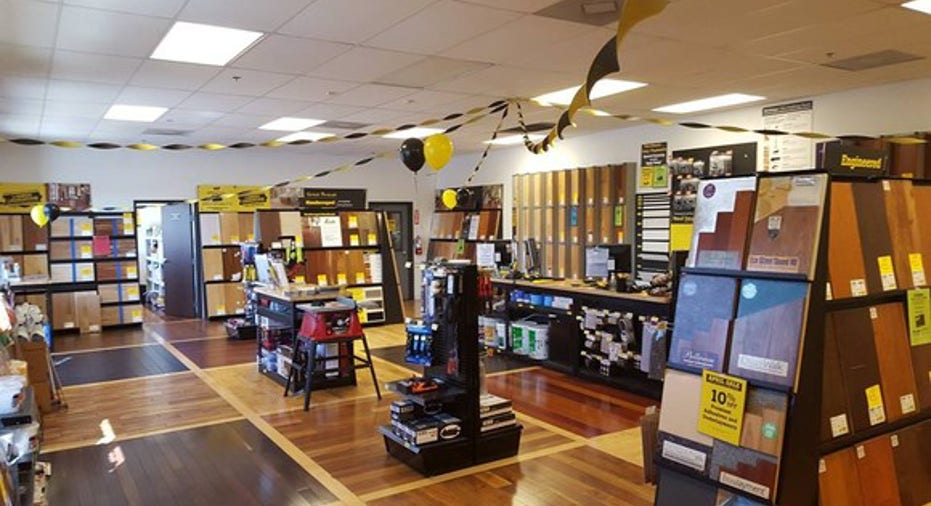 Lumber Liquidators has seen customers flee its stores as concerns of the health effects of its flooring rose due to spurious news reports. Image source: Lumber Liquidators.
Shares of Lumber Liquidators soared 20% last Friday following news the U.S. had concluded its investigation into its flooring and would not pursue additionalremedies beyond the condition it not sell any more Chinese-made laminates.
Because the flooring specialist had already stopped selling those products last year, this is seen as a chance for Lumber Liquidators to finally put this ugly episode behind it. Unfortunately, the damage has been done. Its business has been rocked and its reputation smeared, meaning there's a real possibility Lumber Liquidators never fully recovers. And for what?
It was hedge fund operator Whitney Tilson who, with a large short position in Lumber Liquidators' stock, put the bug in 60 Minutes' ear that the flooring retailer was selling laminates thatdidn't meet U.S. air quality standards. The news program ran flawed tests on the product that made it appear as though consumers who bought the flooring were facing substantial health risks.
The backlash was immediate and intense, not only sending Lumber Liquidators' stock careening lower -- and earning Tilson a fat payday when he finally cashed in -- but also damaging its business.
Net sales fell 7% in 2015, causing a loss of $56million compared to profits of $63 million in 2014,and the hemorrhaging continued into 2016as Lumber Liquidators' reported sales tumbled 10% in the first quarter, causing losses to widen to $32 million from $8 millionin the year-ago period as comparable-store sales plunged 14%.
Of course, Lumber Liquidators did itself no favors by waiting weeks to rebut the charges against it, even though it had known for some time the program was going to air. And although the response it finally gave was strong,it was too little, too late. The allegations had been allowed to fester too long.
The report by the Consumer Products Safety Commission essentially confirmed all that Lumber Liquidators had said: When used as directed, the laminates were not a health risk, and there was no need to tear up any floors that were installed.It noted that formaldehyde irritation can occur absent the presence of the flooring because cabinets, countertops, and other household items contain the chemical and naturally emit it into the air.
Ultimately, it was a spurious report that did in the flooring retailer, similar to what has happened to companies that have been damaged by a credulous media in the past:
Toyotacame to be associated with sticking gas pedals and "sudden acceleration syndrome," even though the Department of Transportation determined most drivers simply stepped on the gas instead of the brake.
AFA Foods was driven to bankruptcy after ABC News called its lean, finely textured beef "pink slime," creating a call for it to stop being used even though the USDA says it's "nutritionally equivalent to 95% lean beef."
The apple industry suffered hundreds of millions of dollars in damage and numerous apple growers went bankrupt after another 60 Minutes report equated the use of the preservative Alar with a high risk of causing cancer in children, despite its proven safety.
While Lumber Liquidators can say the matter is mostly behind it (it still faces investigations for alleged criminal acts and securities violations), it may never be able to move past the hit.
With investors losing some 80% of their stock's value, and the company three of its executives, Lumber Liquidators may remain a broken business, unable to move past the falsehood that it is a company that sells cancer-causing flooring.
The article Was Lumber Liquidiators' Reputation Ruined for Nothing? originally appeared on Fool.com.
Rich Duprey has no position in any stocks mentioned. The Motley Fool recommends Lumber Liquidators. Try any of our Foolish newsletter services free for 30 days. We Fools may not all hold the same opinions, but we all believe that considering a diverse range of insights makes us better investors. The Motley Fool has a disclosure policy.
Copyright 1995 - 2016 The Motley Fool, LLC. All rights reserved. The Motley Fool has a disclosure policy.