Was Lithia Motors Inc.'s First-Quarter Really That Bad?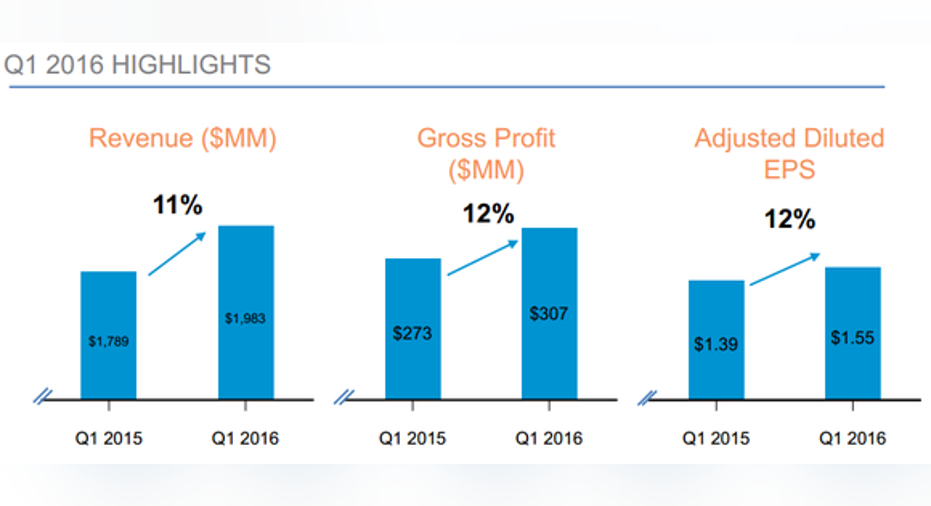 At a time when new-vehicle sales in the U.S. are hitting all-time highs, Lithia Motors (NYSE: LAD), which operates 138 dealerships in 15 states, posted a strong first quarter and topped analyst estimates on both the top and bottom lines. Further, the company managed to raise its outlook for used-vehicle sales growth this year, and for total revenue. Naturally, given the market's ability to get things right (eye-roll), it sold off Lithia, with shares tumbling more than 14% during midday trading on Friday -- it makes perfect sense (not).
Source: Lithia Motors Corporate Website.
With that said, lets dig into the first-quarter results and look at one reason investors shouldn't be so worried about Lithia Motors.
By the numbers While Lithia did narrow its forecast for new-vehicle sales this year to an increase of 4.5%, down from 5.5%, it was apparently enough to send skittish investors already worried about slowing sales growth to the sidelines. Still, despite the lowered forecast, Lithia reported first-quarter profit of $1.55 per share, topping estimates by a penny, and revenue of $1.98 billion, which was also ahead of $1.95 billion estimates.
In terms of year-over-year comparisons, revenue, gross profit, and adjusted earnings per share checked in with double-digit growth.
Image source: Lithia Motors's first-quarter 2016 presentation.
Lithia's same-store sales also increased 8%, and its same-store gross profit jumped nearly 10% compared to the prior year's quarter. Oh, and to top it all off, Lithia's Board of Directors approved a 25% increase to the quarterly dividend, which will now pay out $0.25 per share.
What's the catch? Despite the strong financial side of Lithia's first quarter, the company did admit on the conference call that about a third of the company's markets, mostly the energy states, are feeling some financial pressures and are seeing slightly declining sales. That, in combination with March new-vehicle sales in the U.S. slowing to the slowest pace in more than a year, was enough for investors to sell Lithia Motors -- but it's far from the only auto stock hurting in 2016.
On the bright side, though, Lithia is better equipped to handle a slowdown in new-vehicle sales than many realize. That's because while the company's Service, Body and Parts business segment only generated 10% of first-quarter total revenue, it generated almost one-third of the total gross profit mix -- a business many companies in the automotive industry lack. For comparison, Lithia's new-vehicle sales generated 55% of revenue, but only 22% of the first-quarter gross profit mix. Even further, the company's F&I (Finance and Insurance) segment generated only 5% of revenue in the first quarter but accounted for 25% of the gross profit mix.
Those two segments are important because Lithia could theoretically focus on generating more sales and profit with its service segment even if new-vehicle sales declined. Also, with F&I penetration rates of service contracts at 44% and lifetime oil contracts at 33%, there's plenty of growth for that segment without selling more vehicles.
Sure, a slowdown in new or used-vehicle sales will hurt Lithia, but a 14% plunge in share price seems a bit much for a company that beat top- and bottom-line estimates, increased its dividend, and generates more than half of its profit from segments other than new and used-vehicle sales.
The article Was Lithia Motors Inc.'s First-Quarter Really That Bad? originally appeared on Fool.com.
Daniel Miller has no position in any stocks mentioned. The Motley Fool has no position in any of the stocks mentioned. Try any of our Foolish newsletter services free for 30 days. We Fools may not all hold the same opinions, but we all believe that considering a diverse range of insights makes us better investors. The Motley Fool has a disclosure policy.
Copyright 1995 - 2016 The Motley Fool, LLC. All rights reserved. The Motley Fool has a disclosure policy.