Walt Disney Co.'s Newest Theme Park -- How Big Will It Be For Disney's Earnings?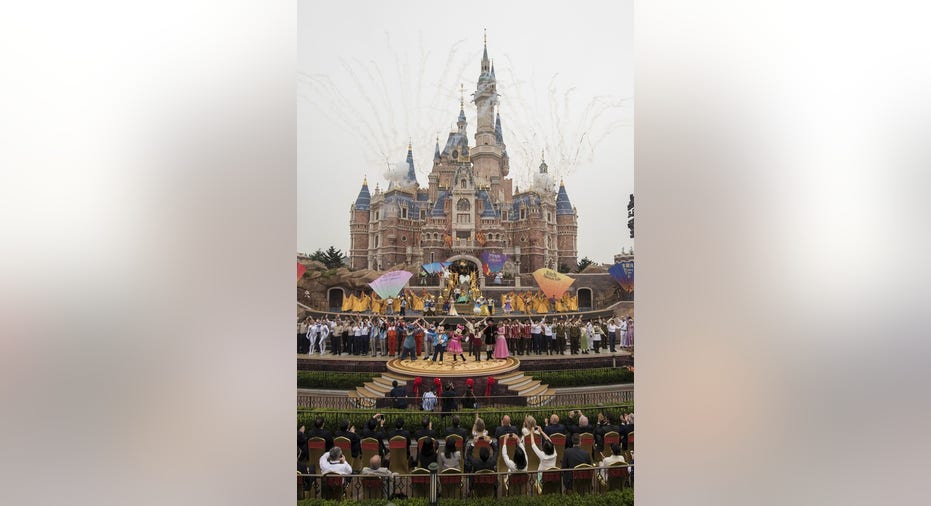 Disney's ribbon cutting ceremony for the new Shanghai Disney Resort on June 16. Photo: The Walt Disney Co.
The Walt Disney Co. finally opened it's newest theme park near Shanghai, China last month to much fan fare including letters from President Obama and Chinese President Xi Jinping lauding the accomplishment. The opening ceremonies in front of thousands of fans showed off what has been a $5.5 billion investment by Disney over nearly two decades.
"This is one of the proudest and most exciting moments in the history of The Walt Disney Company," said CEO Bob Iger.
While some analysts have been skeptical about how much this theme park will move the needle for Disney during a time when the company's other international theme parks are struggling to stay profitable and China's economy is slowing, I believe it'sa bigger event than it's getting credit for.
Delayed and over budget -- but worth the wait
This new resort was originally scheduled to open in 2015 and cost Disney around $4 billion. More than a year later and coming in at $5.5 billion, Shanghai Disney Resort finally opened on June 16. The resort spans over 4 sq. kilometers (1.5 sq. miles) making it the second largest of Disney's theme parks behind Disney World in Orlando. The park is twice the size of Disneyland in Anaheim, CA and three times as large as its closest neighbor, Disneyland Hong Kong.
Shanghai Disney Resort includes six "lands," including Adventure Isle and Tomorrowland with attractions in each. It also boasts the largest Disney castle, theEnchanted Storybook Castle, as well as a large performance theater, a shopping district, two hotels, a lake, and more.
A scene from the Shanghai Disney Resort opening ceremony.Photo: The Walt Disney Co.
Iger has said multiple times that the resort is"authentically Disney and distinctly Chinese." Many of the rides and features in the park are unique to Disney Shanghai Resort. And to add an authentic touch, Disney has included features like gardens that showcase each of the 12 Chinese zodiac animals represented by Disney characters, a hotel shaped like the lucky number "8," and has done away with the hallmark "Mainstreet USA" in favor of "Mickey Avenue."
By making the resort unique to Chinese culture, Disney hopes to avoid the pitfalls of Disneyland Paris which has struggled agianst French culture-philes rejecting such an overtly American theme. "We didn't just build Disneyland in China, we built China's Disneyland," said Iger.
The middle class opportunity
Estimates on how many visitors the park is expected to see vary, from 10 million in the first year to as much as 50 million a year by 2018, according to The New York Times. Compare these estimates with Disney World Orlando's around 20.5 million visitors in 2015.
One thing is certain, China has an already massive but still rapidly expanding middle class that this resort looks to cater to. ANZ analysts estimate that more than 300 million people will jump to the middle class bracket in China between 2014 and 2030, to a total of around 850 million.
Chinese citizens are also frequenting theme parks much more often. According to the Theme Entertainment Association, a research group that monitors such things, China is leading global theme park attendance growth with park visitation of over 62 million in 2015, about 15% more than 2014.
What this could mean for Disney's earnings
To be fair, not everything about this new park points to massive revenue. This park will actually be less expensive than Disney's other properties with entry at about $56 on the low end, compared to over $100 for Disney World Orlando. Additionally, Disney owns only 43% of the park with the rest owned by a local state-run group, Shendi. Disney does own 70% of the company that manages the park so the actual percent of total revenue that Disney receives from it is somewhere between 43-70%.
But even at a lower entry cost and receiving just a portion of the proceeds, the number of people expected to visit this park should help to materially boost Disney's Theme Parks segment earnings.In the second quarter, Disney reported segment income growth of10% year over year in Theme Parks despite posting a loss at Disneyland Hong Kong last quarter and flat growth at its international parks. Nomura analysts forecast that this park alone could add $1.77 billion to annual sales and $150 million to annual income to the segment by 2018.
That may be a small number relative to Disney's total sales last year of $52 billion, but the investment could help the company's bottom line in other areas as well. Estimates by analysts at Nomura suggest that around $1 billion of Disney's revenue came from China last year, more than half of which derived from box office revenues. The Shanghai Disney Resort is thus merely one aspect of its grander investment thesis in this important market. By leveraging the two, the multiples could be much bigger. After all, Disney is a consumer-focused company, and no market offers access to more consumers than China.
The article Walt Disney Co.'s Newest Theme Park -- How Big Will It Be For Disney's Earnings? originally appeared on Fool.com.
Bradley Seth McNew owns shares of Walt Disney. The Motley Fool owns shares of and recommends Walt Disney. Try any of our Foolish newsletter services free for 30 days. We Fools may not all hold the same opinions, but we all believe that considering a diverse range of insights makes us better investors. The Motley Fool has a disclosure policy.
Copyright 1995 - 2016 The Motley Fool, LLC. All rights reserved. The Motley Fool has a disclosure policy.