Walt Disney Co. Q2 Earnings on Tuesday: What to Watch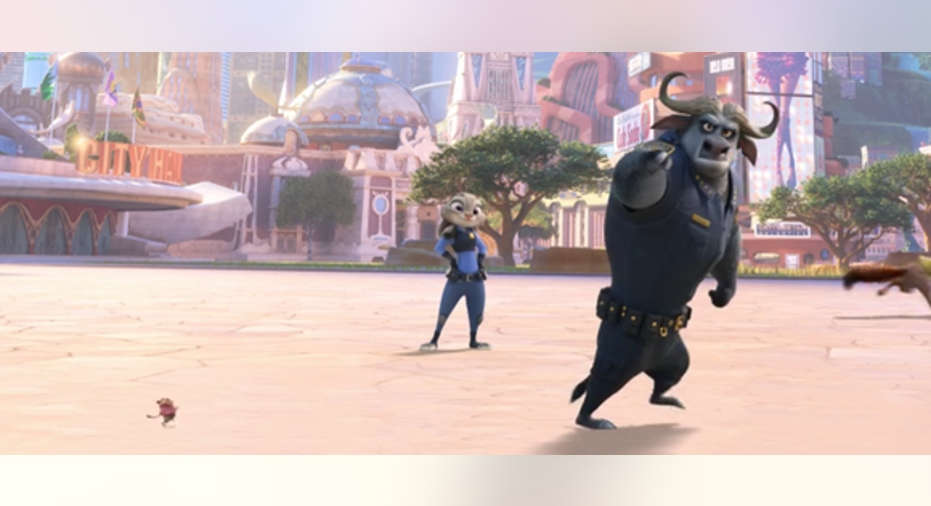 Image source: Disney.
Walt Disney Co.reports its fiscal second-quarter 2016 results after the market close on Tuesday, May 10. The entertainment giant is going into its report on a strong note. It posted powerful results last quarter, driven by the phenomenally successfulStar Wars: The Force Awakens,and studio entertainment is flying high with Zootopiareigning as 2016's global box-office champ, as of this writing.
While the market remains concerned about cord-cutting negatively affecting the future profitability of cable networks and the entire company, Disney's recent results have helped alleviate some of these fears. Shares have nicely rebounded since August, when the market's jitters over this issue first surfaced and drove them to a one-year low. The stock has returned negative 4.1% for the one-year period through May 5, trailing the S&P 500's flat return, however, it's outpaced the broader market, returning nearly 14%, since the company released last quarter's robust results on Feb. 9.
Here's what to watch in the report:
The headline numbersHere are the year-ago results to use as benchmarks:
| Metric | Q2 2015 Result |
| --- | --- |
| Revenue | $12.46 billion |
| Segment operating income | $3.48 billion |
| Net income | $2.11 billion |
| Earnings per share (EPS) | $1.23 |
Data source: Disney.
Disney doesn't provide earnings guidance. Long-term investors shouldn't pay too much attention to analysts' earnings estimates, since Wall Street is focused on the short term. As long as key metrics generally keep moving in the right direction, the company's stock should as well.
Fiscal calendar "shift"Investors should be aware of the calendar timing shift between fiscal Q1 and Q2 this year vs. last year because it will affect year-over-year comparisons. Disney's second quarter of fiscal 2016 began on Jan. 3, whereas its second quarter of fiscal 2015 began on Dec. 28, 2014, resulting in the New Year's holiday shifting between quarters. This shift will negatively affect year-over-year comparisons in parks and recreation, as well as both positively and negatively affect media networks.
In parks and recreation, the company recognized approximately $9 million in operating income in Q1 this year that was recognized in Q2 last year, CFO Christine McCarthy said on last quarter's conference call. In cable networks, both programming costs and ad revenue increased last quarter relative to the previous year's quarter due to six New Year's Eve and New Year's Day college football playoff bowl games airing during the first fiscal quarter this year vs. the second quarter last year.
Furthermore, Easter shifted to March this year from April last year. So, parks and recreation should get a positive year-over-year bump from folks visiting parks and resorts over the Easter holiday this quarter.
Media networks: Cord-cuttingand marginsAll eyes will be on Disney's media networks, its largest and most profitable segment, and particularly on its cable business all-star, ESPN. The sports cable network's subscriber count has declined modestly due to people ditching or slimming their large cable packages. Specifically, Disney has said ESPN's subscriber count fell about 7.4% from 99 million to 92 million in the two-year period through the end of its fiscal year 2015. At the same time, costs for securing the rights to broadcast live sporting events have been increasing. So, while margins are still mighty, they remain under pressure.
Media networks accounted for 44% of Disney's revenue and 53% of its operating income in fiscal 2015.So, concerns about cord-cutting are legitimate. However, in my view, the market has overblown this issue and has underestimated the entertainment juggernaut's ability to overcome this challenge and/or compensate for it. This is a company that's been firing on all cylinders, owns an array of top brands, and is widely regarded as masterful at leveraging those brands.
Consumers have hopped out to theaters in droves to see Zootopia. Image source: Disney.
ZootopiaunleasedDisney Animation's Zootopia, currently 2016's top-grossing movie worldwide, should unleash some solid revenue and profit growth for studio entertainment in the quarter. The whimsical film has rung up theater ticket sales of $933.7 million worldwide as of May 5.It was released domestically on March 4, which means that about a month's worth of theater receipts will be included in the quarter's results.
Zootopia should also put a hop in consumer products/interactive media's results. In typical Disney fashion, a zoo-load of movie-based toys and other merchandise were released ahead of the film's opening.
is back for an encoreLast quarter's results got a huge boost from Star Wars:The Force Awakens,which opened in domestic theaters on Dec. 18, and shattered box-office records. Second-quarter results should also get a nice bump, as the movie was still going strong domestically after the New Year's weekend, and didn't open in certain international markets until January.
Consumer products/interactive media will also surely benefit once again. Hasbro , which holds a license from Disney to produce movie-themed toys, called out brisk Star Wars toy sales as one of its growth drivers in its first quarter (which essentially overlaps Disney's fiscal second quarter).
Parks and resorts: Margins and Shanghai DisneylandoutlookInvestors can usually count on Disney's second-largest segment to be a dependable performer. The segment's coming off a great performance last quarter, with attendance at the company's domestic theme parks up 10%, average spending up 10%, and per-room spending at its domestic hotels up 9%.
The huge catalyst for growth in the second half of the fiscal year and beyond is approaching: Shanghai Disneyland is scheduled to open on June 16. All signs point to a general public that's eager to rush the turnstiles of Disney's first park in mainland China. Tickets for opening day went on sale March 28 and sold out within a few hours. By noon the next day,rooms were fully booked at the resort's two on-site hotels for the first two weeks of the park's opening.
The article Walt Disney Co. Q2 Earnings on Tuesday: What to Watch originally appeared on Fool.com.
Beth McKenna has no position in any stocks mentioned. The Motley Fool owns shares of and recommends Hasbro and Walt Disney. Try any of our Foolish newsletter services free for 30 days. We Fools may not all hold the same opinions, but we all believe that considering a diverse range of insights makes us better investors. The Motley Fool has a disclosure policy.
Copyright 1995 - 2016 The Motley Fool, LLC. All rights reserved. The Motley Fool has a disclosure policy.