Walt Disney Co Has a High Earnings Bar to Jump: Here's What to Watch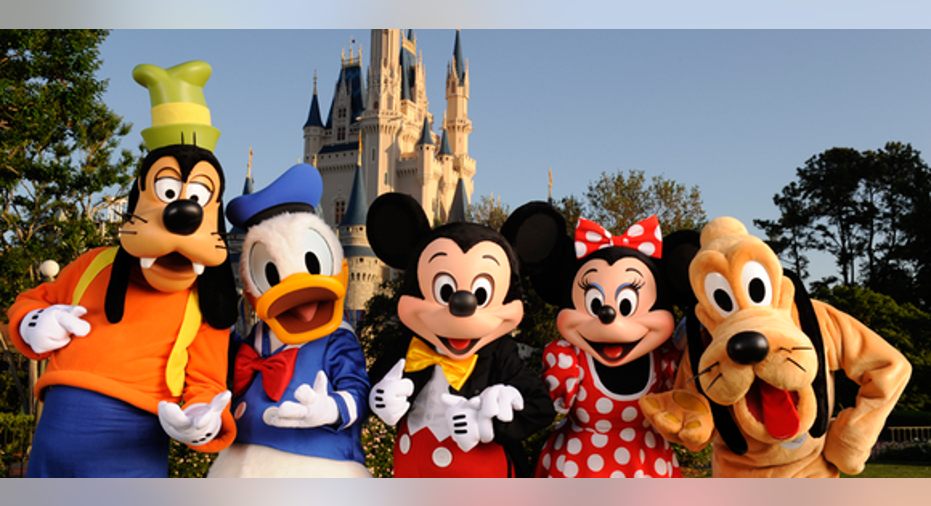 Image source: Disney.
Walt Disney Co.(NYSE: DIS)reports its first-quarter results for fiscal 2017 after the market close on Tuesday, Feb. 7.
The entertainment giant is going into the report on a solid note from both a business and stock momentum standpoint. Rogue One: A Star Wars Story, released in mid-December, has been dominating box offices around the world. After struggling for more than a year, Disney's stock has moved steadily upwards since November, gaining more than 16% since Nov. 1 -- about double the S&P 500's 8% gain, as of Jan. 26.
That said, investors should be prepared for Disney to post headline numbers that don't look so magical because it's facing extremely tough year-over-year comparables. Revenue rose 14% and adjusted earnings per share (EPS) soared 28% in the year-ago period, driven largely by the phenomenal success of Star Wars: The Force Awakens, which opened before the holidays in 2015.
The headline numbers
Here are the previous period's results to use as benchmarks:
| Metric | First-Quarter 2016 Result |
| --- | --- |
| Revenue | $15.24 billion |
| Segment operating income | $4.27 billion |
| Net income | $2.88 billion |
| Adjusted EPS | $1.63 |
Data source: Disney.
Disney doesn't provide earnings guidance. Analysts are expecting The House of Mouse will earn $1.50 per share on revenue of $15.29 billion, representing a year-over-year earnings decline of 8% on approximately flat revenue growth.
Long-term investors shouldn't pay too much attention to analysts' estimates since Wall Street is focused on the short term. However, these expectations can be helpful to know as they often help explain market reactions
Beyond the headline numbers, here's what to watch in the report:
Media networks: Cable networks' key metrics
Within media networks, Disney's largest and most profitable segment, investors should continue to focus on the cable networks business. This lucrative business has been under pressure due to declining subscriber counts as a result of cable cord-cutting and cord-slimming. ESPN's loss of subscribers has been the most concerning because the leading sports cable network is a cash cow.
Investors should keep in mind that quarterly results will occasionally be "lumpy" due to year-over-year timing shifts between quarters and other factors. So it's best not to draw conclusions based upon results for any single quarter. Management does a good job at communicating these timing shifts -- and I'll be covering any relevant ones in my earnings article.
Investors will hopefully get some information on the earnings call as to when Disney plans to launch its direct-to-consumers ESPN-branded multisport subscription streaming service. Management has previously said that it plans to use its 33% stake in leading video-streaming company, BAMTech, acquired last fall, to launch this product in fiscal 2017.
Studio Entertainment: A high comparables bar to jump
Rogue One has been a huge success, grossing more than $1.01 billion globally, as of Jan. 26.However, as widely expected, it hasn't come close to matching the box-office power of itsStar Wars franchise predecessor, The Force Awakens, which currently reigns as the third-top-grossing movie worldwide of all time. It's takenin more than $2.06 billion in theaters across the globe.
Due to the extremely tough comparables, investors should expect weak year-over-year numbers in this business. Here's how high the bar is: Revenue jumped 46% and operating income skyrocketed 86% in the year-ago quarter.
The best investors can hope for is that the segment makes a respectable showing in light of the tough comparables both this quarter and throughout fiscal 2017. Its upward trajectory should continue in fiscal 2018, which has an incredibly powerful line-up of movies on tap.
Parks and Resorts: Hurricane Matthew, Shanghai Disney, and attendance at domestic parks
Disney's parks and resorts business, its second-largest segment, traditionally has been a dependable performer, thanks to strength in its domestic theme parks. However, this segment is also facing some tough comparables: First-quarter 2016 year-over-year revenue and operating income rose 9% and 22%, respectively. These robust numbers were due, in part, to the timing of the quarter, which included one week of the New Year's holiday, and to a record performance for theDisney Cruise Line.
Moreover, this quarter's operating income will be negatively impacted by Hurricane Matthew, which caused the company to close Disney World for about two-and-a-half days in October. Management estimated on the last earnings call that the impact will be about $40 million. For context, operating income in this business in the first quarter of 2016 was $981 million, so a $40 million impact equates to a hit of 4.1% on the year-ago numbers.
More positively, investors can likely expect management to share some data on the earnings call about how Shanghai Disney is performing. Management said on last quarter's call that the massive park, which opened in mid-June, continues to outperform the company's expectations. In fact, CFO Christine McCarthy noted thatShanghai Disney should come "very close" to breaking even in fiscal 2017.
Investors should continue to monitor attendance at domestic parks. The overall attendance trend has been favorable, but there was some spottiness in the quarterly results in fiscal 2016. This was probably largely due to the demand-based pricing policies the company implemented early last year.
10 stocks we like better than Walt Disney When investing geniuses David and Tom Gardner have a stock tip, it can pay to listen. After all, the newsletter they have run for over a decade, Motley Fool Stock Advisor, has tripled the market.*
David and Tom just revealed what they believe are the 10 best stocks for investors to buy right now... and Walt Disney wasn't one of them! That's right -- they think these 10 stocks are even better buys.
Click here to learn about these picks!
*Stock Advisor returns as of January 4, 2017
Beth McKenna has no position in any stocks mentioned. The Motley Fool owns shares of and recommends Walt Disney. The Motley Fool has a disclosure policy.