Walmart Extends Online Discounts, Cuts More Jobs Amid Pricing War with Amazon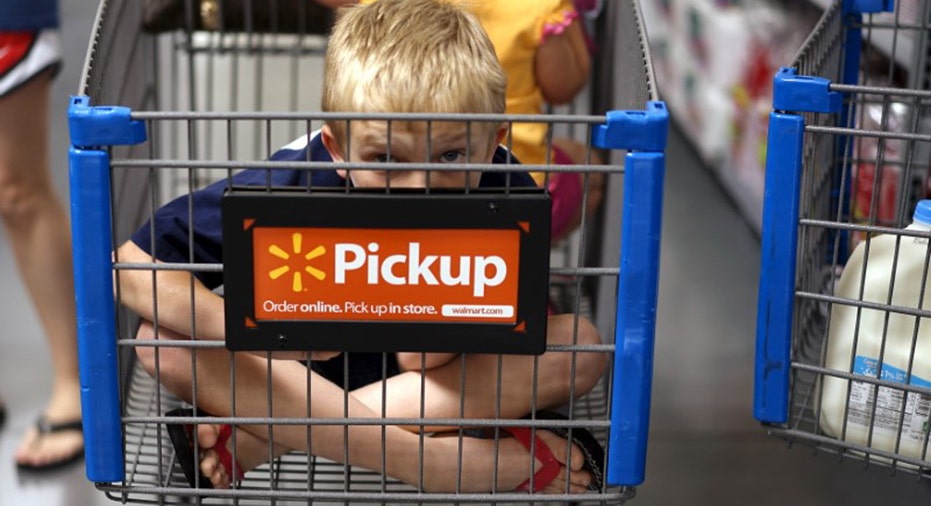 Walmart (NYSE:WMT) is dangling more online-order discounts in front of consumers while cutting corporate head count as it doubles down on efforts to cut costs and better compete with e-commerce behemoth Amazon (NASDAQ:AMZN).
As part of those ongoing efforts, Walmart announced Wednesday that beginning April 19, it will launch what it calls the Pickup Discount: Lower prices for about 10,000 items customers can purchase on the store's e-commerce platform and have sent to any Walmart store for pickup.
For example: If a shopper purchases a VIZIO SmartCast TV online, Walmart will knock $50 off the purchase price. The bigger the item, the larger the discount since it costs more for the company to ship. The key for Walmart is the pick-up in store element, which removes the so-called last-mile cost of delivery, accounting for a hefty chunk of the cost to ship products to individual homes.
"When we leverage our fleet of more than 6,700 trucks to deliver products directly from fulfilment centers to our 4,700 stores, this means quite simply, it costs less for us to ship to stores. So, our customers should share in those savings," said Marc Lore, president and CEO of Walmart U.S. e-Commerce.
Despite a challenging environment fueled by the rise of e-commerce that's posed significant problems for a range of traditional retailers from Macy's (NYSE:M) and JCPenney (NYSE:JCP) to Payless, Ralph Lauren (NYSE:RL), and even upscale jeweler Tiffany (NYSE:TIF), Walmart continued to post revenue gains in its most recent quarter, helped by steady investment in its e-commerce division. The company's CEO Doug McMillon said customers have become accustomed to expecting increasingly personalized and convenient shopping experiences and vowed to outline more progress on meeting those demands in 2017.
The latest ecommerce promotion comes after the company in late January introduced no-membership-required free two-day shipping on two million items. By the summer, Walmart says it plans to have one million of its most popular items under the Pickup Discount umbrella.
Through these efforts, Walmart – which is the second-largest online retailer in the U.S. by revenue – has highlighted discounts on items that fit squarely in Amazon's membership-based Prime and Prime Now service, including household goods from cleaning supplies to snacks, pet care, beauty and baby. Walmart acquired Jet.com – a direct Amazon competitor – back in September in a move that stepped up the ongoing discount war with the e-commerce giant.
While Amazon uses algorithms to suggest new products consumers might like based on recent purchases, Jet uses its own algorithm that re-prices products in a shopper's cart, aiming to help them spend less the more they buy if all the products are available at the same distribution center and can be packaged together.
As it continues to beef up its e-commerce offerings, the company also confirmed to FOX Business it is reducing its workforce by "hundreds" of positions at Sam's Club and within its international and technology businesses.
"We will continue to look at the company and there could be more positions down the road that we eliminate, there could be positions we add," Walmart spokesman Randy Hargrove told FOX Business. "Look at the online business: We've got online grocery, pick-up in store – those are examples of where we've added because the business is changing as we become a more digital company."
The latest round of cuts brings the job loss total to around 18,000 over the last year as the company has trimmed its store portfolio and refocused efforts on building out its e-commerce business. But Hargrove emphasized that not all of those employees have been completely displaced – more than half, he said, found positions in other parts of the company. What's more, he said the company has plans to create about 10,000 new jobs this fiscal year through store openings.