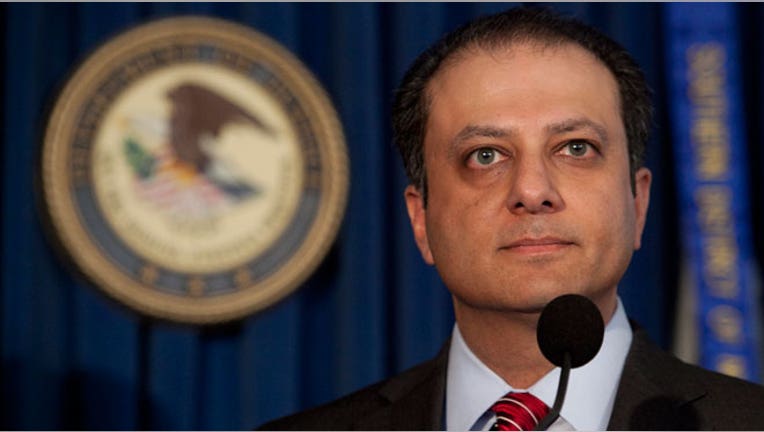 How much does Manhattan U.S. Attorney Preet Bharara despise the judge who presided over his only loss prosecuting insider trading?
So much so that Bharara recently called Naomi Reice Buchwald the "worst federal judge" he's ever come across.
Bharara's unusually harsh remarks were made Monday night during a private party for an assistant U.S. attorney who is leaving the office to join a law firm. It came just a few days after the acquittal of Rengan Rajaratnam--Bharara's first defeat during his five-year crackdown on insider trading.
Nearly 150 current and former members of the U.S. Attorney's Office for the Southern District attended the event, held at a Manhattan restaurant Lugo Cafe. Several federal judges were also in attendance, according to people who were there.
"I was in shock," said one attendee. "I know Preet's office butted heads with the judge during the trial, but you usually don't hear this kind of stuff from a U.S. attorney against a sitting federal judge."
A spokesman for Bharara declined to comment, but would not deny the remarks were made. A clerk for Buchwald also declined comment.
Rengan Rajaratnam is the younger brother of former Galleon Group Chief Raj Rajaratnam, who is serving an 11-year sentence for insider trading violations. In fact, it was an investigation into the trading of Rengan that led investigators to Raj and the wider insider-trading probe that netted the Manhattan U.S. Attorney's Office a near perfect record of around 80 convictions or pleas agreements.
Bharara's string of successes has made him a star in white-collar crime law enforcement circles. He is considered a possible replacement for U.S. Attorney General  Eric Holder, and a candidate for elected office, including New York State governor.
But Bharara's perfect record came to a halt with the acquittal earlier this month of Rengan—and people who know Bharara say he personally blames Buchwald for the rare loss.
Buchwald had publicly doubted the merits of the case against Rengan, namely whether the prosecution had enough evidence to prove that he had knowingly traded on material non-public information as Raj had done.
Several of the counts against Rengan were eventually dropped; at one point Buchwald allowed what prosecutors called "hearsay" testimony of people who told the court that Rengan said he was innocent when he was initially indicted.
During the party, Bharara hit on the hearsay theme, telling the group that under the hearsay rules, what he was about to say "would not be admissible" just before he called Buchwald "the worst federal judge" in the southern district court system.
The event where Bharara made the remarks was described as a "roast" for former assistant U.S. Attorney Jeffrey Brown who was joining the private law firm Dechert LLP. Such events are not uncommon and often take a jovial tone.
Still, Bharara's remarks were seen as somewhat more harsh than the usual banter that goes on at these gatherings.
As an attendee put it: "Preet was pretty nasty."