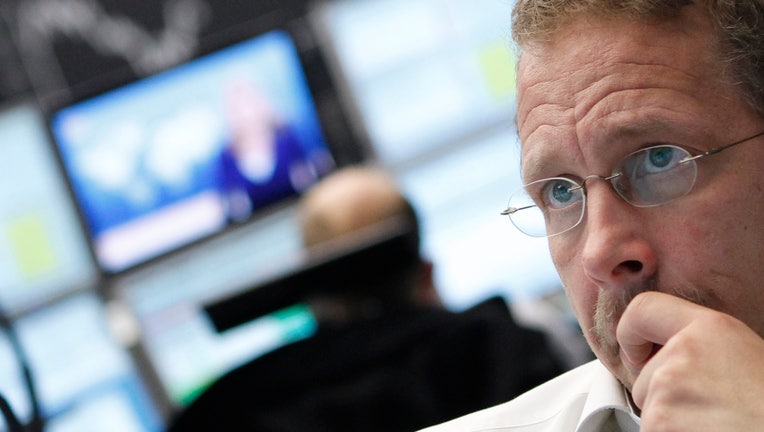 FOX Business: The Power to Prosper
The markets came back from the lows of the session, but remained sharply to the downside as traders fretted about the state of the U.S. economic recovery.
Today's Markets
As of 3:37 p.m. ET, the Dow Jones Industrial Average fell 106 points, or 0.81%, to 12953, the S&P 500 dipped 13.6 points, or 0.97%, to 1384 and the Nasdaq Composite dropped 27.9 points, or 0.9%, to 3053.
The Dow is now down for its fourth day in a row. If the blue-chip index closes in the red, it will be the longest losing streak since late 2011.
Volatility surged some 8.9% as tracked by the Chicago Board of Options Exchange's VIX, while traders took cover in safe-haven Treasury bonds and gold. The yield on the 10-year Treasury bond fell 0.025-percentage point to 2.036%. Gold rose $13.80, or 0.85%, to $1,644 a troy ounce.
Many major equity markets, including those in the U.S., Europe and Asia, were closed when the Labor Department released its monthly jobs report on Friday. The data showed the economy adding only 120,000 jobs last month, the smallest gain since October, and far less than many economists expected.
The report sparked worries among many analysts that the pace of job growth that seemed robust just months ago may already be sputtering. Indeed, investment-banking giant Goldman Sachs (NYSE:GS) sent a note to clients following the report saying "largely because of the weakness in the employment report, our standard metrics for evaluating the U.S. data flow have also started to send a less upbeat message."
This week is set to be quieter on the economic front, with data focusing mainly on inflation and the balance of trade. However, economists are likely to pay close attention to the weekly jobless claims report on tap for Friday.
Commodities markets took a hit, tracking a weak performance across equity markets. Crude oil traded in New York fell 85 cents, or 0.82%, to $102.46 a barrel. Wholesale RBOB gasoline dipped 4 cents, or 1.3%, to $3.30 a gallon.
Corporate News
AOL (NYSE:AOL) struck a deal to sell 800 patents to Microsoft (NASDAQMSFT) for $1.056 billion. Shares soared close to 40% in early trading.
Avon (NYSE:AVP) said it is tapping Johnson & Johnson (NYSE:JNJ) executive Sherilyn McCoy as its new Chief Executive Officer.
Foreign Markets
The Japanese Nikkei 225 sold off by 1.5% to 9546 and the Chinese Hang Seng slumped 0.95% to 20593.
European markets were closed for a holiday.