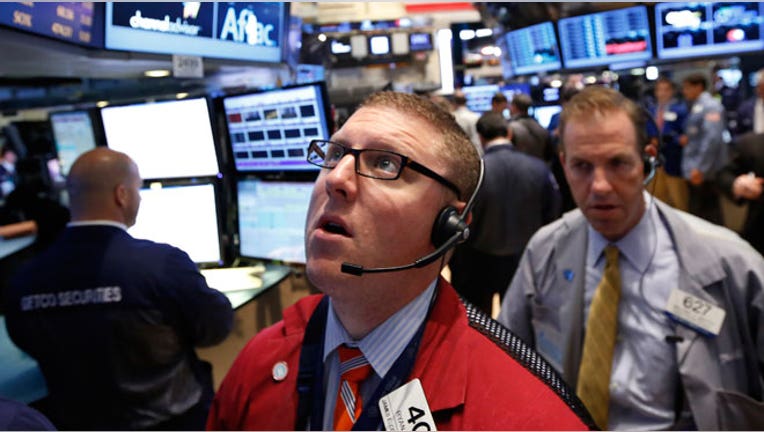 U.S. equities plunged Monday on fears that free-falling oil prices are a symptom of a global economic slowdown that could eventually lead to worldwide deflation.
Also, Europe has been rattled by worries that Greece is leaving the euro zone, and that deflation will force the European Central Bank to resort to easy money stimulus policies in the form of quantitative easing.
At closing, the Dow Jones Industrial Average dropped 331 points, to 17501, or 1.86% ; the S&P 500 lost 37 points or 1.83%, dropping to 2020, while the Nasdaq fell 74 points to 4652, or 1.57%. All ten S&P 500 sectors were in the red, with energy falling 4%.
"Oil markets have continued to work lower and the oil market was in freefall on Monday," said Peter Cardillo, chief market economist at Rockwell Global Capital Management.
The benchmark price for a barrel of U.S. crude oil fell below $50 on Monday for the first time since April 2009, a drop that raised into stark contrast the two opposing sides of low oil prices.
While falling oil prices have brought down the price of gasoline and increased disposable spending for most consumers, the downturn has also "heightened the negative fear factor of what low oil prices can mean to the broader economy," said Cardillo. "It's a double-edged sword."
On Monday, investors were focused on the negative rather than the positive: the Dow's decline was the largest in a year and a half. The S&P 500 was down for a fourth consecutive day, the longest losing streak for the benchmark index in more than a year.
In addition to the oil issues, U.S. shares were responding to bad economic news from across the Atlantic: the euro slumped to a nine-year low on Monday as investors responded to concerns that inflation across the region will turn negative and increasing political uncertainty in Greece, all of which could force the European Central Bank toward U.S.-like stimulus policies.
Meanwhile, commodity-linked stocks fell as crude oil prices dropped to fresh 5-1/2 year lows and a strong dollar weighed down metals prices.
Cardillo said he believed oil might have reached a bottom late last month when it dipped into the mid-$50 range, but that hasn't been the case. "When you have this type of selling anything can happen," he said.
Crude oil futures prices dropped to their lowest since May 2009 amid a global supply glut and falling demand. In spite of the glut and lack of global demand, some large oil-producers are still generating large amounts, exacerbating the situation. Russia's oil output hit a post-Soviet high last year, and Iraq's oil exports in December were the highest since 1980.
The strong U.S. dollar is putting even more pressure on dollar-denominated commodities. A measure of the dollar against a basket of major currencies reached its highest since December 2005.
As the price of oil plunged through the second half of 2014, the S&P 500 oil sector fell almost 20% over the last two quarters of last year.
Declining issues outnumbered advancing ones on the NYSE by 2,274 to 572, for a 3.98-to-1 ratio; on the Nasdaq, 1,678 issues fell and 704 advanced for a 2.38-to-1 ratio favoring decliners.