Wall Street Takes a Breather; S&P Tilts Slightly Higher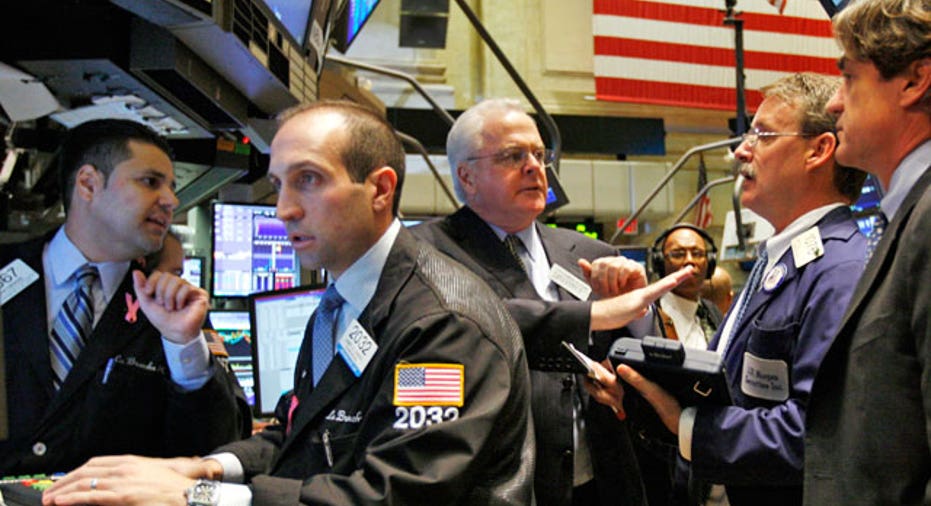 FOX Business: The Power to Prosper
The markets fluctuated in a tight range about three-month highs on Thursday, with the S&P 500 inching higher to extend its winning streak to five days, as traders mulled a smattering of economic data.
Today's Markets
The Dow Jones Industrial Average fell 10.5 points, or 0.08%, to 13165, the S&P 500 gained 0.58 point, or 0.04%, to 1403 and the Nasdaq Composite rose 7.4 points, or 0.25%, to 3019.
The Commerce Department reported the U.S. trade deficit fell 10.7% to $42.9 billion in June from the month before. The deficit was the narrowest since December 2010 and considerably smaller than the $47.5 billion economists expected. The difference between exports and imports, while lagging, will figure directly into broader measures of economic output.
The Labor Department said new claims for jobless benefits unexpectedly decreased by 6,000 to 361,000 last week. The prior week's figure was revised up to 367,000 from the previously-reported 365,000.
Another report from the Commerce Department showed inventories at the wholesale level unexpectedly dropping 0.2% in June, marking the biggest decline since September. Economists were expecting a gain of 0.3%. These data can work as a forward-looking indicator of business owners expectations for demand.
Trading desks across the world started the day off with economic reports from China. Expansion in industrial production in the world's No. 2 economy slowed down to 9.2% in July from 9.5% in the same month the year before, marking the third-straight monthly easing. The increasingly gloomy data have caused worries that the economy may be in for a so-called hard landing, in which output would slowdown dramatically.
However, inflation cooled off in July, falling to 1.8% from 2.2% in June. That may give Bejing "room for further policy easing," including a potential cutting of required bank reserves, according to analysts at Nomura.
Oil prices nudged up after snapping a three-day wining streak on Wednesday. The benchmark contract traded in New York rose 1 cent, or 0.01%, to $93.36 a barrel. Wholesale New York Harbor gasoline gained 0.68% to $3.00 a gallon.
In metals, gold climbed $4.20, or 0.26%, to $1,620 a troy ounce.
Foreign Markets
The Euro Stoxx 50 gained 0.2% to 2437, the English FTSE 100 rose 0.1% to 5852 and the German DAX declined 0.02% to 6965.
In Asia, the Japanese Nikkei 225 rallied 1.1% to 8979 and the Chinese Hang Seng jumped 1% to 20269.