Wall Street Takes a Breather as Traders Remain Cautious on Greece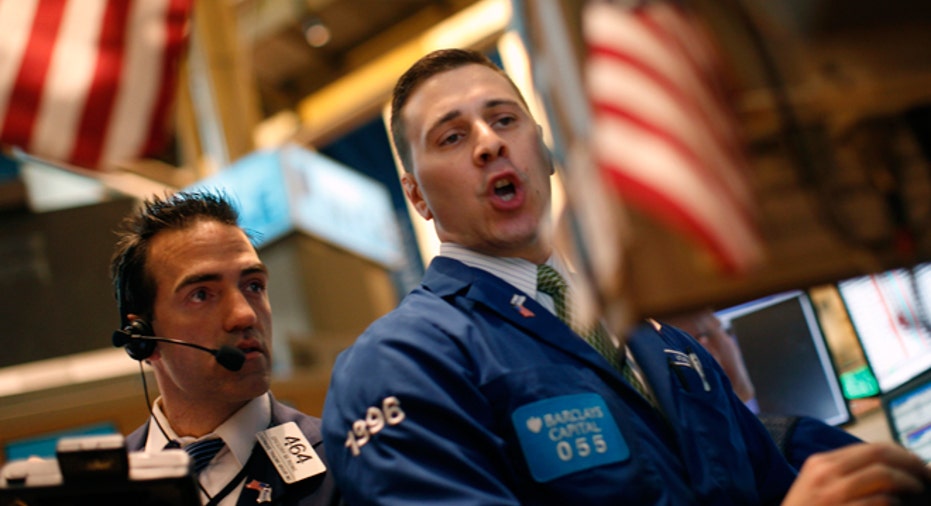 FOX Business: The Power to Prosper
The markets ended the day little changed after rallying to the highest level since July last week as traders cautiously eyed debt talks in Greece and awaited a bounty of corporate earnings on Tuesday.
Today's Markets
The Dow Jones Industrial Average fell 11.7 points, or 0.09%, to 12709, the S&P 500 rose 0.62 point, or 0.05%, to 1316 and the Nasdaq Composite slipped 2.5 points, or 0.09%, to 2784.
The markets have kicked off the year in rally mode, with the broad S&P 500 zooming 4.6% higher and the Dow tacking on just under 500 points so far in January. Sentiment has been boosted by strong earnings from a slew of big-name companies, relatively upbeat economic data and easing tensions in Europe.
However, the mood was more subdued on Monday. Indeed, the Dow's modest losses snapped the blue-chip average's four-day winning streak. The broader S&P 500, meanwhile, narrowly managed to add a fifth day to its streak.
Bank of America (NYSE:BAC) was the best performer out of the Dow components, followed by Hewlett-Packard (NYSE:HPQ) and Intel (NASDAQ:INTC). Meanwhile, the biggest laggards on the day were Travelers (NYSE:TRV), Procter & Gamble (NYSE:PG) and Verizon Communications (NYSE:VZ).
Developments in Europe have once again taken the spotlight. Talks between Greece and private bondholders on the specifics of its debt exchange have stalled, according to multiple media reports. The broad strokes of the deal have been established, but more technical issues like what interest rate new bonds will pay have presented hurdles, according to reports.
Private-sector losses are a key requirement for Greece to receive a rescue from the European Union and International Monetary Fund. The country needs to make a bond payment in March, which it will be unable to do without bailout funds. If that were to occur, it would lead to a potentially chaotic default of Greek debt that could harm global financial markets, analysts have said.
Meanwhile, eurozone finance ministers will meet in Brussels to hash out details of a fiscal pact between countries in the currency bloc and discuss the situation in Greece. A broader summit is scheduled for January 30.
The euro rose 0.46% to $1.299, while the U.S. dollar fell 0.35% against a basket of six world currencies.
On the corporate front, Mike Lazaridis and Jim Balsillie stepped down as co-CEOs of Research in Motion (NASDAQ:RIMM) as the BlackBerry-maker looks to chart a path forward amid a storm of investor criticism over several significant fumbles and falling share prices.
Apache (NYSE:APA), an energy exploration company, is scooping up privately-held Cordillera Energy Partners for $2.9 billion. Halliburton (NYSE:HAL) unveiled adjusted per-share profits for the fourth quarter of $1, topping analysts' estimates by a penny. The world's second-biggest oilfield servicing company revealed revenues of $7.1 billion that also came in ahead of estimates of $6.8 billion.
Tuesday promises to be a busier day from an earnings standpoint. Several major companies like Apple (NASDAQ:AAPL), DuPont (NYSE:DD), Johnson & Johnson (NYSE:JNJ) and Yahoo! (NASDAQ:YHOO) are all set to report.
Commodities markets were mixed, shedding sizeable gains from earlier in the session.
The benchmark crude oil contract traded in New York climbed $1.25, or 1.3%, to $99.58 a barrel. Wholesale RBOB gasoline slumped 0.23% to $2.778 a gallon.
In metals, gold was up $14.30, or 0.86%, to $1,678 a troy ounce.
Foreign Markets
European blue chips rose 0.6%, the English FTSE 100 climbed 0.94% to 5,783 and the German DAX gained 0.5% to 6,437.
In Asia, the Japanese Nikkei 225 fell 0.01%, while Chinese markets were closed for the Lunar New Year holiday.