Wall Street Surges Amid Heightened Easing Optimism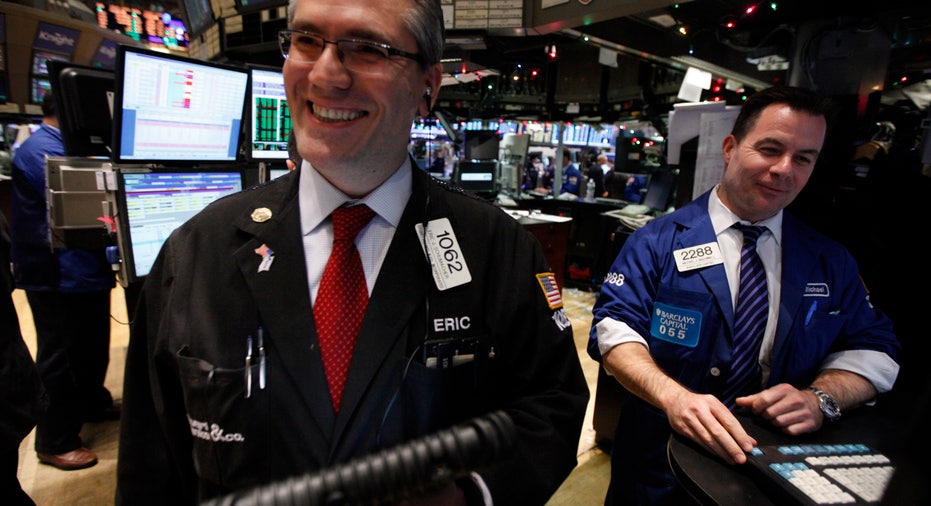 FOX Business: The Power to Prosper
Wall Street rocketed to the upside on Wednesday in the best session for the broad S&P 500 since December as traders grew more hopeful that central bankers will take decisive action to buoy the world's sputtering economy.
Today's Markets
The Dow Jones Industrial Average soared 287 points, or 2.4%, to 12415, the S&P 500 jumped 29.6 points, or 2.3%, to 1315 and Nasdaq Composite climbed 66.6 points, or 2.4%, to 2845.
The gains were broad-based on the day, with every S&P 500 sector climbing. The energy sector posted the biggest gains, along with industrial, material, technology and consumer discretionary shares. Traders dropped U.S. Treasury assets in search of higher returns elsewhere. As a result, the yield on the 10-year gained 0.090-percentage point to 1.651%.
The Dow, which turned negative for the year last week, climbed back into the green. Meanwhile, volatility plunged 10.2% a tracked by the CBOE's VIX.
Many economic reports released in recent weeks have painted a gloomy picture of the state of the world's economy. Analysts have become cautiously optimistic that the weakening may embolden policymakers to take measures to accelerate growth, especially in light of cooling inflation.
However, the European Central Bank said it is holding its main refinancing rate steady at 1% after its monetary-policy meeting on Wednesday. Following the decision, ECB President Mario Draghi said in a press conference that the central bank is essentially holdings its 2012 economic forecast steady from its last estimate in March. He also said the ECB plans on maintaining existing lending programs, but fell short of suggesting anything new.
U.S. Federal Reserve Chairman Ben Bernanke is also testifying before Congress on Thursday. It will be the Fed chief's first chance to react to the bleak jobs report released last week. Economists that watch the central bank will be looking to see if he signals the possibility of more quantitative easing, which has been one of the Fed's favored tools with interest rates already locked at record lows.
Also on the economic front, Australia saw its economy expand 1.3% in the first quarter, which was almost three times as quick as economists were expecting.
Commodities markets got a boost as well. The benchmark crude oil contract traded in New York jumped 73 cents, or 0.87%, to $85.02 a barrel. Wholesale New York Harbor gasoline climbed 0.21% to $2.69 a gallon.
In metals, gold zipped higher by $17.30, or 1.1%, to $1,634 a troy ounce.
Foreign Markets 
The Euro Stoxx 50 soared 2.4% to 2138, the English FTSE 100 jumped 2.4% to 5384 and the German DAX rallied 2.1% to 6094.
In Asia, the Japanese Nikkei 225 gained 1.8% to 8534 and the Chinese Hang Seng rose 1.4% to 18521.