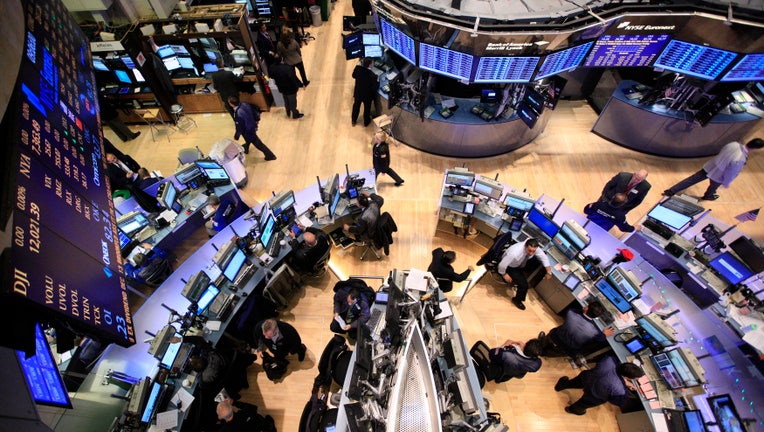 FOX Business: Capitalism Lives Here
The markets failed to cling on to gains Wednesday as traders considered mixed economic and corporate news, the Fed's policy decision, and another day of steep losses for oil futures.
Today's Markets
The Dow Jones Industrial Average fell 25.2 points, or 0.19%, to 13077, the S&P 500 dipped 4.4 points, or 0.31%, to 1409 and the Nasdaq Composite slumped 8.8 points, or 0.29%, to 2982.
The Dow has had a choppy week, taking its third-worst drop of the year on Tuesday, and then slipping again the following session.
Trading desks got a sliver of good news out of Asia to kick the session off. The HSBC PMI gauge rose to 49.1 in October from 47.9 the month before. That suggests the manufacturing sector in the world's second-biggest economy continues contracting, but at a slowing pace. Still, Hongbin Qu, the bank's chief economist for China, struck a cautious note.
"External challenges are still abound and the pressures on job market are lingering," he said in a statement accompanying the report. "This calls for a continuation of policy easing in the coming months to secure a firmer growth recovery."
Earnings Season Marches On
Earnings from Boeing (NYSE:BA) and AT&T (NYSE:T) that topped expectations on the bottom lines also helped boost sentiment.
Boeing's third-quarter profit of $1.35 a share topped expectations of $1.13 a share. Revenues of $20 billion came in line with Wall Street's forecast. The aerospace giant also raised its full-year guidance to between $4.80 and $4.95 a share, compared to estimates of $4.73 a share.
AT&T posted an adjusted third-quarter profit of 62 cents a share, beating expectations of 60 cents. Sales came in at $31.5 billion, slightly shy of expectations of $31.6 billion.
In other corporate news, the U.S. filed a $1 billion lawsuit against Bank of America (NYSE:BAC) alleging the No. 2 U.S. bank by assets misrepresented the quality of loans it sold to Fannie Mae and Freddie Mac.
Fed Holds Steady, Housing Data Top Expectations
The Federal Reserve reaffirmed its pledge to keep interest rates at historic lows until mid-2015 and said it would continue to add to, and lengthen the maturity of, its balance sheet following its two-day meeting Wednesday. The central bank said it sees the economy continuing to expand moderately, and stands ready to take more action if it becomes necessary.
The move was widely forecast by economists.
The Commerce Department reported sales of new U.S. single-family homes rose 5.7% in September to a 389,000-unit annualized rate, topping estimates of a 385,000-unit rate and marking the highest reading since April 2010.
Counterbalancing the positive news, however, were several weak reports from Europe. Economic activity in the eurozone shrunk at the fastest pace in October since June 2009, according to a report by Markit. In particular, activity in Germany, Europe's biggest economy, contracted at the swiftest gate in two months, according to another report by Markit.
"The setbacks in the manufacturing sector are indeed worrying, as it generally leads the services sector," analysts at Nomura wrote in a note to clients.
A closely-watched survey of German business sentiment from the Ifo Institute also came in short of expectations.
Oil prices dropped for the fifth day in a row after the Energy Department's weekly inventory report showed a substantially larger-than-expected build in crude inventories. The benchmark crude oil contract traded in New York slid 94 cents, or 1.1%, to $85.73 a barrel. Wholesale New York Harbor gasoline slipped 0.08% to $2.603 a gallon.
In metals, gold fell $7.40, or 0.43%, to $1,702 a troy ounce.
Foreign Markets
The Euro Stoxx 50 rose 0.51% to 2491, the English FTSE 100 gained 0.12% to 5805 and the German DAX climbed 0.27% to 7193.
In Asia, the Japanese Nikkei 225 fell 0.67% to 8954 and the Chinese Hang Seng ticked up by 0.31% to 21764.