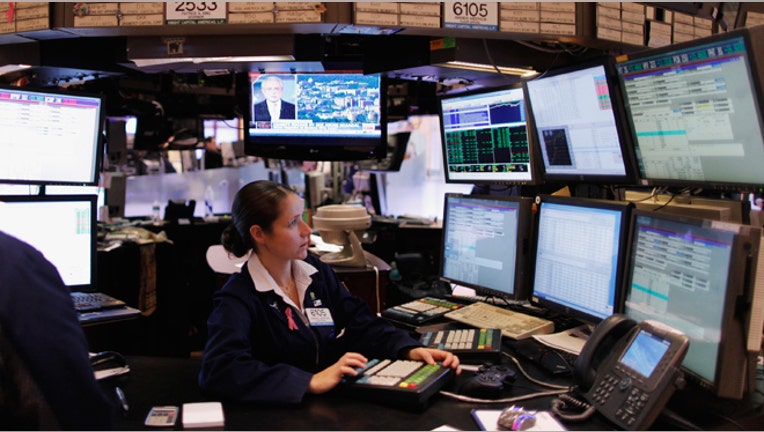 U.S. stocks were mixed in afternoon trading after minutes from the Federal Reserve's latest policy meeting showed there was a growing chorus of central bank officials willing to raise interest rates sooner rather than later. The reaction was more pronounced on the bond market, where prices fell and yields rose as investors prepared themselves for higher interest rates.
KEEPING SCORE: The Dow Jones industrial average was up 25 points, or 0.2 percent, to 16,944 as of 2:27 p.m. Eastern. The Standard & Poor's 500 index rose a point to 1,982 and the Nasdaq composite fell five points, or 0.1 percent, to 4,522.
RATE INCREASES: The majority of Fed policymakers believe the U.S. economy is improving enough that the bank should start considering how it's going to start raising interest rates, according to minutes from the bank's latest meeting.
The debate on when the Fed should raise interest rates, which have been near-zero since 2008, has intensified in recent months as the central bank winds down its other economic stimulus programs. Later this week, Fed Chair Janet Yellen will give a speech at the bank's annual conference in Jackson Hole, Wyoming. The speech is often a venue where the leader of the Fed lays out major policy decisions.
"Janet Yellen's speech in Jackson Hole will most likely guide the markets (now that) earnings season is winding down," Doug Cote, chief market strategist with Voya Investment Management, said.
BONDS REACT: The yield on the U.S. 10-year Treasury note rose to 2.44 percent from 2.40 percent the day before. Bond yields rise when prices fall.
The Fed's key interest rate influences the prices of a huge array of investments, including Treasuries, other kinds of bonds and stocks. If the Fed were to raise interest rates, investors would demand higher yields on bonds.
IN A JAM: J.M. Smucker fell $1.38, or 1 percent, to $102.07. The food products company, which also owns coffee brands such as Folgers, cut its full-year sales outlook. The company also said higher coffee prices were impacting the company's profit margins.
PUPPY IN THE WINDOW: PetSmart rose 45 cents, or 0.6 percent, to $70.13 after the company said it was exploring a possible sale. The pet supply retailer had been under pressure from activist investors to explore a deal or to do a major restructuring.
CALL AAA: Hertz plunged after the rental car company withdrew its full-year profit forecast, citing numerous "operational challenges" related to auto recalls and accounting irregularities. The company said the Ford and GM recalls have hurt its ability to have cars available for customers. Hertz also said its purchase of Dollar Thrifty was not saving as much money as originally hoped. The stock fell $3.07, or 10 percent, to $28.46.
COMMODITIES: Benchmark U.S. crude for September delivery rose $1.59 to $96.07 a barrel New York. The price of oil dropped Tuesday and was down nearly 4 percent for August due to abundant supplies. In metals trading, gold fell $1.50 to $1,295.20 an ounce, silver rose 9 cents to $19.50 an ounce and copper rose nine cents to $3.18 a pound.