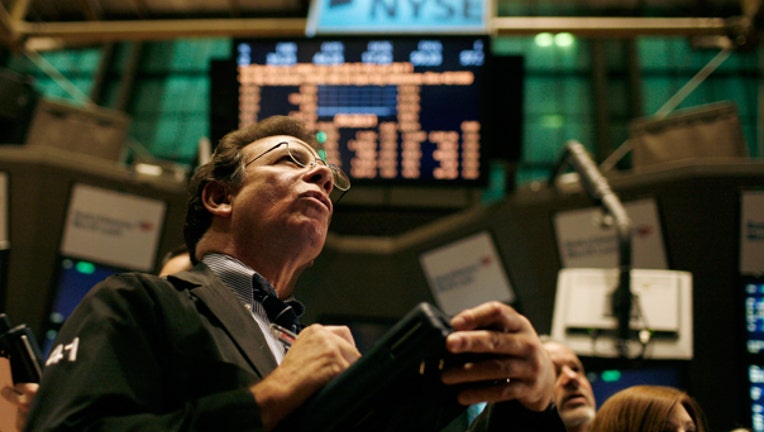 Wall Street mostly erased its red ink after China's move to devalue its currency for a second-straight day fueled heavy losses.
The Dow Jones Industrial Average shed a fraction of point to 17402. The S&P 500 climbed 2 points, or 0.1% to 2086, while the Nasdaq Composite rose 7 points, or 0.15% to 5044.
Today's Markets 
In a surprise, "one off" move Tuesday, China's central bank cut the yuan's value by 1.9%, and Wednesday brought a second devaluation, this time of 1.6%. That's a four-year low for the currency, and its biggest two-day drop since 1994.
The move is largely seen as a way for the nation to help prop up its struggling economy after a string of weak data. On Monday, data showed China's industrial output rose 6% last month, but came in short of expectations. Retail sales for the same month also grew at the slowest pace in 15 years.
News of China's decision sent the S&P 500 into negative territory for the year earlier Wednesday. At its lowest point, the Dow was down 277 points.
The biggest worry for U.S. markets is how the move across the world affects players in the technology, energy, and materials sectors, Clem Miller, portfolio manager at Wilmington Trust said.
"You have Apple and other companies that have large technology exports to China and the whole Asia ex-Japan region which will suffer from currency devaluations," he said. "You have prospects for slower earnings growth from tech company sales to Asia…at the same time, you'd think companies that import semiconductors would benefit from devalued currency, but they don't because their contracts are denominated in dollars. They don't get the benefit from cheaper chip prices."
The move from the People's Bank of China ricocheted across global markets, sending equity prices sharply lower across the board.
Asia markets ended the session lower. The Shanghai Composite index was down 1.06%, while Hong Kong's Hang Seng dropped 2.38%, and Japan's Nikkei slid 1.58%.
Meanwhile, action in Europe followed suit. The Euro Stoxx 50, which tracks large-cap companies in the eurozone plunged 3.2%. The German Dax dropped 3.27%, while the French CAC 40 tumbled 3.4%, and U.K.'s the FTSE 100 fell 1.4%.
The U.S. dollar again rose against some major world currencies. Against the yuan, the greenback climbed 0.96% to 6.33. Meanwhile, the yield on the benchmark 10-year U.S. Treasury fell 0.009 of a percentage point to 2.13%
"The logical reaction from investors is to seek shelter in bonds, which is exactly what is happening now," Chris Beauchamp, senior market analyst at IG, said. "What is also taking place is a rapid unwinding of the long dollar play that seemed to be the one sure thing for August."
The International Energy Agency said global demand for oil was higher thanks in part to lower prices and better economic growth. The agency added, though, that it sees the glut in supply persisting through next year.
Oil prices pared gains in late-morning action after inventory data out on Tuesday also showed that crude oil supply in the U.S. fell by 1.7 million barrels, less than the 1.8 million drop expected. U.S. crude settled 0.5% higher at $43.30 a barrel, while Brent, the international benchmark climbed 0.65% to $49.50.
Gold, largely seen as a safe-haven asset also saw gains, rising 1.4% to $1,123 a troy ounce. Copper also traded higher, up 0.7% to $2.35 a pound.
Miller added that the yuan could see further depreciation. Though he suspects it would be cumulatively more than a 10% slide, he said the action in China still has potential to impact the Federal Reserve's decision on interest rate increases.
"To the extent China depreciates its currency, it leads to the importation of deflation into China's trading partners. That removes the inflation incentive for a together monetary policy in the U.S…our official position is still September because we see domestic consideration more important than foreign consideration."
In corporate news, department-store chain Macy's (NYSE:M) delivered a 2.6% drop in second-quarter sales from a year ago, while earnings per share of 64 cents came in well below forecasts for 76 cents. The company also announced a joint venture with Alibaba to launch an online flagship store for Chinese shoppers in "late 2015."
AT&T (NYSE:T) released updated full-year guidance. The telecom company said it expects adjusted earnings per share in the range of $2.62 to $2.68 cents, with "double-digit" revenue growth thanks to its acquisition of DirecTV. The company also said it is now the largest pay-TV provider both in the U.S. and world with more than 26 million U.S. subscribers.
Alibaba (NYSE:BABA) shares touched a new low after quarterly result showed the Chinese e-commerce giant posted a 28% increase in revenue to $3.27 billion, but it came in under expectations for $3.39 billion. The company also unveiled a $4 billion share repurchase program.
Traders received quarterly earnings score cards from News Corporation (NASDAQ:NWSA) and Cisco Systems (NASDAQ:CSCO) after the closing bell.